BBC Sport - Japan GP: Carlos Sainz fastest in wet first practice at Suzuka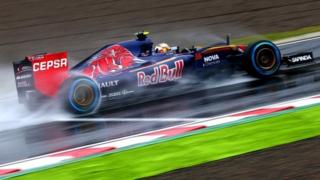 Drivers struggle for control in Japan
Toro Rosso driver Carlos Sainz sets the pace in a drenched first practice session at the Japanese Grand Prix.
He was 0.504 seconds quicker than Red Bull driver Daniil Kvyat in a session marked by varying degrees of rain.
Only 12 drivers set lap times as many were cautious to go out because the weather is predicted to improve through the rest of the weekend.