Former F1 team owner Guy Ligier dies aged 85
Last updated on .From the section Formula 1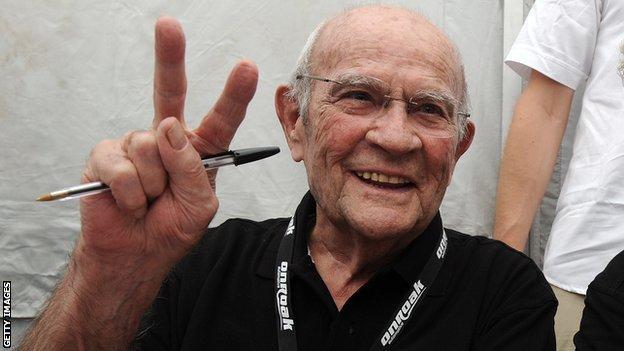 Former Formula 1 team owner Guy Ligier has died, aged 85.
The Frenchman, a former rugby player and racing driver, ran a grand prix team for 16 years between 1976 and 1992, winning nine races.
Ligier's heyday was the late 1970s and 1980s, with a competitive peak in 1980, when they were regular front-runners.
The last victory was with Olivier Panis in the 1996 Monaco Grand Prix, four years after Ligier had sold out to another Frenchman, Cyril de Rouvre.
The following year Ligier was sold to four-time world champion Alain Prost, who changed the name to Prost and ran the team until it collapsed at the end of the 2001 season.
Ligier were an integral part of an era in which France played a central role in Formula 1, which also saw the debut of the Renault factory team in 1977.
Ligier received financial backing from oil giant Elf, which also funded the careers of several leading French drivers, and cigarette company Gitanes.
Among the legendary names who won races for Ligier were Frenchmen Patrick Depailler, Jacques Laffite and Didier Pironi.