Lewis Hamilton: too early for title talk after Belgian GP win

By Andrew Benson
Chief F1 writer at Spa-Francorchamps
Last updated on .From the section Formula 1
Lewis Hamilton said it was "way too early" to start thinking about winning the world title following his sixth victory in 11 races this season.
Hamilton is more than a win ahead of the German with eight races remaining.
"To come away from the best holiday I have ever had and win was fantastic. To translate pole positions into wins is what I want to do," Hamilton said.
"I felt good when I woke up today. I am the strongest and happiest I've ever been in my life. I love my job - it's the greatest job in the world."
Hamilton has scored 10 pole positions in 11 races so far this season, but before Belgium had converted only five of his nine into victories.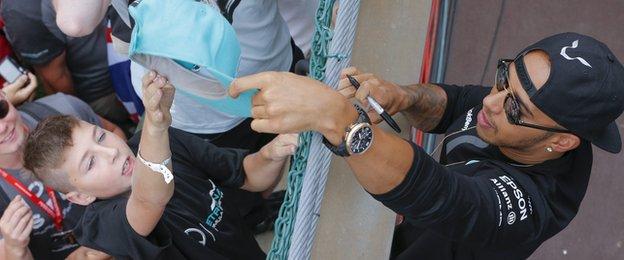 His tally of poles means he now cannot be beaten to Formula 1's pole position trophy, a concept that was introduced last year and was won by Rosberg.
But Hamilton, who would equal his hero Ayrton Senna's tally of three titles if he wins the crown again this year, said he was not interested in that achievement.
"The pole trophy is not particularly exciting but getting poles is definitely a great thing," he said.
"Naturally, winning the World Championship is the goal. I would give up everything else, all the poles, the pole position trophy, for the World Championship so that's really the goal.
"But I'm really happy with how the qualifying has gone this year.
"It's been a huge step for me and here the plan was to try to convert that pole position and the speed that I had in qualifying into the race.
"I feel like I did that and I'm sure that there will be areas to improve on which I will continue to try to work on."
Mercedes F1 team boss Toto Wolff said that Rosberg had to start beating Hamilton in qualifying to have a chance of the title.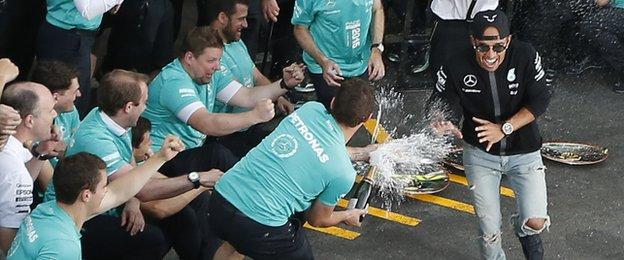 "Get half the job done on Saturday, that is crucial to him, and then get off the line in the lead," Wolff said.
"At the moment, Lewis just seems to be on a roll. Yesterday he was incredible, in the middle sector he was half a second clear of anybody.
"We have seen very good weekends [from Rosberg]. They are often split by thousandths of a second and the gap isn't big.
"But if you are in the same car and have the same resources it is difficult to gain an advantage."