Sebastian Vettel says Pirelli tyre failure unacceptable

By Andrew Benson
Chief F1 writer at Spa-Francorchamps
Last updated on .From the section Formula 1
Belgian Grand Prix on the BBC
Venue:
Spa-Francorchamps
Dates:
Sunday 23 August
Coverage:
Race highlights, Sunday 23 August, 19:00 BST, BBC Three.
Full details here
Ferrari driver Sebastian Vettel was furious with Formula 1 tyre supplier Pirelli following a 200mph failure at the Belgian Grand Prix.
The four-time world champion described the failure, just after the 180mph Eau Rouge swerves, as "unacceptable".
It was the second tyre failure of the weekend after another on Nico Rosberg's Mercedes in Friday practice.
"These things are not allowed to happen. If it happens 200m earlier, I'm not standing here now," Vettel said.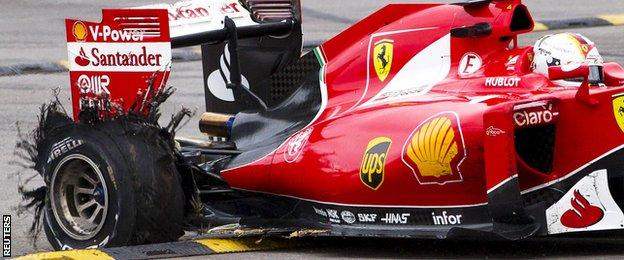 "I don't know what else needs to happen."
He added: "It is the sort of theme that keeps going around - no-one is mentioning it, but it's unacceptable."
Pirelli motorsport director Paul Hembery blamed the failure on excessive wear.
Vettel was one of several leading drivers who raised their concerns about tyre safety at their briefing on Friday afternoon at Spa. Among the others were fellow multiple world champions Lewis Hamilton and Fernando Alonso.
Asked if he felt the drivers' concerns were taken seriously, Vettel said: "I think so. But what is the answer? Same as every time: 'There was a cut, debris, there may be something wrong with the bodywork, the driver went wide'.
"If Nico tells us that he didn't go off the track, he didn't go off the track. Why should he lie to us? Same with me. I didn't go off the track and out of the blue the tyre explodes."
Vettel also expressed his anger to Paul Hembery after the race, saying that Ferrari had been told they could do 40 laps on the tyre. It failed after 28 laps of that stint in the race.
Hembery said: "It was at the end of wear life and when you do that, any tyre in the world, when it gets to its wear life, you're going to have a problem."
However, he admitted that Pirelli had not warned Ferrari that they were taking a risk by running the tyre that long.
This was the first weekend at which there had been repeated tyre problems since the 2013 British Grand Prix, when six tyre failures in the race plunged F1 into crisis.
Vettel said the drivers would have a meeting ahead of the next race at Monza.
"We need to speak to each other," Vettel said. "It's probably not as bad as it was at Silverstone some years ago but it is not acceptable."
Mercedes driver Nico Rosberg added: "It was pretty scary again. A couple of metres earlier [and] he has a big off. He was lucky just like I was, he didn't hit anything but it needs to be sorted out.
"Somehow we need to make it safer. Somehow we need to see [an indication] the tyre is failing earlier.
"If they are not able to completely solve the problem in the next couple of weeks… Monza is high speed again. We need to have something in place for that."
Lotus driver Romain Grosjean, who finished third, said: "It's certainly not acceptable to see a tyre blow off, just after Radillion at that speed. It was an aggressive strategy but we shouldn't see that - that's clear."