Belgian Grand Prix: Lotus on podium before the bailiffs arrive
Last updated on .From the section Formula 1
Lotus's Romain Grosjean was crying into his helmet on the last lap of a fairytale drive to third place at the Belgian Grand Prix that provided a redemptive feel-good story for driver and team.
Three years ago at the same Spa-Francorchamps circuit, the Frenchman caused a multi-car first-lap accident that eliminated world champions Lewis Hamilton and Fernando Alonso on the spot and earned him a one-race ban.
Such sanctions are very rare in Formula 1 but Grosjean was a repeat offender - it was his sixth first-lap incident of the 2012 season, with another accident occurring on the second lap.
He missed the Italian Grand Prix, returned in Singapore and then crashed into Red Bull's Mark Webber at the start in Japan, prompting the Australian to call him a "first-lap nutcase" and suggest that "maybe he needs another holiday".
After Sunday's race, Grosjean admitted: "Of course, going into Turn One, every time I take a start in Spa I will remember 2012 but I think it made me stronger."
Since then the genial 29-year-old has gradually rebuilt his reputation by cutting out the errors while, paradoxically, his Lotus team's fortunes have plummeted as financial problems beset the Enstone-based operation. Bailiffs arrived in the Belgian Grand Prix paddock on Sunday night to impound the team's equipment, as the rest of F1's teams packed up to go home.
Now a legal dispute is threatening their very existence. What has gone wrong? And do they have a future?
A sharp decline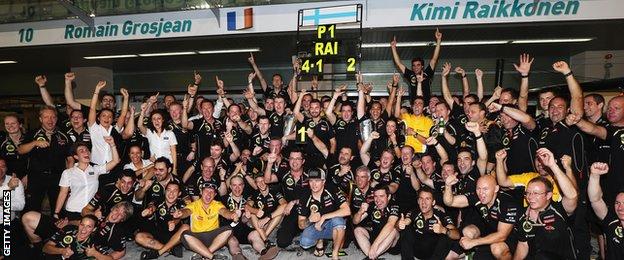 Back in 2012, while Grosjean was a magnet for trouble, team-mate Kimi Raikkonen scored points in 19 of the 20 races, won in Abu Dhabi and finished third in the drivers' championship.
Raikkonen triumphed in the season-opening Australian GP in 2013 but relations deteriorated as the season progressed and the Finn ended up quitting two races before the end of the 2013 season, saying he had not received any salary that year.
Lotus still finished fourth in the constructors' championship for a second successive year but 2014 was a total shambles. A chronically uncompetitive car, driven by Grosjean and new team-mate Pastor Maldonado, could only manage 10 points all season - 305 fewer than 2013.
There has been an improvement in 2015 - it could hardly have got any worse - but they had not done better than seventh-placed finishes before Spa.
Problems, problems, problems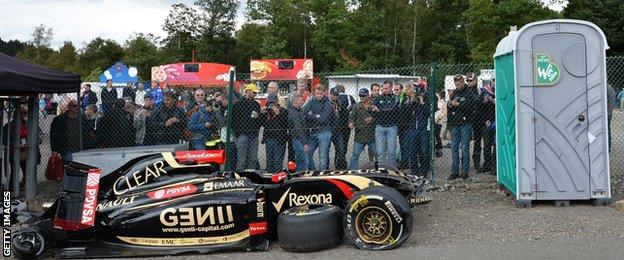 "Lotus have been operating by the seat of their pants because of financial troubles for some time and the problems are finally coming to a head," says chief F1 writer Andrew Benson.
"The team's equipment was impounded at the Spa-Francorchamps track on Sunday night because of a legal dispute with Lotus's former reserve driver Charles Pic and it will take a settlement on Monday morning or later to free them up.
"There are said to be a whole series of other potential creditors, and other problems, waiting in the wings.
Lotus F1 team since 2012

2012

2013

2014

2015 (ongoing)

Wins: 1

Wins: 1

Wins: 0

Wins: 0

Points: 303

Points: 315

Points: 10

Points: 50

Constructors' championship: 4th

Constructors' championship: 4th

Constructors' championship: 8th

Constructors' championship: 5th
"Owners Genii Capital had a business plan when they bought the team from Renault in 2009 that depended on raising a certain amount of money in sponsorship revenue.
"When that revenue proved hard to come by, owner Gerard Lopez decided not to reduce his budget but rather to pump his own money into the team, in the form of shareholder loans.
"Inevitably, as time has gone on, that has become an increasing problem."
Do they have a future?
"In recent months, with a potential sale back to Renault on the cards, Genii have unsurprisingly wanted to reduce the amount of extra money they put into the team to the minimum," adds Benson.
"On the track, the effect has been that development parts have not made it to the car. Off it, the result is ever-more-serious financial problems."
After the Belgian race, Lotus trackside operations director Alan Permane admitted: "This is the worst season we've had financially.
"We've scrimped and scraped for parts and to get the cars on the track is a massive effort each week. So to be able to stick it on the podium is unbelievable."
Benson adds: "Ironically, if the team did go into administration, it might make a sale to Renault easier to conclude. There are also said to be Far Eastern investors, potentially from China, in the wings.
"Whatever happens, though, the hope must be that they can be saved."
Will it be Renault to Lotus and then Renault again?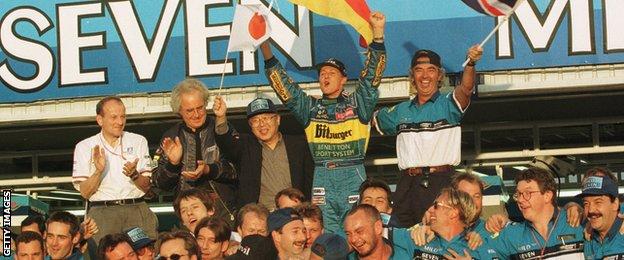 While the Lotus name has a long and distinguished history in F1, this operation has no real connection to the Colin Chapman-founded Team Lotus outfit that won six drivers' titles and seven constructors' titles between 1963 and 1978, before Ayrton Senna delivered their final race wins in 1987.
This Lotus F1 incarnation owes its Oxfordshire roots to the Toleman team that joined the grid in 1981 and gave future three-time world champion Senna his first opportunity in the sport in 1984.
The Benetton clothing company began sponsoring the team in 1985 and purchased them before the 1986 campaign.
From 1986-2001, Benetton won 27 races and provided the cars that took Michael Schumacher to his first two drivers' titles in 1994 and 1995.
Having been bought by Renault in 2000, the team took the French manufacturers' name from 2002 and, with Fernando Alonso at the wheel, won further championships in 2005 and 2006.
When Renault wanted out of the sport in 2010, new owners Genii Capital decided to revive the Lotus name.
Renault, which supplied the team with engines until last season, may now be the saviours for the ailing outfit.
Time will tell if Grosjean's third place is a last hurrah or an example of the potential that still exists within the team.