Michelin submits Formula 1 tyre supply bid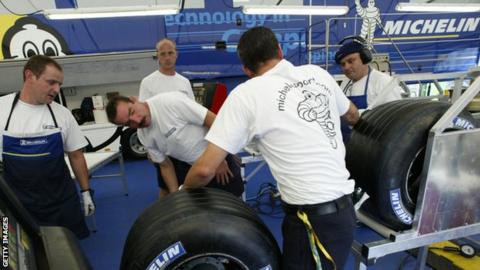 French company Michelin has submitted an application to be Formula 1's new tyre supplier from 2017.
It is the second company to express an interest following incumbent Pirelli, which has supplied F1 since 2011.
It wants to change F1's existing approach - to have fragile tyres on which drivers cannot push to the limit for more than a couple of laps.
Michelin motorsport director Pascal Couasnon said they were "disappointed with where F1 is tyre-wise".
They previously supplied F1 tyres between 1977-84 and 2001-06.
Pirelli is acting on a brief from F1 commercial boss Bernie Ecclestone, who believes fragile tyres and multiple pit stops for each driver in a race provide an exciting spectacle.
But there has been increasing disenchantment with the approach from certain sections of F1's audience.
And drivers have expressed their dissatisfaction that F1 cars are not as challenging as they used to be.
McLaren's Fernando Alonso, a two-time world champion, said: "Saving tyres and fuel from lap one is more frustrating than the pace itself - when you are so slow and you cannot have wheelspin because you overheat the tyres."
Couasnon said he believed "there's another way to ensure a good show, with high-technology tyres lasting with good grip".
Michelin's bid includes a requirement for F1 to switch to 18-inch wheels from the current 13-inch diameter, because it says the lower-profile tyres these require are more relevant to road cars.
The technical directors of Mercedes and Ferrari, Paddy Lowe and James Allison, said at the last race in Canada that they did not think 18-inch wheels were the correct direction for F1.
Ecclestone has privately told teams that he expects Pirelli to get the contract.
The Italian company pays Formula 1 Management, the company that holds F1's commercial rights, $40m a year for trackside advertising.
Sources say Michelin is aware that if it is to win the deal it will need to provide a suitable commercial deal for the sport.