Sebastian Vettel: Formula 1 needs to bring back fear factor

By Andrew Benson
Chief F1 writer
Last updated on .From the section Formula 1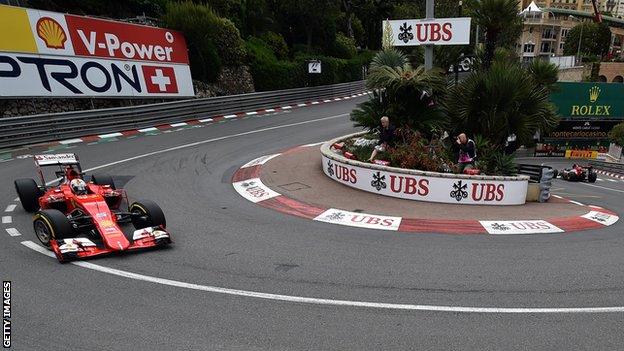 Monaco Grand Prix
Venue:
Circuit de Monaco-Monte Carlo
Dates:
21-24 May
Live text and radio commentary via the BBC Sport website and app, plus qualifying and race highlights on BBC One.
Full coverage details here.
Ferrari driver Sebastian Vettel says Formula 1 cars need to have the fear factor brought back for drivers.
"The first time I drove an F1 car I was scared and I don't think you get that any more," the four-time champion said.
"I would like to have a much bigger engine, more power, better tyres, more grip so the cars go faster."
F1 bosses plan to make the cars have more downforce and bigger tyres to speed them up. The current turbo hybrid engines, the best of which produce about 900bhp, will stay, with engineers believing natural development will take them close to 1,000bhp by 2017.
McLaren's Fernando Alonso said he agreed that F1 cars needed to be more than "one or two seconds quicker" than those from the GP2 feeder formula.
The two-time champion said: "Saving tyres from lap one and fuel from lap one, that is more frustrating than the pace itself."
Alonso said the drivers did not want the current situation "when you are so slow and you cannot have wheelspin because you overheat the tyres".
Andrew Benson on Monaco
Monaco: a wonderful anachronism of a race, in which 900bhp Grand Prix cars are wrestled around narrow hillside streets barely wide enough to cycle on.
F1 has its problems at the moment but, however jaded you are, there is nothing quite like the barely controlled violence, the sense of impossibility suspended, of the very best drivers at work there.
In the Pirelli era, the race itself has become a bit of a joke - cars trundling around nose to tail, seconds a lap under the limit, to ensure the super-soft tyres can last long enough to do the ideal one-stop race.
But as an event, still nothing quite matches Monaco.