Jacques Villeneuve: Ex-Williams driver says Monaco is hell
Last updated on .From the section Formula 1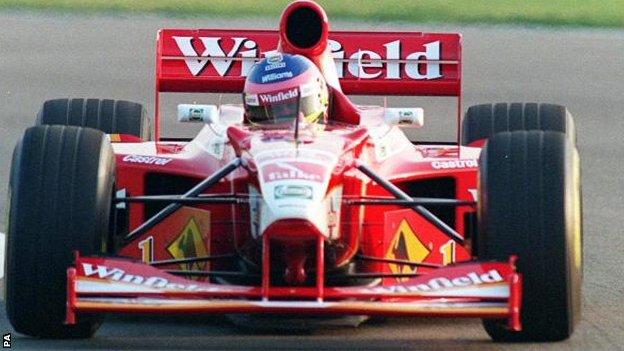 Monaco Grand Prix
Venue:
Circuit de Monaco-Monte Carlo
Dates:
21-24 May
Live text and radio commentary via the BBC Sport website and app, plus qualifying and race highlights on BBC One.
Full coverage details here.
Former Formula 1 world champion Jacques Villeneuve has described the Monaco Grand Prix as "hell".
The Canadian won the drivers' title in 1997 with Williams and retired from the sport in 2006.
The 44-year-old, who lives in Monaco but never won there during his racing career, spoke about the track before this weekend's Grand Prix.
"The driving is amazing, it's the weekend that's a pain," Villeneuve said.
"You can't sleep at night because there's music everywhere until six in the morning," he added.
"It's hell to work, so that's the part that's not likeable because it's not like the good old days where you went to a gala the night before and got drunk and raced anyway. So Monaco is hell."
Mercedes' Lewis Hamilton took charge in second practice at the Monaco Grand Prix on Thursday.
The world champion was 0.74 seconds faster than team-mate Nico Rosberg, who lagged behind Hamilton through both sessions.
Villeneuve described driving in Monaco as "so much fun" because of the extreme nature of the track on which "there's no margin for error."
"It's not like all these modern tracks where you can see that it's a piece of cardboard that's been taken, put there and it's got the perfect angle," he added.
Andrew Benson on Monaco
Monaco: a wonderful anachronism of a race, in which 900bhp Grand Prix cars are wrestled around narrow hillside streets barely wide enough to cycle on.
F1 has its problems at the moment but, however jaded you are, there is nothing quite like the barely controlled violence, the sense of impossibility suspended, of the very best drivers at work there.
In the Pirelli era, the race itself has become a bit of a joke - cars trundling around nose to tail, seconds a lap under the limit, to ensure the super-soft tyres can last long enough to do the ideal one-stop race.
But as an event, still nothing quite matches Monaco.