Jules Bianchi: French driver's situation 'stagnant', says family
Last updated on .From the section Formula 1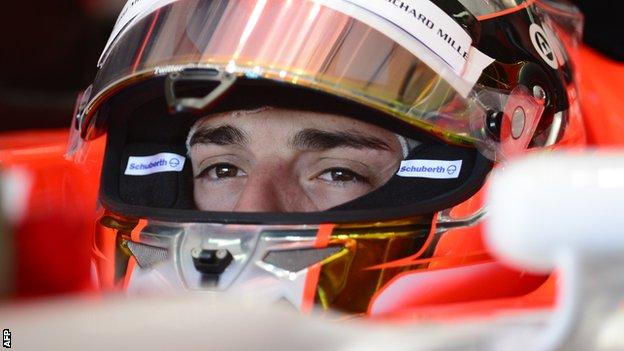 The father of Jules Bianchi says he is still hoping for a miracle but admits the situation is "stagnant" and that the family is preparing for the worst.
"While there's life, there's hope, even though after a while you are hoping for a miracle," Philippe Bianchi said.
"Every day the phone is by our side. When we get up, we think of Jules' life but we think also of his death."
Speaking to French television station Canal+, he added: "We have to think about death because we are in a situation where we know a lot of things can happen. It's terrible.
"In neurological terms, I'm not sure he is able to do much now.
"The situation is stagnant. Jules' neurological progress is not what we would like it to be."
It is almost a year since Bianchi claimed Marussia's first - and to date only - points in F1 with a ninth-placed finish at the Monaco Grand Prix.
Philippe Bianchi was speaking just days before this year's race around the principality, situated some 15 miles from where Jules Bianchi is being cared for in a Nice hospital.
"The first thing is that Jules is alive - that's the most important thing for us," his father added.
"He's fighting with the weapons that he has. Seeing him fighting gives a lot of hope to his loved ones, and it's important for us."
Marussia went into administration at the end of last season but were subsequently reformed and are now known as Manor.
Manor's return to Monte Carlo this week is being observed by team members with red wristbands bearing 'JB17', remembering Bianchi and his chosen race number.