Formula 1 gossip: Button, Maldonado, Grosjean, Hakkinen
Last updated on .From the section Formula 1
Sunday, 17 May
McLaren driver Jenson Button says he and team-mate Fernando Alonso have been frustrated by how long it takes to make a new engine competitive. (f1i.com)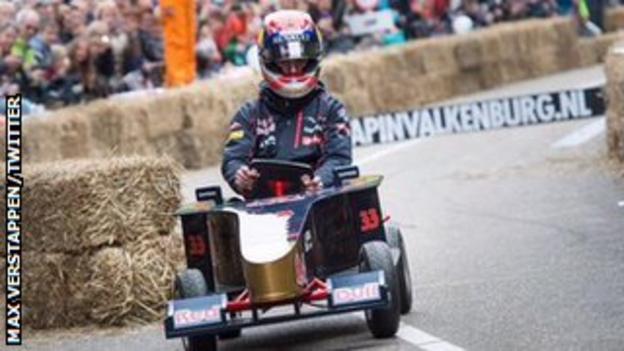 Romain Grosjean says his Mercedes-powered Lotus E23 Hybrid has the "driveability" to be competitive in next weekend's Monaco Grand Prix. (f1i.com)
Grosjean's Lotus team-mate Pastor Maldonado is hoping for a change of luck after failing to score a world championship point so far in 2015. (crash.net)
Two-time world champion Mika Hakkinen hints that a move from Williams to Ferrari could help fellow Finn Valtteri Bottas win the world title. (NBC Sports)
Saturday, 16 May
Lotus chief executive Matthew Carter has ruled out a possible sale to French manufacturer Renault. (espn.com)
Lotus driver Pastor Maldonado is looking forward to next weekend's "iconic" Monaco Grand Prix, but says the track is "stressful physically and mentally". (planetf1.com)
Formula 1 bosses have pledged to increase the noise of the engines and decrease lap times "by five or six seconds" to help check dwindling television audiences.(Daily Telegraph)
Former world champion Sir Jackie Stewart says today's Formula 1 is "too complex" and says he does not find the sport interesting any more. (Globo Esporte - in Portuguese)
Friday, 15 May
Formula 1 appears to have opened the door to the introduction of customer cars, with plans for cost saving seemingly abandoned following Thursday's Strategy Group meeting. (Autosport)
Nico Rosberg and Fernando Alonso say they would like to see the Italian Grand Prix at Monza remain on the F1 calendar. (Crash.net)
McLaren's Alonso says he would have preferred to be a Formula 1 driver in the 1980s, as "the cars were more racy, with big tyres, big engines and not many limitations in terms of creativity for the designers".(Autosport)
Meanwhile, Alonso has been running in Dubai, as this sped-up video the Spaniard has posted demonstrates.
Williams reserve driver Susie Wolff is driving five-time world champion Juan Manuel Fangio's 1955 Mercedes at the legendary 1,000-mile Mille Miglia race in Italy.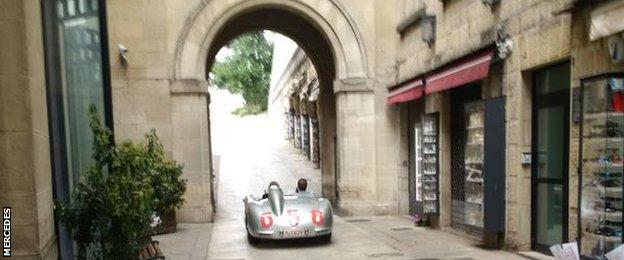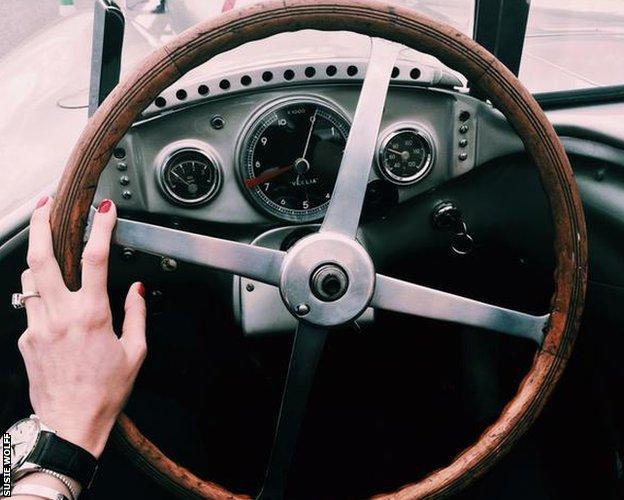 Pirelli motorsport director Paul Hembery says the Italian company have been asked to consider making "wider tyres" for F1. He said: "That would be dramatic in terms of appearance and would mean that more grip comes from the tyres." (Formula1.com)
Thursday, 14 May
Three days after saying his McLaren was "scary" to drive during the Spanish Grand Prix, McLaren's Jenson Button was fourth fastest as he completed nearly 100 laps on the final day of the first in-season test in Barcelona. Lotus's British reserve driver Jolyon Palmer posted the quickest time. (Crash.net)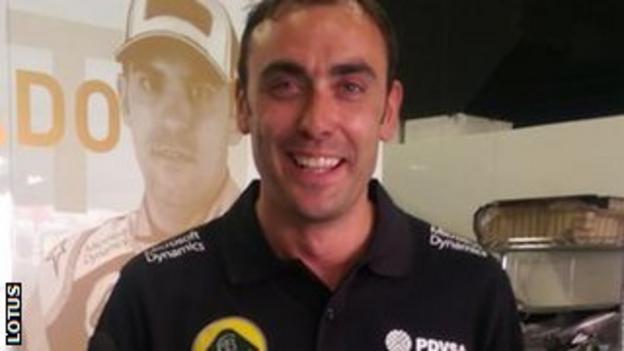 Button was feeling more positive after the test, tweeting:"Got dirty today! Really enjoyed the test, a lot learnt. Now ready for some Monaco action next week!"
Lotus's front jackman 'Jason' - struck by Romain Grosjean in the slippery pit lane during Sunday's Spanish Grand Prix - was all smiles as he returned to work at the test.
Red Bull driver Daniel Ricciardo joined four-time world champion Alain Prost, former Force India driver Paul Di Resta and BBC F1 pundits David Coulthard and Eddie Jordan on a bike ride. They went up the Col de la Madone in southern France.Coulthard tweeted:"Downhill bit was the only time I wasn't staring at a gentleman's rear."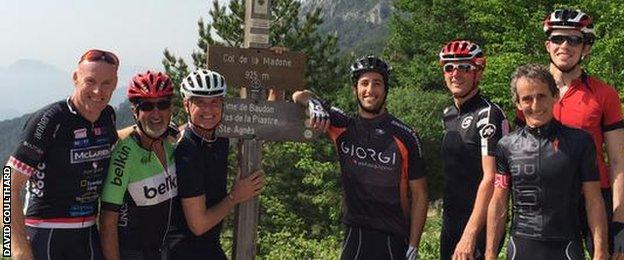 Red Bull and Renault's spell of dominance between 2010 and 2013 may have contributed to the engine manufacturer's struggles, says Renault sport F1 managing director Cyril Abiteboul.(Formula1.com)
Wednesday, 13 May
The official F1 website has marked the 65th anniversary of the first world championship race, which was held at Silverstone on 13 May 1950. On the grid that day were a Swiss baron, a Thai prince and a well-known Jazz musician. (Formula 1)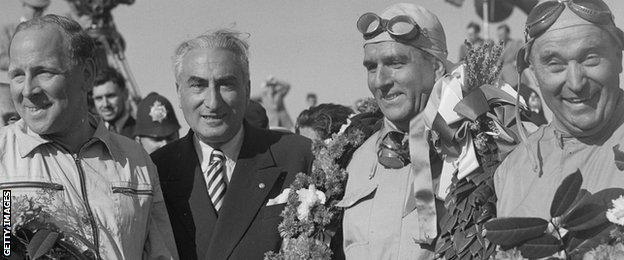 Formula 1 supremo Bernie Ecclestone is prepared to join forces with FIA president Jean Todt in a bid to push through change at Thursday's meeting of F1's Strategy Group, which has been described by one team boss as a "watershed" event. (Autosport)
Gene Haas has refused to rule out the possibility of Danica Patrick, the world's best-known female racing driver, racing for his new Formula 1 team when it enters the sport next year. (Reuters)
Tyre manufacturer Michelin says it is open to making a return to Formula 1, but only if the sport's technical regulations are changed. (RichlandF1.com)
Manor Marussia president Graeme Lowdon has been delighted with the job driver Will Stevens has done since joining the team. (Sky Sports)
Ferrari received more money than any other team in Formula 1 for the 2014 season, despite finishing fourth in the constructors' standings. (Autosport)
Tuesday, 12 May
McLaren tweeted a link to YouTube footage of Fernando Alonso's recent outing at the wheel of Ayrton Senna's title-winning MP4/4 from 1988.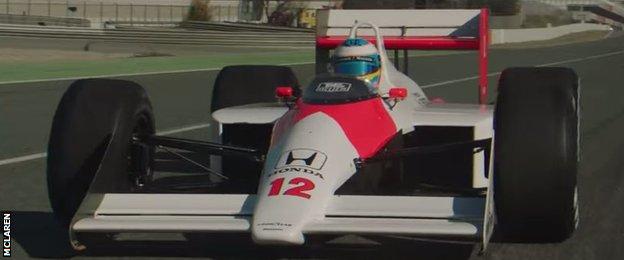 Bernie Ecclestone says he will be happy to see Audi come into F1, but cautions that the German manufacturer will - as Honda have found this season - struggle to catch up with Mercedes. (Fox Sports)
Lewis Hamilton will have news on his contract for 2016 at the next round in Monaco and has dismissed claims his negotiations with Mercedes have reached deadlock.(ESPN)
Meanwhile, Hamilton's team-mate Nico Rosberg says he is happy for the double world champion to extend his stay beyond 2015. (Paddock Talk)
Monday, 11 May
Red Bull team boss Christian Horner has written off the team's challenge for this season after watching Daniel Ricciardo and Daniil Kvyat get lapped by Spanish Grand Prix winner Nico Rosberg. (Sky Sports)
McLaren have confirmed Fernando Alonso will not take part in this week's two-day test in Spain, with test driver Oliver Turvey taking his place on Tuesday before handing the MP4-30 over to Jenson Button for the second and final day. (Planet F1)
A Lotus mechanic was left holding an ice pack on his crotch after Romain Grosjean overshot his marks and went straight-on at his pit-box, launching the front jack-man into the air during Sunday's Spanish Grand Prix. (Daily Mail)
Grosjean also tweeted after the race, and referred to the incident, writing: "Good points again today for Lotus F1 Team. Glad that my guys are ok after a scary Pitstop:-)"
Bernie Ecclestone says "it would be great" if Audi decided to compete in Formula 1, with the Volkswagen-owned brand rumoured to be considering joining the competition. (Inautonews)
Mercedes have changed their position yet again over proposals to increase the number of engines permitted in the season to five, with boss Toto Wolff saying: "We have called for the fifth engine, subject to the condition that more running is done on Fridays." (F1 Today)