Formula 1 gossip: Hamilton, Alonso, Wolff, Bottas
Last updated on .From the section Formula 1
Sunday, 10 May
Formula 1 boss Bernie Ecclestone says world champion Lewis Hamilton would have no problem switching to Ferrari from Mercedes next season, even though the Italian team's lead driver Sebastian Vettel would disapprove. (Daily Star)
Fernando Alonso must be patient for success at McLaren-Honda, according to four-time world champion Alain Prost. (Autoweek)
Valtteri Bottas believes Williams are as competitive with Ferrari as they has been since the season-opening Australian Grand Prix after qualifying fourth in Spain. (ESPN)
Lewis Hamilton posted a picture on Instagram of himself with Niki Lauda - three-time world champion and now a non-executive chairman at Mercedes - with the caption "One of the greatest! My boss and good friend Niki Lauda."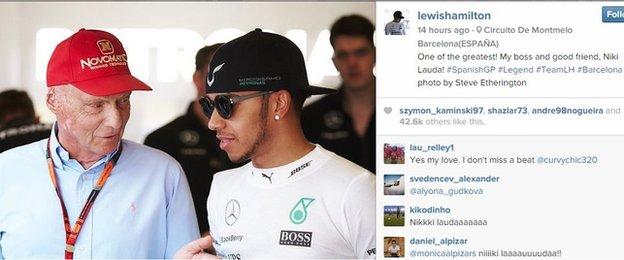 Ferrari driver Sebastian Vettel fears the gap between his team and the Formula 1 world champions Mercedes is wider in Spain than at the last couple of races. (Reuters)
Test driver Susie Wolff will rethink her future with Williams in July after she missed out on their reserve driver role. (Autoweek)
Saturday, 9 May
Barcelona's Circuit de Catalunya has renewed its contract to host the Spanish Grand Prix, which had been due to expire after next year's race. (Autosport)
Lewis Hamilton has shrugged off team-mate Nico Rosberg's confidence about this Sunday's race, saying: "If he is saying he brought his best game last year then I don't really have too much to worry about." (Daily Mail)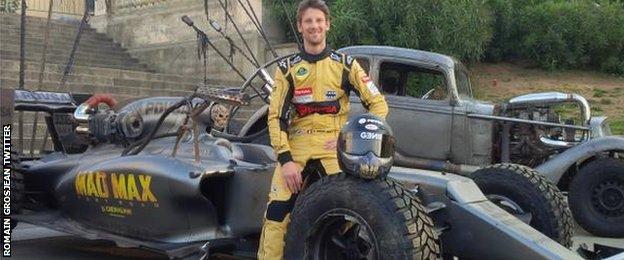 Lotus driver Romain Grosjean posted several photos of himself alongside an F1-style car that has been remodelled to tie in with the release of the fourth Mad Max movie, "Fury Road".
Ferrari team principal Maurizio Arrivabene marked the 33rd anniversary of the death of Canadian F1 driver Gilles Villeneuve by wearing an armband with 27 printed on it, the number of the car driven by the popular driver when he was killed in qualifying at the 1982 Belgian Grand Prix. (Formula 1.com)
Jenson Button tweeted that "progress is the word of the day" following the McLaren driver's improved showing in practice at the Catalunya circuit on Friday.
Button feels that the difference in his McLaren MP4-30 car from pre-season testing to now is "like night and day". (Grand Prix Times)
Friday, 8 May
McLaren legend Ayrton Senna appeared in hologram form alongside current driver Fernando Alonso at an event in downtown Barcelona on Thursday, celebrating the team's 30-year association with TAG Heuer. (Fox Sports)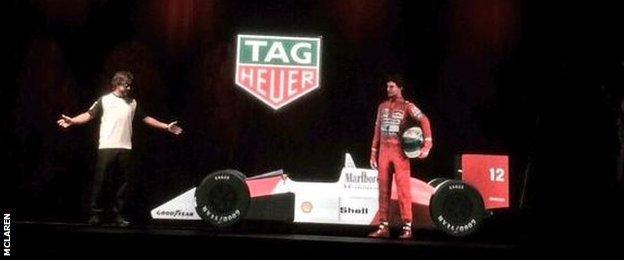 Daniel Ricciardo says team-mate Daniil Kvyat's feedback could be hurting Red Bull compared to last season, when four-time champion Sebastian Vettel was with the team. (f1i.com)
McLaren's Jenson Button believes the midfield pack is "there for the taking" as his team look to haul themselves into contention for their first points of the season. (Autosport)
Ferrari are without sporting director Massimo Rivola in Spain this weekend. Media reports in Italy claim he was "removed from his duties" during the three-week break between Bahrain and Barcelona. (Inautonews.com)
Carlos Sainz Jr believes this weekend's Spanish Grand Prix represents a crucial opportunity for Toro Rosso to score points before the team are eclipsed by larger rivals. (Motorsport.com)
Britain's Susie Wolff was at the wheel of the Williams in first practice for the Spanish Grand Prix on Friday and was clearly up for the challenge, tweeting: "Preparation all done. I'm ready."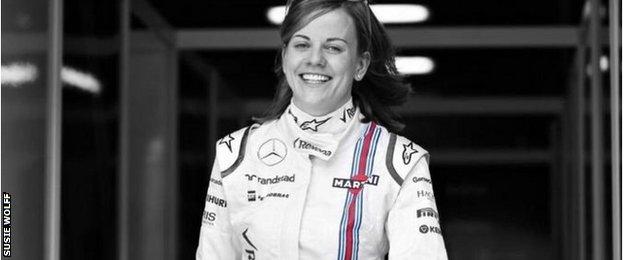 Thursday, 7 May
Valtteri Bottas has dismissed rumours he has signed a pre-contract agreement with Ferrari, but he said his Formula 1 future is open beyond 2015. (Autosport)
Sergio Perez says Force India will not be bringing any significant updates to the car until their home race at Silverstone, and he is expecting a difficult weekend in Barcelona. (Motorsport.com)
Lotus driver Romain Grosjean posted a picture on Twitter showing a well-attended team track walk on Thursday.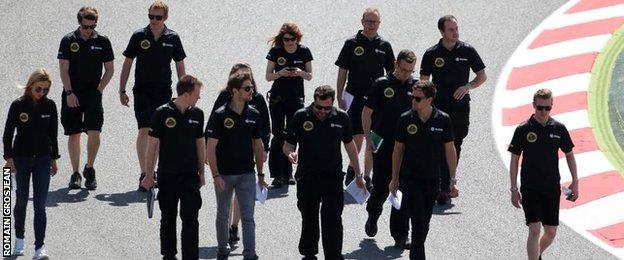 Wednesday, 6 May
Fernando Alonso has posted a picture on Twitter of him at the wheel of Ayrton Senna's title-winning McLaren MP4/4 from 1988. The Spaniard drove the iconic car at the Circuit de Catalunya during filming for a feature celebrating the team's 30-year partnership with TAG Heuer.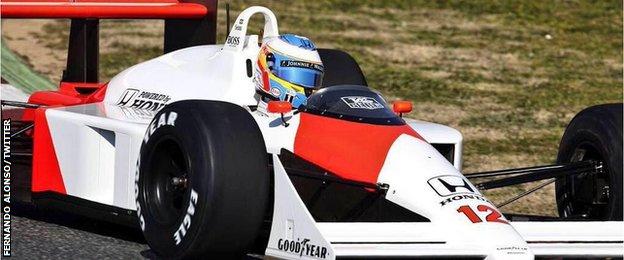 Double world champion Mika Hakkinen has praised rookie Toro Rosso driver Max Verstappen and admitted he was wrong to say the 17-year-old was too young to drive in F1.(Wheels24)
The Haas team are hoping to have their 2016 driver line-up in place by September and, while they are considering American drivers, signing someone with F1 experience is the priority. (Autosport)
Williams test driver Susie Wolff tweeted a drawing from a supporter wishing her luck for the 2015 season. She replied: "So cool!"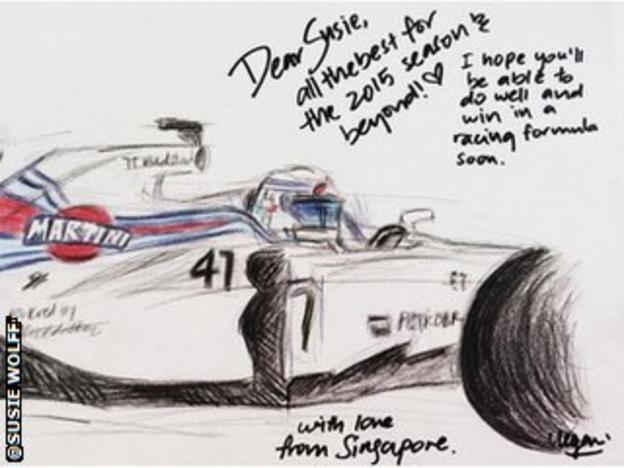 Former Ferrari president Luca di Montezemolo believes Red Bull boss Dietrich Mateschitz will walk away from F1 unless he can convince Audi to join the sport. (Motorsport.com)
McLaren-Honda racing director Eric Boullier claims the team are in a "positive state of mind" going into this weekend's Spanish Grand Prix, despite their poor start to the season. (F1i.com)
Mercedes chairman Niki Lauda says world champion Lewis Hamilton is driving like an "extra-terrestrial" after winning three times in four races this season. (Grandprix247)
Tuesday, 5 May
Team principal Maurizio Arrivabene says Ferrari do not need world champion Lewis Hamilton in their team when they already have Sebastian Vettel, suggesting he would rather sign a "young, talented driver". (Bild - in German)
Meanwhile, Hamilton has been enjoying the view of the Grand Canyon during a flight from Las Vegas to New York, where he attended the Met Gala on Monday evening. (Twitter)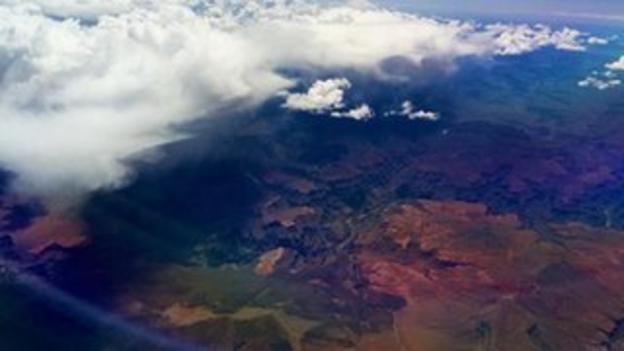 Kimi Raikkonen says his rivalry with fellow Ferrari driver Sebastian Vettel is helping push the team to accomplish greater feats. "We are trying to beat each other and get Ferrari in a winning position every weekend. But it's a nice friendly fight and it's great for the team," said the Finn. (CNN)
McLaren are optimistic that they can make further progress up the Formula 1 grid at this weekend's Spanish Grand Prix, with Honda having prepared power unit updates in an effort to improve "driveability and reliability". (Sky Sports)
The Haas team is hoping to have its 2016 F1 driver line-up in place by September before its debut in the sport next season, with team principal Gunther Steiner saying: "We are in no hurry, because we have to see who is on the market, who is doing a good [job] and who wants to move."(Autosport)
The addition of a fifth engine to the current allocation of four now looks unlikely, with Mercedes poised to veto the change according to non-executive chairman Niki Lauda. (Grand Prix Times)
Monday, 4 May
Ferrari boss Maurizio Arrivabene has not ruled out a move to sign Williams' driver Valtteri Bottas in 2017. (Bild - in German)
Bottas, meanwhile, has found a different way to unwind ahead of this weekend's Spanish Grand Prix. (Twitter)
F1 legend Stirling Moss says reigning world champion Lewis Hamilton is one of the few drivers of this era who would have prospered in his day, when the cars slid about on tracks devoid of safety features. (The Independent)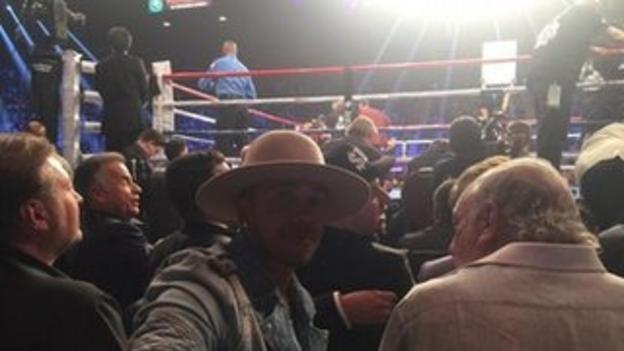 Ferrari driver Sebastian Vettel has told German Sunday paper Welt am Sonntag that his new team have to be ready to take advantage if world champions Mercedes make a mistake, saying "we must be right behind them, and pounce if something goes wrong". (DPA International)
Mercedes - "along with every F1 expert" - have been taken by surprise by Ferrari's 2015 resurgence, according to 1997 Formula 1 champion Jacques Villeneuve. (Auto Hebdo)
Sauber has backed ex-International Automobile Federation (FIA) president Max Mosley's call for limiting budgets for Formula 1 teams to £100m-a-year. (Wheels 24)
Desire Wilson, one of only five women who have attempted to qualify for a Formula 1 race - the 1980 British Grand Prix - says a female-only F1 series is not the answer to getting more women involved in racing. (Planet F1)
Sunday, 3 May
McLaren boss Ron Dennis says Fernando Alonso will stay with the team for the duration of his three-year contract despite the Spaniard - who has had a difficult start at his new team - dropping hints about retirement. (Fox Sports)
Iran is planning to build a Formula 1 circuit, according to the country's vice-president. (IRNA)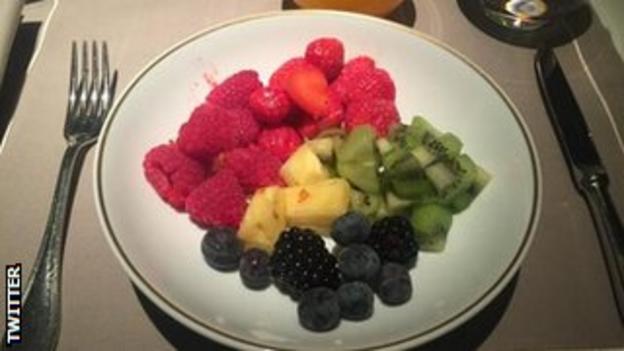 Christian Horner says he is confident Red Bull and engine manufacturer Renault are "making progress" as they aim to become more competitive on the track. (Planet F1)
Lotus driver Pastor Maldonado hopes to end his points drought at the Spanish Grand Prix next week, after admitting it has been "a complicated" start to the season. (GP Update)
Saturday, 2 May
Sir Jackie Stewart believes the three-week break between races will help a "depressed" Nico Rosberg in his title battle with Mercedes team-mate Lewis Hamilton. (Autosport)
Mercedes' Lewis Hamilton is being mocked by his followers on Twitter for apparently looking like Will Smith from '90s sitcom The Fresh Prince of Bel-Air, after posing on his Shelby Cobra car in Malibu. (Daily Star)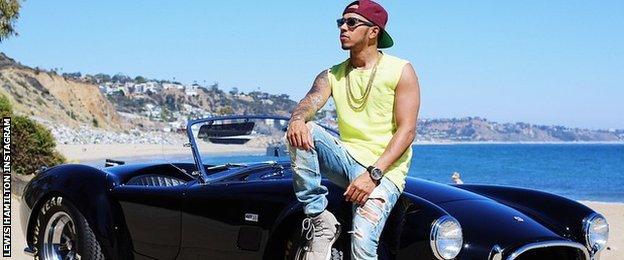 Leading Formula 1 marketing chief Zak Brown says teams' spending is "out of control". (Reuters)
Red Bull's head of aerodynamics Dan Fallows is confident the team can recover from a difficult start to the season after making updates to the RB11 car. (NBC Sports)
Sauber tweeted their best wishes to Switzerland's Marc Surer, a driver for Arrows in the 1980s, who has been involved in a horse racing accident.