Sebastian Vettel pays emotional tribute to Michael Schumacher

By Andrew Benson
Chief F1 writer in Sepang
Last updated on .From the section Formula 1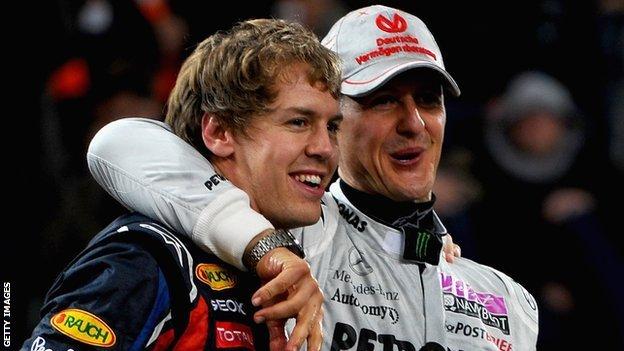 Sebastian Vettel paid tribute to his childhood hero Michael Schumacher after taking a "dream" first victory for Ferrari in the Malaysian Grand Prix.
"It's been my dream," he said. "Michael was my hero. All the kids at the go-kart track looked up to him.
"When he turned up to shake hands every year it made our lives. I don't understand yet how special it is."
Vettel is following in the Ferrari footsteps of Schumacher, who won five consecutive titles with the team from 2000-2004.
Schumacher sustained a severe brain injury in a skiing accident at Christmas 2013, and is still undergoing rehabilitation at home, adding to the emotion of the occasion.
Vettel said: "Michael left very large footsteps but the target is not to fill those but to leave some new ones."
His victory marked a remarkable turnaround in form for Ferrari.
They had their worst season for 21 years last year, a performance that convinced Fernando Alonso that he had to leave the team after five years and move to McLaren.
Vettel was signed to replace the Spaniard and the team made major changes to their engineering department, sacking almost their entire group of senior engineers and changing team principal.
The German, who won four consecutive titles with Red Bull from 2010-2013 but decided to leave after a difficult 2014 in which he was out-paced by team-mate Daniel Ricciardo, said: "I'm speechless. Last year was not a good year for me. We had a great car but I was struggling to extract the performance. This year's car suits me very well.
"It's been a while since I was on the top step. The first time with Ferrari.
"We made big changes over the winter and the welcome the team gave me has been amazing. Great achievement. We have a great car.
"It is a bit emotional. Today is a very special day and will always remain part of me."
Vettel managed to beat Mercedes, who have dominated since the start of 2014, by having better tyre usage and strong race pace.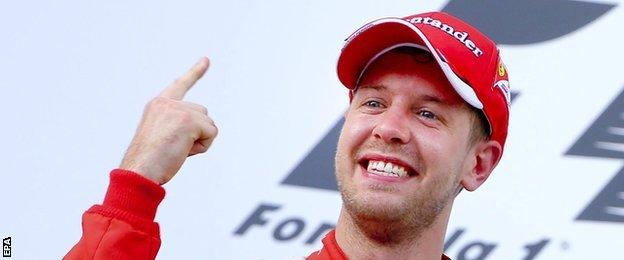 "The race, really spot on, the whole team was there - great strategy, great pace, we beat them fair and square," he said.
"Our goal is to bring the World Championship back to Maranello, we know these guys are incredibly strong and very difficult to beat.
"The key was the way the tyres lasted. That's where we were able to close the gap compared to Mercedes.
"It is a bit of a surprise for us but we need to take it. We need to confirm that and then try to catch these guys."