Formula 1 gossip: Hamilton, McLaren, Ferrari
Last updated on .From the section Formula 1
Sunday, 1 March
Ferrari boss Maurizio Arrivabene has criticised the possibility of access passes being restricted for teams during the forthcoming season, as has been rumoured. (Reuters)
McLaren-Honda racing director Eric Boullier fears that reliability issues could mean that the team's MP4-30 car will not be competitive for several months. (Planet-F1.com)
Mercedes driver Lewis Hamilton is in talks with Jay Z about releasing his own music on the rapper's Roc Nation record label. (the Sun - subscription required)
Meanwhile, world champion Hamilton and his former girlfriend Nicole Scherzinger have unfollowed each other on Twitter following the end of their relationship in early February. (OK magazine)
Saturday, 28 February
Formula 1 chiefs are pushing through new rules that will force cars to be fitted with high-speed cameras from 2016 to help with accident investigation. (Autosport.com)
Force India's Nico Hulkenberg says the team are having to play catch-up. The German managed 77 laps on the car's first day of running in Barcelona on Friday. (Planet-F1.com)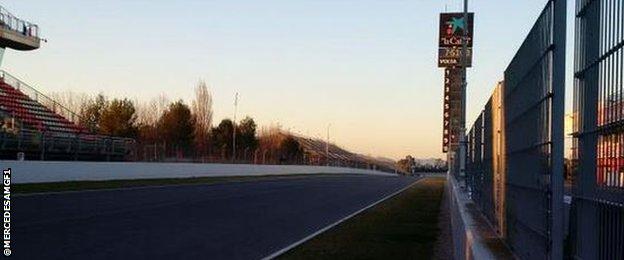 McLaren begin their Saturday at the final test by tweeting a special message to former world champion Mario Andretti: "Happy 75th birthday to @MarioAndretti, here chasing McLaren's James Hunt in his Lotus at Zandvoort in '77. #Legend"
Friday, 27 February
Ferrari are set to introduce new aerodynamic components on Friday, as it gradually upgrades its aerodynamic package during Barcelona's final pre-season test.(Autosport)
World champion Lewis Hamilton thinks Mercedes is more prepared for the new season than it was this time last winter. (ESPNF1.com)
Carlos Sainz Jr is clearly happy with his Toro Rosso car. The 20-year-old said he had "fallen in love with my new baby".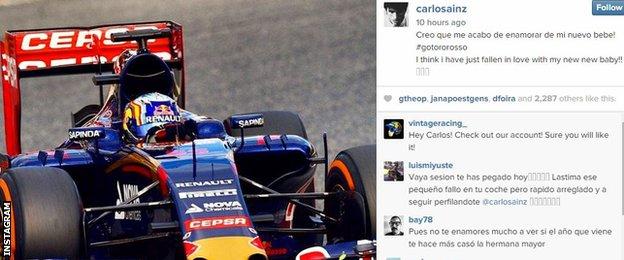 Felipe Massa thinks Williams may have made a breakthrough with the rear wing problems that hampered their 2014 campaign. (ESPNF1.com)
Thursday, 26 February
Lewis Hamilton joined the stars on the red carpet at the O2 as he presented the award for best international female solo artist alongside Ellie Goulding at the Brit Awards in London.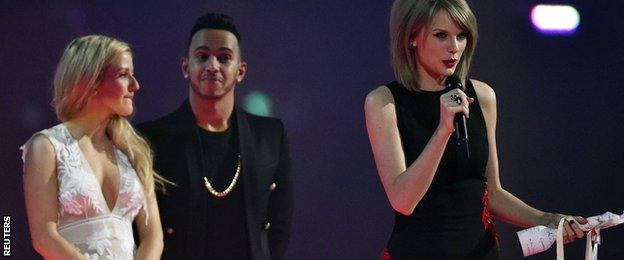 Fernando Alonso's manager has not ruled out the possibility of the McLaren driver missing the opening race of the season in Australia as the 33-year-old recovers from his crash in testing in Barcelona. (Motorsport.com)
Force India will have just three days of testing with their 2015 car before the new season starts as they prepare to debut their new car in Barcelona on Friday.(Wheels24)
Meanwhile, Force India have released the first images of their 2015 car. (Formula1.com)
Sauber tweeted a picture of the Barcelona sunrise as the team prepared for another busy day of testing at the Circuit de Catalunya.
Wednesday, 25 February
McLaren's Jenson Button has admitted that "I haven't got a clue what is going on" with regards to the pecking order for the new season after some unpredictable results in pre-season testing. (Planet-F1.com)
Kimi Raikkonen says he has a "good feeling" about Ferrari's car for this season as he took part in a day of filming behind the scenes with the team in Barcelona. (Daily Mail)
Legendary Formula 1 designer Gerard Ducarouge, who produced winning cars for Jackie Stewart and Ayrton Senna, has died at the age of 73. (Autosport)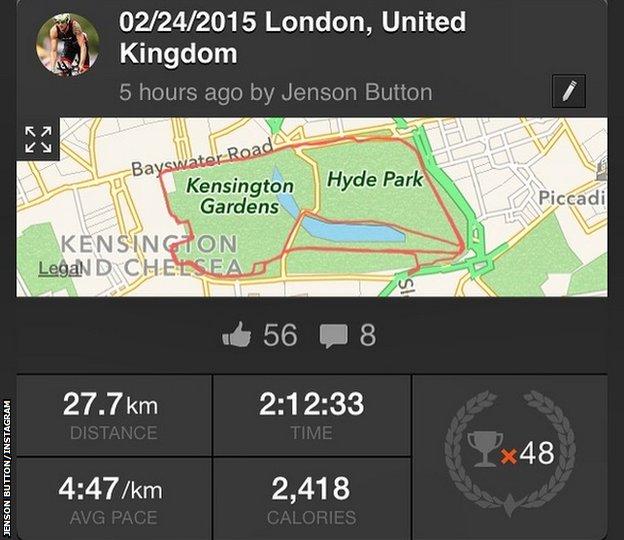 Meanwhile, Button completed a 17-mile training run on Tuesday, burning nearly 2,500 calories.
Honda boss Yasuhisa Arai says he does not have any potential customers for its new Formula 1 engine other than new works partner McLaren. (Autoweek)
World champion Lewis Hamilton took advantage of a break after pre-season testing to attend a fashion magazine's style awards in London. (Daily Mirror)
Hamilton was photographed wearing a camel fedora and a white jacket as he went out for lunch in central London on Tuesday. (Daily Mail)
Tuesday, 24 February
Williams driver Felipe Massa thinks Ferrari racer Kimi Raikkonen will benefit from the departure of Fernando Alonso, who he says attempted to leave the Italian team several years ago. (Formula 1)
Veteran designer Rory Byrne, 71, is back working at Ferrari and acting as a mentor to chief designer Simone Resta. (ESPN)
Toro Rosso team principal Franz Tost believes winter tests would be better if they were conducted in warmer climates rather than being restricted to Europe this year. (Planet F1)
McLaren driver Jenson Button and his wife arrived at his hotel with a nice treat for the pair, which he posted a picture of on Instagram.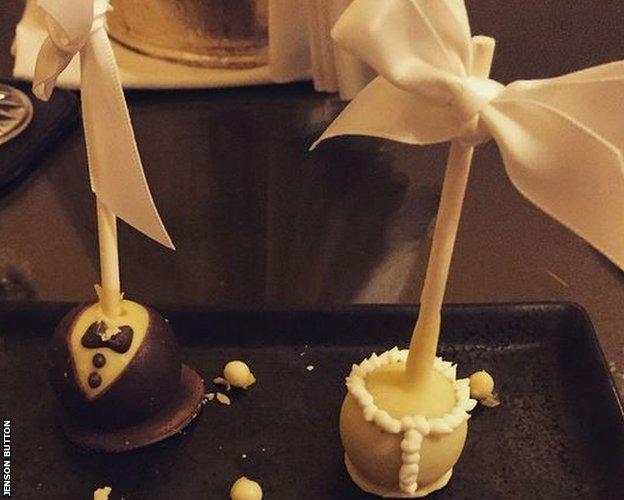 Monday, 23 February
Jenson Button claims McLaren's test programme is "43% complete" and not 50% as suggested by team boss Eric Boullier. The 2009 Formula 1 world champion added: "I know we will not have a race-winning car at the first race, but we could have one by the last".(The Times - subscription required)
World champion Lewis Hamilton posted an image of himself sitting on the wing of a plane at Barcelona Airport after pre-season testing with Mercedes. Hetweeted:"Hope you're all having an amazing Sunday! Heading home to rest so I can be at 100%."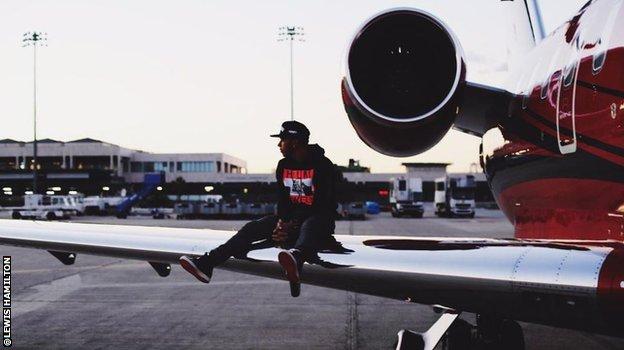 Lotus technical director Nick Chester says the most encouraging aspect of the final day of the second test in Barcelona was the mileage completed rather than Romain Grosjean posting the fastest time. (F1i.com)
Nico Rosberg says he was not too impressed with his performance in testing on Sunday, despite appearing to send an ominous message about the pace of Mercedes. (Autosport)