Jenson Button and McLaren suffer problems in Barcelona

By Andrew Benson
Chief F1 writer
Last updated on .From the section Formula 1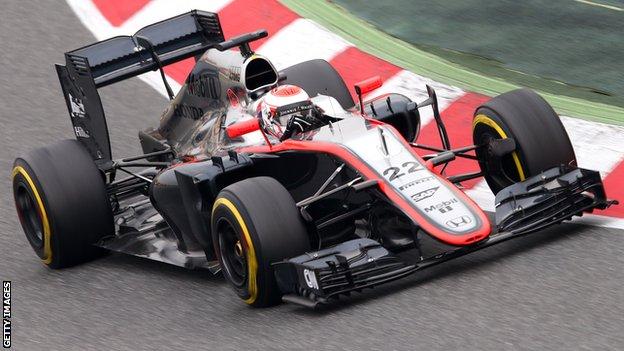 Struggling McLaren-Honda suffered yet another setback on the penultimate day of the second pre-season test.
The team's preparations have been badly compromised by reliability problems and another arose with a new part designed to fix an earlier failure.
Jenson Button was restricted to just 21 laps and was slowest of the 10 drivers who took part.
Honda is to "re-engineer" the part again in the hope of a strong final day on Sunday.
The team had hoped they had made a breakthrough after Button's team-mate Fernando Alonso managed 59 laps on Friday, despite a temporary fix on the engine as the team awaited the arrival of a new part aimed at fixing a failure that hit Button on Thursday.
The 2009 world champion managed just 12 laps on the first day of the test - taking his total to only 33 for his two days of running - after a failure of a seal on the motor generator unit which recovers energy from the rear axle (MGU-K).
The redesigned part was fitted for Saturday, but Button stopped out on track after just over an hour's running and managed only 12 laps in total in the morning.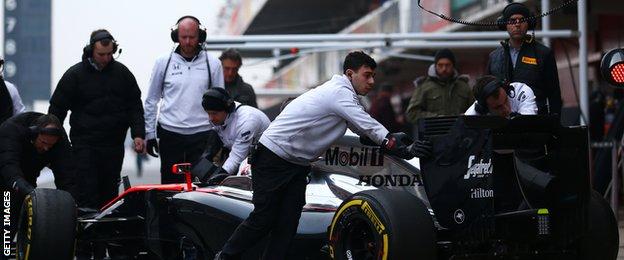 The team initially said that the stoppage had been "planned" but it later emerged that the new part had failed.
"It was a tough day," Button said. "I haven't really driven this car in anger yet. There were some positives in terms of moving forward for Melbourne but not for me in terms of knowing what the car can do. Everything feels right with the car but I haven't pushed this car yet."
He added that Honda, which is returning to F1 this season, was experiencing the same sort of problems as the other manufacturers did when their turbo hybrid engines were new last year.
"It looks worse than it is," he said. "There are problems we need to solve, and we will, and hope the next test is good in terms of mileage so we can feel confident going into the first race."
Button spent four hours in the garage before concluding with a further nine laps with limited power. The car stopped again at the exit of the pits shortly before the end of the day because of a puncture, although the team did manage to get him going again for a brief final run.
There are now just five days of pre-season testing for McLaren and Honda to sort out their problems - Sunday and then another four-day test at the Circuit de Barcelona-Catalunya starting on Thursday.
Alonso, who takes the car over for the final day of this week's test, said on Friday evening that he suspected the team would not be ready for the Australian race.
"We will arrive in Australia hoping it was in June or July, but it's in March and I don't know if we will arrive completely ready," the double champion said, "but we will arrive in the best conditions we can. I am happy with the progress we are making."
He added: "I went to Japan last week, saw again the excitement and enthusiasm, the facilities and resources. I don't know how long it will take to win but sooner or later we will do it."
The fastest time of the day on Saturday was set by Lotus driver Pastor Maldonado, who beat Toro Rosso's Max Verstappen by 0.391 seconds. They were the only drivers to use the grippy but short-lived super-soft tyre.
World champion Lewis Hamilton, who said he was still not feeling 100% fit after a fever had forced him to abandon testing on Thursday, was third fastest on another solid day for Mercedes on the 'medium' tyre - two grades harder than the 'super-soft'.
Hamilton's progress, focusing on longer runs and never trying the softer two types of tyre, extended the impression that Mercedes are in the best shape ahead of the season, which starts in Melbourne on 15 March.
Sauber's Marcus Ericsson was fourth fastest after a run on the 'soft' tyres.
Ferrari's Sebastian Vettel, who suffered the ignominy of spinning on his first lap out of the pits in the morning, finished fifth fastest, joining Hamilton as one of several drivers to complete more than 100 laps.
Vettel, a four-time world champion, said he had misjudged the grip on a damp track with tyres not fully up to temperature.
His replacement at Red Bull this season, Russian Daniil Kvyat, was sixth and also did more than 100 laps, including a full race-distance simulation.
FASTEST TIMES, SECOND PRE-SEASON TEST, DAY THREE, CIRCUIT DE BARCELONA-CATALUNYA
1 Pastor Maldonado (Ven) Lotus-Mercedes 1:24.348
2 Max Verstappen (Ned) Toro Rosso-Renault 1:24.739
3 Lewis Hamilton (GB) Mercedes 1:26.142
4 Marcus Ericsson (Swe) Sauber-Ferrari 1:26.340
5 Sebastian Vettel (Ger) Ferrari 1:26.407
6 Daniil Kvyat (Rus) Red Bull-Renault 1:26.589
7 Felipe Massa (Brz) Williams-Mercedes 1:26.912
8 Pascal Wehrlein (Ger) Force India-Mercedes 1:27.333*
9 Valtteri Bottas (Fin) Williams-Mercedes 1:27.556
10 Jenson Button (GB) McLaren-Honda 1:29.151
* = 2014 car