Sebastian Vettel: Ecclestone 'disappointed' by German's attitude

By Andrew Benson
Chief F1 writer
Last updated on .From the section Formula 1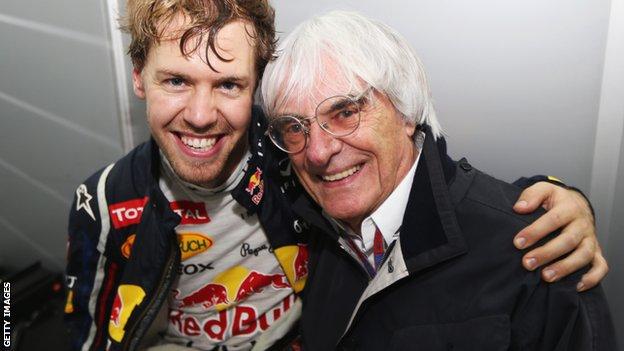 Formula 1 boss Bernie Ecclestone says he was "disappointed" by the attitude of Sebastian Vettel in 2014.
Writing in the official F1 review book, the 84-year-old criticised the four-time world champion for being defeatist as he struggled with his Red Bull.
"I'm a super supporter of Sebastian but I'm a little bit disappointed with his attitude," said Ecclestone.
"He's acting like a defeated guy and he isn't - that's not his mentality. He's a competitive guy."
But Ecclestone said he was relieved Germany's Vettel, champion from 2010 to 2013, had not won a fifth consecutive title.
"I don't think we could have lived with another Red Bull year, any more than we could have lived with another [Michael] Schumacher year," he said, referring to the five straight titles won by Vettel's compatriot from 2000 to 2004.
Vettel, who has holidayed with Ecclestone in the past, used a clause in his contract to leave Red Bull and move to Ferrari for 2015.
Ecclestone also criticised the performance of Ferrari after the team's worst season in 21 years, as well as their lead driver Fernando Alonso.
"Ferrari was very disappointing, getting lost somewhere," Ecclestone said.
"Fernando got a little bit like Sebastian halfway through, so I'm a little bit disappointed in him, too."
Alonso, a two-time world champion, has left Ferrari to move to McLaren for 2015, although his new team is yet to announce the Spaniard's arrival.
Ecclestone was complimentary about Vettel's team-mate Daniel Ricciardo, who won three races in 2014, saying his performance was "a big surprise".
And he said he was relieved world champions Mercedes allowed Lewis Hamilton and Nico Rosberg to fight for the title.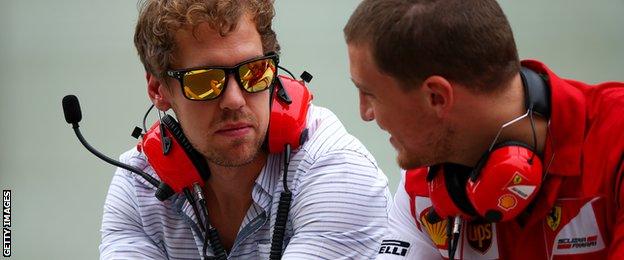 "We've been extremely lucky with what happened, these two guys have been racing each other and it's good that Mercedes has allowed them to do that. If not, we would have had a really lousy championship," Ecclestone added.
"The reason I was originally campaigning for three races with double points was just in case.
"If we hadn't been lucky with Nico and Lewis racing each other and one of them had got away and been dominant, the season would have been over by Silverstone.
"I thought perhaps Red Bull or Ferrari or one of the other teams would catch up halfway through the season and make up a few points at the end."