Jules Bianchi 'did not slow sufficiently' before crash, say FIA
Last updated on .From the section Formula 1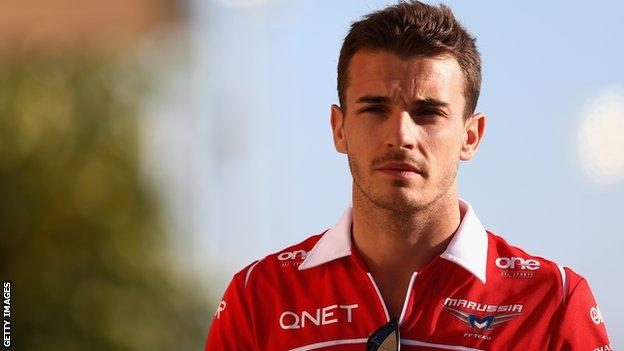 Formula 1 driver Jules Bianchi did not slow down sufficiently to avoid losing control when he crashed at the Japanese GP, an FIA accident report has found.
The Marussia driver suffered severe head injuries in the crash in October.
Bianchi hit the recovery vehicle in wet conditions at 126kph (78mph) and remains unconscious in hospital.
The FIA added that a braking system on Bianchi's Marussia prevented a failsafe from working, which was designed to cut the car's engine.
Bianchi suffered a diffuse axonal head injury when he crashed into a recovery vehicle at Suzuka that was removing Adrian Sutil's Sauber car from the circuit.
He is no longer in an artificial coma and is breathing unaided, but remains unconscious.
After a review of all the evidence, a 10-man Accident Panel appointed by the FIA issued a 396-page report on their findings.
One of the conclusions was that "Bianchi did not slow sufficiently to avoid losing control at the same point on the track as Sutil".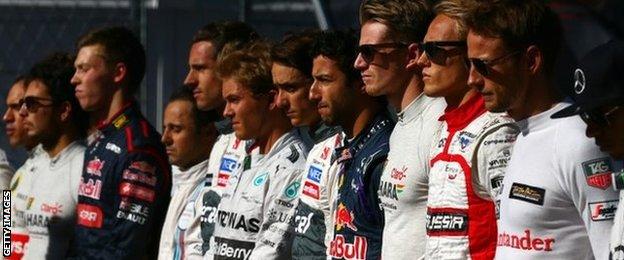 In the days following the accident, Marussia said they were "shocked and angered" by reports from some media outlets that suggest Bianchi did not slow down under caution flags.
They also denied claims they told Bianchi to go faster during the caution period to keep a rival behind.
Marussia have since ceased trading with all staff made redundant after they failed to secure funding to compete next season.
The report added: "During the two seconds Bianchi's car was leaving the track and traversing the run-off area, he applied both throttle and brake together, using both feet.
"The Failsafe algorithm is designed to over-ride the throttle and cut the engine, but was inhibited by the torque coordinator, which controls the rear brake-by-wire (BBW) system.
"Bianchi's Marussia has a unique design of BBW, which proved to be incompatible with the Failsafe settings.
"The fact that the Failsafe did not disqualify the engine torque requested by the driver may have affected the impact velocity; it has not been possible to reliably quantify this.
"However, it may be that Bianchi was distracted by what was happening and the fact that his front wheels had locked, and been unable to steer the car such that it missed the crane."
This season, teams were allowed to tweak the parameters of their brake-by-wire system to suit a driver's style and thus Marussia can be seen to have not broken the rules.
However, following the results of the report, the BBC has learned that the FIA will be tightening the limits to which teams can make changes to the parameters from next season.