Caterham buyer could put team back in business 'within weeks'
Last updated on .From the section Formula 1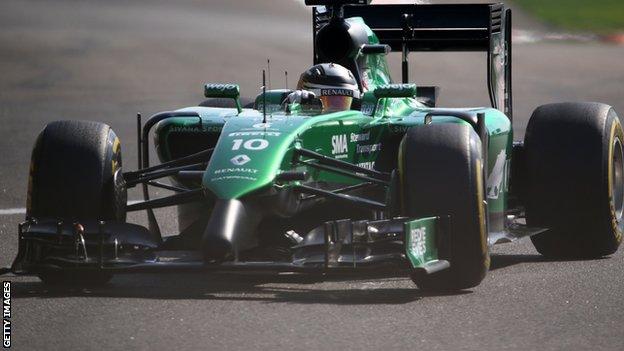 Formula 1 team Caterham are in talks with a potential buyer who could put them back in business within weeks, according to their administrator.
"I am honestly talking to somebody who would like to take this over within the next month," administrator Finbarr O'Connell said.
Caterham competed in last weekend's Abu Dhabi Grand Prix having missed the previous two in the USA and Brazil.
"They (the potential buyer) would like to take it over with the same people, as the same team with the same infrastructure, and that would be the dream result for me." O'Connell added.
"It would be absolutely fantastic."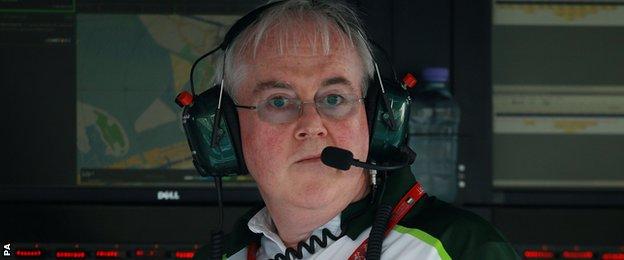 A crowd-funding exercise helped put Caterham back on the grid for the Abu Dhabi race and has now exceeded its original target of £2.35m having been initially revised to £1.8m by administrator Smith & Williamson.
O'Connell would not name the interested party but said it was someone "who is linked in to Formula 1".
"This is somebody who feels the same as me that if we don't do something quickly then the team will drift away," he said.
"If that works, and this is a credible person with credible backers, that will be the best solution.
"Talking to people with no Formula 1 involvement at all, who don't know what this is really about, adds that huge risk factor.
"But this is somebody who actually knows it, and who wants to do it.
"If it's serious and it goes ahead then we'll announce things as soon as we can."
Meanwhile, FIA president Jean Todt is to plead with Formula 1 teams to reduce their costs in a bid to save the sport from financial struggles.
Sauber, Lotus and Force India wrote to Todt and F1 boss Bernie Ecclestone before the Abu Dhabi Grand Prix to discuss how revenues in the sport are distributed.
Todt will chair an F1 Commission meeting in Geneva on Tuesday, which will be preceded by a strategy group session attended by Ferrari, Red Bull, Mercedes, McLaren, Williams and Lotus.
Todt was previously unsuccessful in his attempts to introduce a cost cap in Formula 1 after the idea was rejected by leading teams in April.