Formula 1 gossip: Vergne 'not bitter' at Red Bull
Last updated on .From the section Formula 1
Sunday, 7 December
World champion Lewis Hamilton says he does not want a period of easy domination at the top of the sport. (ESPN)
Mercedes, McLaren & Jenson Button all tweeted in support of Red Bull after the team's factory was broken into and 60 trophies stolen. Button wrote: "Feeling for Red Bull Racing right now after they had their trophies stolen. #memories"
Felipe Massa has been at the Williams factory along with team-mate Valtteri Bottas and tweeted: "Nice to see all guys happy at the Williams Racing factory!! Pushing hard for 2015!!"
Red Bull decided to drop Jean-Eric Vergne from the Toro Rosso team in favour of Max Verstappen and Carlos Sainz Jr but the Frenchman says he is "not bitter" about his exit. (Autosport)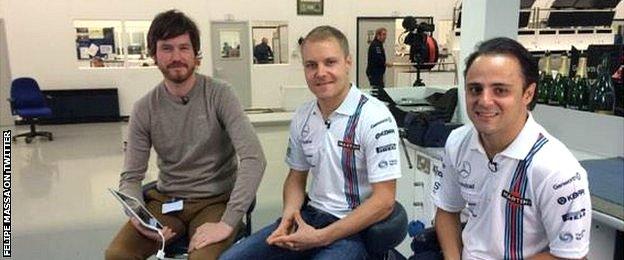 Saturday, 6 December
McLaren's racing director, Eric Boullier, says the team are taking time to announce their 2015 line-up to ensure they appoint the right drivers. (Sky Sports)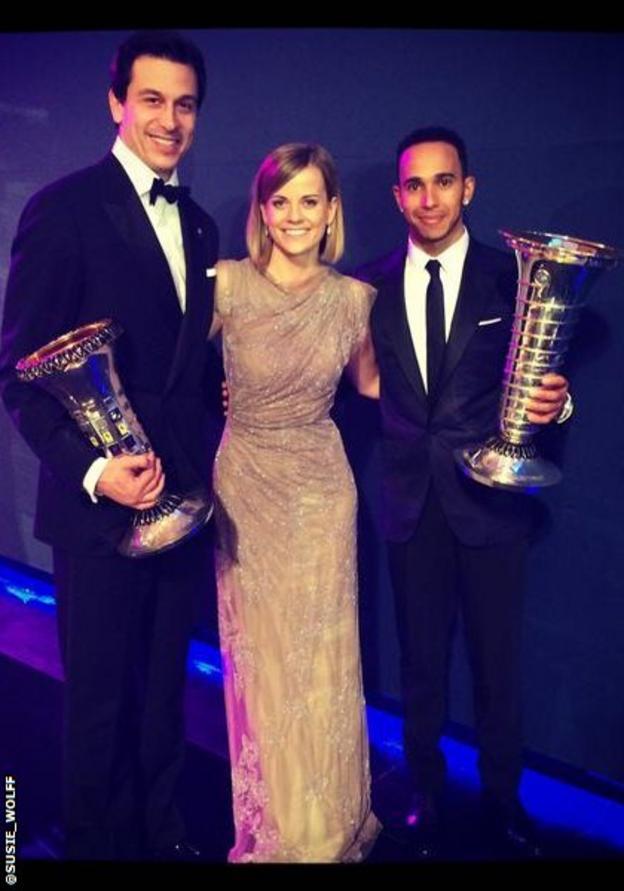 A team spokesman confirmed that an announcement about the line-up at McLaren will not be made until next week at the earliest. (Guardian)
Formula 1 teams are unlikely to get a fifth engine in the 2015 season, unless the Korean Grand Prix remains on the race calendar at the start of the season. (Autosport)
Japan's Caterham driver Kamui Kobayashi is set to test a Super Formula car back in his homeland next week for Toyota Motor Sports. Kobayashi, 28, has not yet confirmed his plans for 2015. (ESPN F1)
Lewis Hamilton was presented with his drivers' championship trophy at the FIA prize-giving ceremony in Qatar. Williams test driver Susie Wolff tweeted this photo from the awards dinner.
Friday, 5 December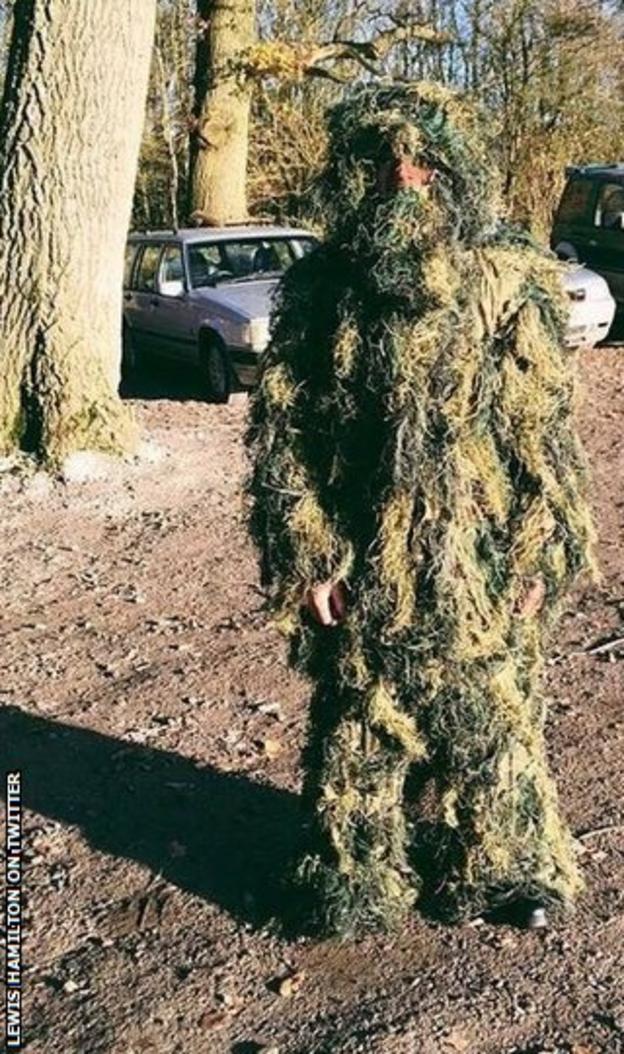 Jenson Button insists he is looking forward to "new challenges" in the future even if he is dropped as a driver by McLaren. (Daily Star)
Button has told McLaren to "get it done" as they decide whether he or Kevin Magnussen will drive with new signing Fernando Alonso next year. (Daily Express)
Meanwhile, the British driver and 2009 world champion says he will leave Formula 1 if McLaren do not keep him on. (ESPN)
Local organisers have effectively ruled out South Korea returning to the F1 calendar, despite its surprise inclusion in the provisional list of grands prix for 2015. (Shanghai Daily)
Former Toro Rosso driver Jean-Eric Vergne says he is struggling to understand why Red Bull have not given him a seat for next season. (Autosport)
Force India will switch all their aerodynamic testing from Brackley in the UK to Toyota's wind tunnel in Cologne "in 2015 and beyond". (Sky Sports)
Wednesday, 3 December
Marussia driver Max Chilton says the team are "running out of time" if they want to return to the grid in 2015. (Sky Sports)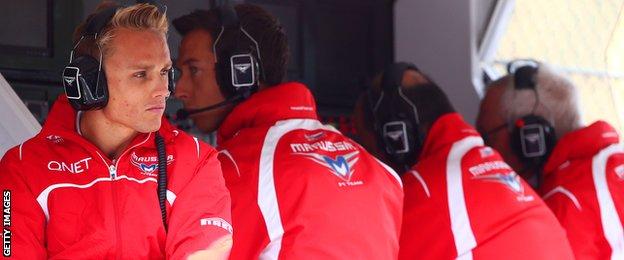 Lotus have been having some fun now that the season's over. Alongside the team's Twitter advent calendar, they've also provided mocked up thoughts of their troublesome E22 car, which scored just 10 points in 2014. (Lotus F1 Team)
Team boss Christian Horner says Red Bull's ability to win three times in 2014 despite a troubled pre-season ranks as "one of our biggest achievements". (Planet-F1)
Wednesday's FIA World Motor Sport Council meeting could be the stage for a major debate over the escalating costs of competing in Formula 1. (Autosport)
American driver Alexander Rossi is set to put his Formula 1 aspirations on hold in favour of securing a seat in the IndyCar series in 2015. (Motorsport.com)
Two-time world champion Fernando Alonso could follow Nico Hulkenberg's lead in splitting his F1 duties with competing at the Le Mans 24 hours next year. (Motorsport.com)
Williams have signed yet another new sponsor with Avanade joining the team from Lotus.(Planet-F1)
Tuesday, 2 December
Red Bull gave departing driver Sebastian Vettel an espresso coffee cup, a pair of tight red Speedo swimming trunks and some sunglasses among other items as the German made his final appearance at the team's factory before beginning a new era at Ferrari. (Reuters)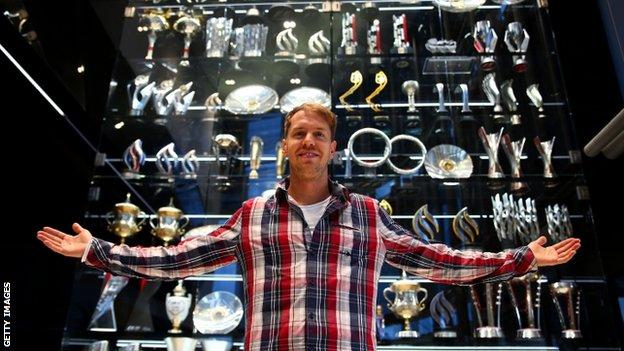 Vettel says his first experience of driving a Ferrari was like a "fairytale" after completing his first days of testing at Fiorano. (ESPN F1)
Red Bull boss Christian Horner said this season has been the "most challenging" for the team since the Milton Keynes-based outfit joined the sport in 2005.(Crash)
Caterham Sports, the British company which designed and built cars for the Caterham F1 team, was sold for just $1.60 (£1) according to recently released legal documents. (Forbes)
F1 teams have been called to a summit meeting on 18 December in a bid to find a breakthrough in the sport's cost crisis.(Autosport)
Romain Grosjean, who will remain at for Lotus next season, says he was in talks with teams including Ferrari. (Grand Prix)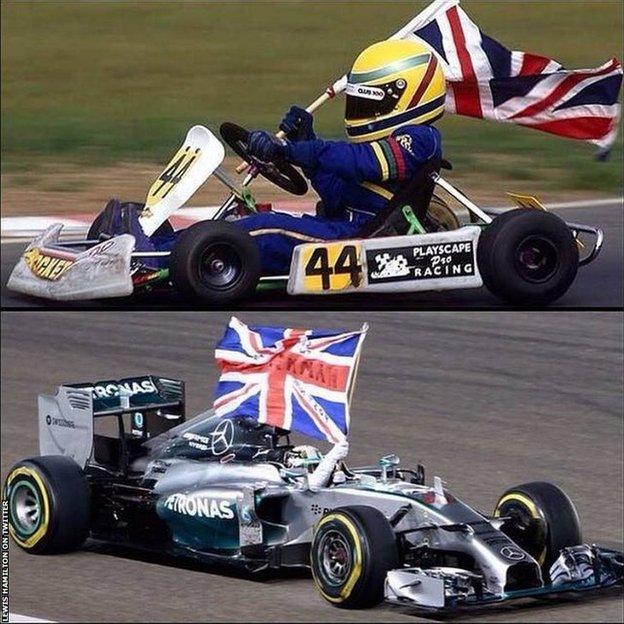 F1 teams and governing body the FIA have given the green light for the introduction of the virtual safety car (VSC) in 2015, following successful late-season tests.(Autosport)
Ex-F1 driver Rubens Barrichello, 42, won his first title in 23 years when he triumphed in the 2014 Brazilian Stock Car Championship. (NBC Sports)
BBC F1 co-commentator and ex-F1 driver David Coulthard will compete at the Race Of Champions in Barbados later this month.(GP Update)
Lewis Hamilton tweeted: "British Champion in 1995 at age 10. Two time Formula 1 World Champion in 2014 at age 29. #WeMadeIt #TeamLH #44Forever."
Red Bull driver Daniel Ricciardo spent the morning out on his bike in the south of France. Amid beautiful blue skies,he tweeted:"Not bad for December weather!"
Monday, 1 December
Lewis Hamilton's team-mate Nico Rosberg has vowed to be "back on the offensive" against Hamilton in 2015. (Crash.net)
Hamilton insists he has no plans to end his tax exile despite criticism following his second world title triumph. (Daily Express)
Administrators for the Marussia team, who ceased trading last month despite an attempt to attend the final race of the season in Abu Dhabi, are planning to auction off the team's assets and equipment later this month. (ESPNF1)
Carlos Sainz Jr says the fact that he was initially overlooked by Toro Rosso in favour of Max Verstappen means nothing now that they are 2015 Formula 1 team-mates. (Autosport)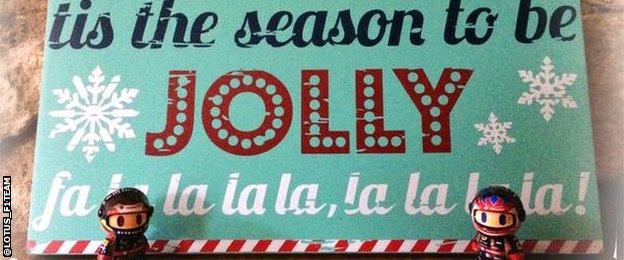 The Lotus advent calendar features miniatures of drivers Romain Grosjean and Pastor Maldonado. The team tweets: "Who do we have behind door number 1? It's Mini Romain and Mini Pastor of course!"
Saturday, 29 November
Newly crowned F1 drivers' champion Lewis Hamilton has welcomed talk of a grand prix through the streets of London, with the Mercedes driver saying it would be "even better" than F1's other street races. (Planet F1)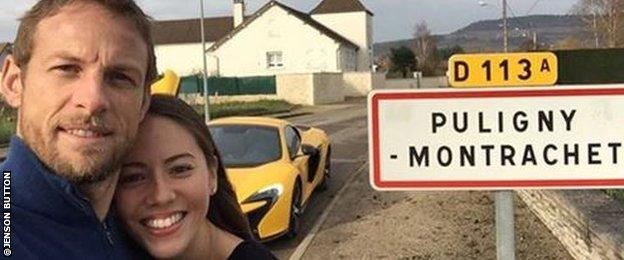 McLaren's Jenson Button is on a leisurely road trip after the stresses of the F1 season and has stopped off at the picturesque Puligny-Montrachet in the Burgundy region of France from where he tweeted this photo with fiancé Jessica Michibata.
Four-time F1 drivers' champion Sebastian Vettel has made his first appearance as a Ferrari driver at Maranello, when he got behind the wheel of a 2012 car at the team's Fiorano test track. (Crash.net)
Jean-Eric Vergne is setting his sights on a switch to IndyCar for the 2015 season after losing his seat in the Toro Rosso to Carlos Sainz Jr. (GP Update)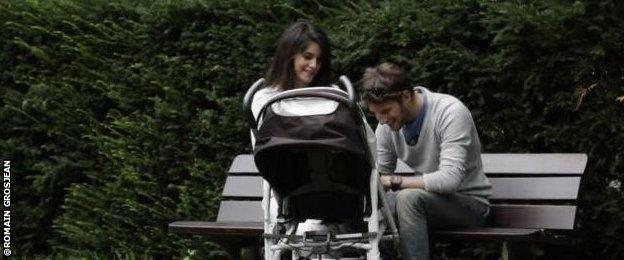 Lotus driver Romain Grosjean looks the picture of contentment as he tweeted: "End of the season means some family weekend! Looking forward to some relaxing time with Marion and Sacha."
Double F1 champion Fernando Alonso has teamed up with Ferrari engineer Andrea Stella and McLaren test driver Stoffel Vandoorne to compete in the Dubai Kartdrome 24 Hours, the final round of the 2014 Endurance Challenge. (Gulf Today)
Friday, 28 November
Four-time world champion Sebastian Vettel has broken his contract by visiting Ferrari's garage during Tuesday testing in Abu Dhabi, according to his Red Bull boss Helmut Marko. The Red Bull driver will be part of the Italian team next season. (Daily Mirror)
McLaren racing director Eric Boullier says Jenson Button's points and qualifying tally against Kevin Magnussen is still not enough to guarantee him a place alongside Fernando Alonso in 2015. (Autosport)
Double world champion Fernando Alonso says Ferrari should be favourites to win the championship every year due to the talent they have at their disposal. (ESPN)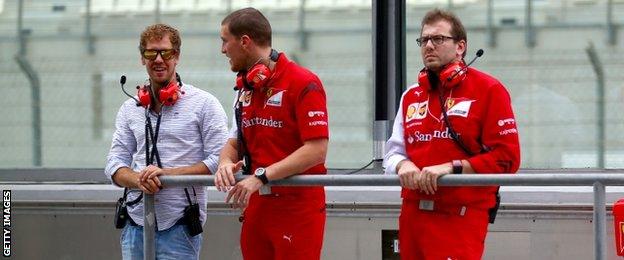 Former F1 driver Mark Webber says Mercedes handled the fight between Lewis Hamilton and Nico Rosberg for the world title "impeccably". (Planet F1)
Williams performance chief Rob Smedley says while all Formula 1 teams are pushing front wing rules to the limit, the FIA has deemed his own squad's design legal. (Autosport)
Red Bull motorsport boss Helmut Marko says the illegal front wing flaps on the car in Abu Dhabi were the result of a "naive" interpretation of the rules. (Adam Cooper's F1 blog)
Marko adds that Max Verstappen's 2015 Toro Rosso team-mate will be announced on Monday. (Richland F1)
British GP3 champion Alex Lynn says Red Bull will still try to help him race in Formula 1 despite Carlos Sainz Jr being set for the vacant Toro Rosso drive. (Crash)
Marussia's incomplete 2015 car design has been revealed after the team's financial collapse. (Racecar Engineering)
Brazilian Felipe Nasr says Sauber's decision to sign him for 2015 was based on driving ability, rather than how much money he could bring to the Swiss team. (GP Update)
The season may be over, but the hard work continues for the drivers. Romain Grosjean was at the Lotus factory on Thursday, while Valtteri Bottas plans to spend Friday working the Williams simulator.
Wednesday, 26 November
A leading German website says the F1 Commission, meeting in Geneva this week, will scrap double points from next year. (Auto Motor Und Sport - in German)
Force India tested a new display system, developed by Lewis Hamilton's father Anthony, in Abu Dhabi on Wednesday. The 'Info Wing' is a small carbon fibre component designed to fit to the top of the airbox and could be used to display race information, such as a driver's name and position. (Autosport)
McLaren racing director Eric Boullier says the "huge potential" of the new Honda engine can return the team to title-winning ways. (Sky Sports)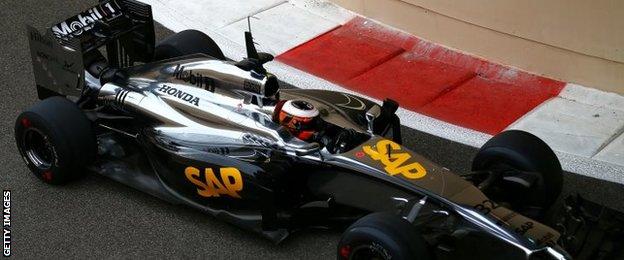 Ex-Ferrari driver Fernando Alonso says the fact his former teams are always willing to keep "one door open" for him proves he is easy to work with. (Planet-F1)
Carlos Sainz Jr hopes his test for Red Bull in Abu Dhabi on Tuesday will help him land a drive at their junior team Toro Rosso alongside Max Verstappen next season. (ESPN)
Denmark is the latest country to express an interest in hosting a Formula 1 race. (Motorsport.com)
Monday, 24 November
Lewis Hamilton's family react to the world title
Lewis Hamilton's grandmother Eulisia, who lives in Grenada, told BBC Radio 5 live she was not able to watch her grandson become world champion for the second time.
"We did not get to see it, it was so sad," she said. "We only get a few races on TV. We were very disappointed we did not get the last one.
"I got a lap-by-lap commentary on the computer and followed it from there. I was so nervous sometimes I had to get up and go and do something, then come back."
What the papers say after Lewis Hamilton wins the 2014 world title
Greatest day of my life - Hamilton joins the sporting greats by winning his second world title, says the Daily Telegraph. Hamilton said: "I'm hoping that I get to go and see the Queen again."
The wheel deal - Lewis joins the greats with his second F1 title, says the Daily Mail. Legendary British ex-F1 driver Sir Stirling Moss said: "To our new British champion I say: 'Well done, old boy'."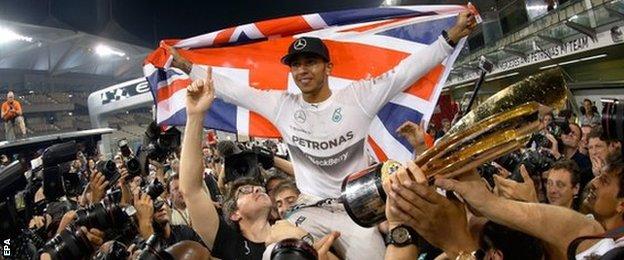 On top of the world - Rocket man Hamilton off to a flier to clinch title, says the Daily Express. "Within two seasons, Hamilton's promise has been fulfilled," writes Nick Stamford. "And Hamilton can finally fend off any fears he would finish his career a one-hit wonder."
Champion Hamilton toasts the 'happiest day of my life' - Mercedes flier sees off rival Rosberg to become first Briton for 43 years to win world title twice, says the Guardian."The opportunity for further glory lies ahead on a trajectory that will perhaps be a little smoother," writes Richard Williams. "The story is far from over."
Abu Dhabi Doo - Tearful Hamilton is crowned king of F1, says the Daily Mirror. "In the end, it was so simple," writes Byron Young. "Lewis Hamilton did not have to fight for it."
'Greatest feeling ever' - Hamilton's joy as victory in Abu Dhabi secures second F1 world title, says the Independent. "Lewis Hamilton loves Maya Angelou's famous poem 'Still I Rise', and perhaps its lines that best summarised his ascent to a drivers' second World Championship," writes David Tremayne.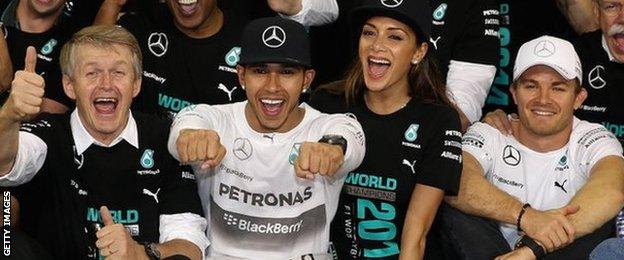 Royal seal of approval for King Hamilton - Rosberg driven to tears as rival roars into history books, says the Times (subscription required). Hamilton said: "My family came and surprised me at breakfast, which was a great thing. I wanted them to be here."
Hamilton the king: £100m Lew deal - new champ to cash in, says the Sun (subscription required). "Lewis Hamilton will celebrate his F1 world title by opening talks on a £100m new deal," writes Ben Hunt.
Lew Beaut - Lewis Hamilton leaves Nico Rosberg in his wake, says the Daily Star. Hamilton said: "I hardly slept on Saturday night (before the race). I went to bed about 1am and woke up at 5am and went for a run."
Other gossip
Lewis Hamilton allowed himself a single celebratory drink with his family on Sunday night, before vowing to return even stronger in 2015. (Autosport)
Mercedes boss Toto Wolff says Mercedes will return to the UK and reflect on the season before starting contract talks with Hamilton next week. (Crash)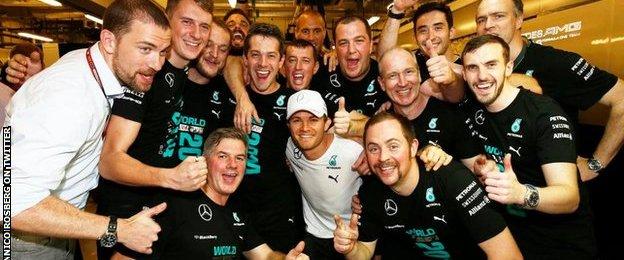 Double world champion Fernando Alonso says the reputation he has for being difficult to work with is wrong and thinks the door will stay open at Ferrari for a return. (ESPN)
Carlos Sainz Jr could be unveiled within days as Toro Rosso's new driver for 2015. (GrandPrix.com)
Felipe Massa thought he and Williams were on course to end the 2014 season with victory in the Abu Dhabi Grand Prix. (Autosport)
McLaren's Jenson Button tweeted on Monday morning: "I'm not done yet!! There's still so much I want to achieve in this sport," as his future in the sport remains uncertain.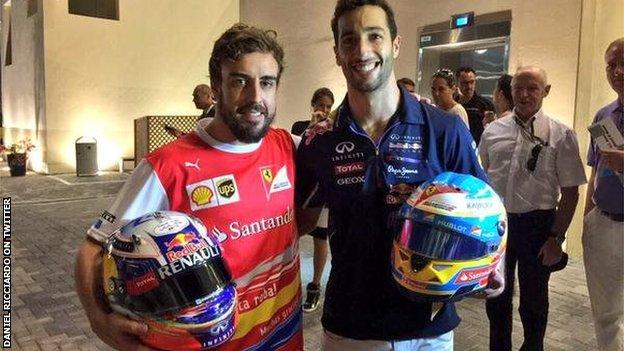 Nico Rosberg tweeted a picture of his crew and suggested he is already thinking about next season: "Mega boys. Thank you guys for this year. #2015bigPush"
Toro Rosso driver Daniil Kvyat tweeted:"Always thinking about Jules." Driver Jules Bianchi is no longer in an artificial coma and is breathing unaided after suffering severe head injuries at the Japanese Grand Prix last month.
After his final race for Ferrari, Alonso chose to swap his helmet with Red Bull's Daniel Ricciardo. Alonso is expected to drive for McLaren next season.
Caterham are staying in Abu Dhabi for the post-season test which begins on Tuesday, with Britain's Will Stevens driving. (F1 Fanatic)