Lewis Hamilton: Crunching the numbers of title number two
Last updated on .From the section Formula 1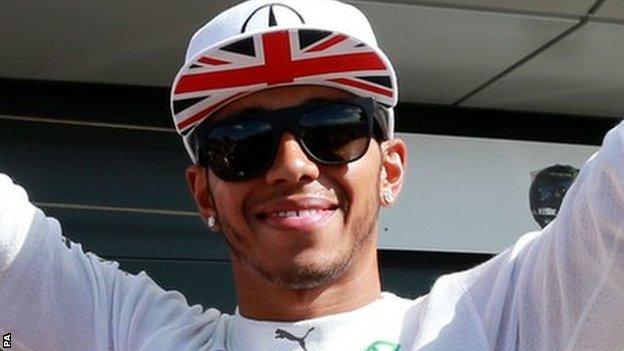 Lewis Hamilton travelled approximately 112,000 miles en route to the title - roughly four and a half times around the globe.
It would take Mercedes around three and a half hours to recover Hamilton's £19.3m basic salary from the company's annual sales revenues.
Hamilton is Britain's first multiple world champion in 43 years. Jackie Stewart last achieved the feat in 1971 and would win the title for a third and final time in 1973.
Jackie Stewart (1969, 1971, 1973), Graham Hill (1962, 1968) and Jim Clark (1963, 1965) are Britain's only other multiple F1 world champions.
Mike Hawthorn (1958), John Surtees (1964), James Hunt (1976), Nigel Mansell (1992), Damon Hill 1 (1996) and Jenson Button (2009) are Britain's one-time champions.
Hamilton's six-year wait between titles (2008 to 2014) just falls short of Niki Lauda's record of seven (1977 to 1984). Graham Hill (1962, 1968) and Jack Brabham (1960, 1966) also had six-year gaps between title wins.
Of the 19 races in 2014, Hamilton:
- claimed fastest lap in 36.84% of them.
- led for 43.47% of all laps.
- had a pole position strike rate of 36.84% (seven of 19).
- earned a win percentage of 57.89 thanks to his 11 victories.
Hamilton v Rosberg head-to-head:
Wins: 11-5
Podiums: 16-16
Poles: 7-11
Front rows: 15-15
Fastest laps: 7-5
Retirements: 3-2