Abu Dhabi GP: Red Bull wing design deemed deliberate

By Andrew Benson
Chief F1 writer in Abu Dhabi
Last updated on .From the section Formula 1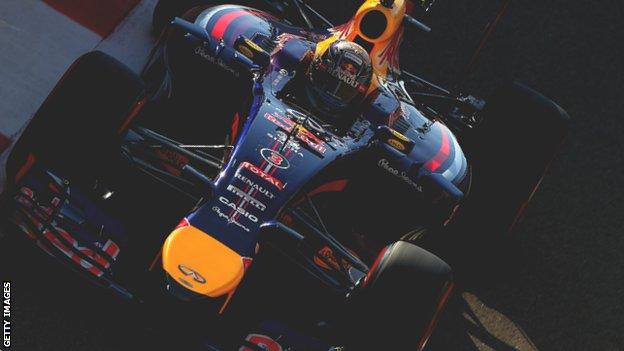 Abu Dhabi Grand Prix
Date:
Sunday 23 November
Race starts:
13:00 GMT
Coverage:
Live on BBC TV, Radio 5 live and online from 10:00 GMT
Red Bull were disqualified from Abu Dhabi qualifying because their front wing was deemed to have been designed deliberately to break the rules.
Officials found a spring concealed in both sides of the wing that allowed two flaps to move downwards when at speed.
Drivers Daniel Ricciardo and Sebastian Vettel were excluded because of what was deemed to be the degree of intent.
Red Bull design chief Adrian Newey said the part had been designed to flex but said all teams did the same thing.
He added that in terms of overall aerodynamic effect on the car, Red Bull's wing was less extreme than those on some of their rivals, although he admitted that their wing deflected more than others in the official test.
Newey said that the part in question had been designed with a central piece of metal inside the layers of carbon-fibre that was thinner than usual, with the aim of saving weight.
He admitted that making the part flex downwards was also part of the designed-in characteristics.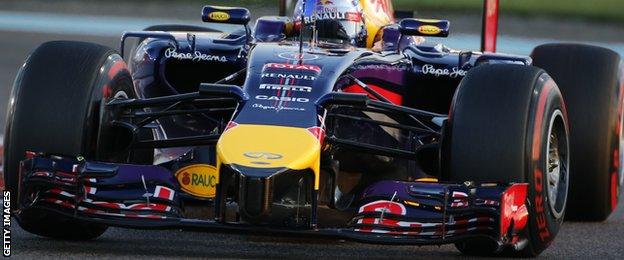 Newey told BBC Sport: "What I feel is rather unjust is that in the stewards' meeting last night, we said, 'OK, hands up, we've saved weight, can't deny it. What we're talking about is shades of grey. And the amount of flex we have compared to Williams, for instance - although they're not the only ones - is much, much less. And we can show that by the end of straight photographs.'
"And they said, yes, that's all very interesting but because Red Bull are the only people who have been reported to the stewards we can only judge Red Bull."
The degree of flexion is tested by something called a 'stick test', where the part is pushed by a device held by technical delegate Jo Bauer, which tests how much load is required to make a part bend.
Newey felt the overall aerodynamic benefit conferred by Red Bull's design was less than that on other cars.
"What I think is unjust is that in terms of the overall effect leading edge to trailing, we are deflecting far less than some of our rivals," he said.
"That's why I feel we've been unfairly singled out. They have come up with an arbitrary stick test which has no relevance to anything because if teams are doing this they are doing it for overall aero effect."
He added that if the FIA, motorsport's world governing body, wanted to test cars using the 'stick test' they should include it in the rules - which it currently is not.
But the Abu Dhabi stewards decided leniency would be inappropriate and that the gravity of the offence was enough to warrant disqualification.
Teams can gain an aerodynamic advantage by having front wings - or parts of them - that flex downwards at speed.
The rules on flexible bodywork have been toughened in recent seasons after teams pursued it as a way to make cars as efficient as possible in a straight line but have as much downforce as possible in corners.
In previous years, Red Bull have been the leading exponent of this trick, but the rules have been tightened up in recent years.
Front wings are subjected to load tests under which they must flex only within certain parameters.
The FIA said that the Red Bull cars' "front wing flaps were designed to flex under aerodynamic load".
The Red Bulls were said to be in breach of article 3.15 of the technical regulations.
It says that any specific part of the car influencing its aerodynamic performance must comply with the rules relating to bodywork, must be rigidly secured to the entirely sprung part of the car (rigidly secured means not having any degree of freedom) and must remain immobile in relation to the sprung part of the car.
Abu Dhabi Grand Prix coverage details