Lewis Hamilton v Nico Rosberg: Who deserves the world title?

By Andrew Benson
Chief F1 writer
Last updated on .From the section Formula 1486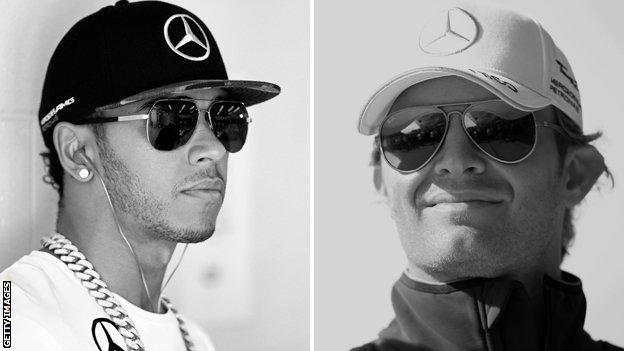 On one level, the much-criticised decision to award double points at the final Formula 1 grand prix of the season has worked, in that the championship finale this weekend is much more open than it would otherwise have been.
Lewis Hamilton has a 17-point advantage over Mercedes team-mate Nico Rosberg heading into the Abu Dhabi Grand Prix.
Under the 'normal' points system, Hamilton would need to finish only sixth to clinch the title, no matter where Rosberg finished - a relatively simple task in a car as good as the Mercedes, even if it was to hit trouble that was not terminal.
As it is, Hamilton has to finish second if Rosberg wins. Still relatively straightforward as long as the car is reliable, but crucially that bit harder, especially in the event of the sort of unforeseen problems that often seem to crop up in title-deciding races.
Whether a more open deciding race is a good thing or not is a matter of perspective.
On the grounds of attracting an audience to watch the final race - which, after all, is Ecclestone's job, even if F1's 'promoter' does not generally do a whole lot of promoting - it might be beneficial.
But what it might do for F1's image is another matter.
There is widespread opposition for double points from drivers, team owners and fans alike, with even Mercedes F1 team boss Toto Wolff saying it "would put a big shadow over the championship if it was turned by a technical issue".
The top two
1. Lewis Hamilton (Mercedes)
334 points
2. Nico Rosberg (Mercedes)
317 points
The winner of the final Grand Prix in Abu Dhabi will receive 50 points.
Hamilton has the most to lose, both by virtue of the fact that he is in the lead, and on a general assessment of the season as a whole.
Rosberg, even senior figures at Mercedes admit, did his image a whole lot of good by winning convincingly in the penultimate race in Brazil.
Until then, there could be little doubt about who had had the better season. And even now it would be hard to mount a convincing argument that Rosberg had been the stronger driver in 2014, even taking into account the German's score of 10 pole positions to Hamilton's seven.
Hamilton has scored 10 victories to Rosberg's five. Rosberg has beaten his team-mate only twice when they have both started from the front row and both have finished - and one of those times was at Monaco, where overtaking is virtually impossible.
Hamilton has twice overtaken Rosberg on track to win a race, while Rosberg has not managed it at all. Twice, in Bahrain and Spain, Rosberg was faster, but was unable to pass, thanks to Hamilton's superior racing skills.
At the same time, F1 is not like football or tennis or other sports where points are won and lost merely by the efforts of the athletes themselves.
If Argentina did not win the World Cup because Lionel Messi and Gonzalo Higuain did not score when they would normally have been expected to, they only have themselves to blame.
But because racing drivers are dependent on their cars, a whole other level of uncertainty is added to the mix.
And Hamilton has unquestionably had the worse of the unreliability and bad luck at Mercedes this season.
Rosberg retired from the lead at Silverstone, handing victory to Hamilton - although it is a moot point whether Hamilton might have won anyway - and the German never really got going from second on the grid in Singapore, where a bizarre scenario led to his car's electronics going haywire.
Rosberg was also masterful in coaxing his car to the finish in Canada, when it suffered the same hybrid system problem at the same time that led to Hamilton's retirement with brake failure.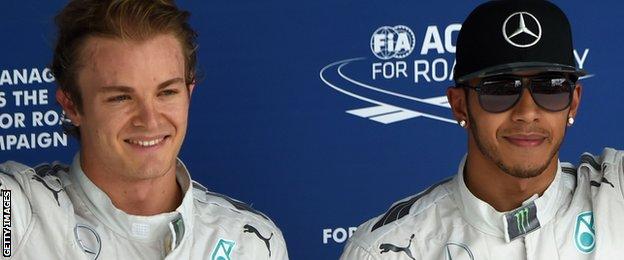 That race by Rosberg was so impressive that a senior member of the team was moved to remark afterwards: "If he wins the title, he will deserve it just for that one drive."
Hamilton, by contrast, retired from the first race of the season in Australia - which he started from pole - as a result of an engine problem and he lost either the win or second place in Canada.
Hamilton then suffered another brake failure in qualifying in Germany, which consigned him to the back of the grid, from which he fought back to third.
He had an engine fire in qualifying in Hungary, necessitating a pit-lane start, from which he finished third, one place ahead of Rosberg.
And he was notoriously taken out of the Belgian race by Rosberg, the low point in the two men's tense relationship this season.
However you tally up the respective points losses, Hamilton ought to be going to Abu Dhabi with a far greater lead than he is. He might even have won the title already. If he hadn't, he would certainly have far less to do.
And that is without considering the issue of morality.
There was the 'mistake' that sent Rosberg down the Mirabeau escape road on his final qualifying lap in Monaco, preventing Hamilton having a shot at taking pole position. An incident many observers - including Hamilton himself - consider a professional foul.
And the collision between the two at Spa, about which, according to Hamilton, Rosberg "basically said he did it on purpose", and for which the German was heavily criticised - and punished internally - by the Mercedes team.
Little wonder, then, that Hamilton says he feels "zero comfort" heading into Abu Dhabi - or that he is barely troubling to hide his distaste for double points.
"There are 50 points to gain," Hamilton said. "It's never happened in F1 before. It just so happens to be this season and the last race you never know what's going to happen."
Double jeopardy: Hamilton v Rosberg for the title
Hamilton now has a 17-point lead over Rosberg with a maximum of 50 points remaining at the final race in Abu Dhabi. Hamilton can win the title by finishing second to Rosberg in Abu Dhabi. Third or lower and Rosberg is champion if he wins.
All the title permutations for the final race
How badly affected was Rosberg by the fall-out from Spa, and the knowledge that his own team were unhappy with his actions?
Publicly, he would say not at all. But it certainly seemed to affect his mental equilibrium, judging by the subsequent uncharacteristic mistakes he made to hand Hamilton the lead in Italy, and his unsuccessful defence against Hamilton's passing move in Japan.
In Brazil, though, Rosberg was definitely firing on all cylinders, and now he goes into Abu Dhabi a strong and determined competitor for Hamilton.
So how would Mercedes assess which one of their drivers 'deserves' the title more?
"It's a difficult one," Wolff admits. "Lewis has won 10 races - more than Nico. Scored more points. Had some dramas this season by not being able to start where he deserved to start, because the car was on fire or had a brake problem.
"But then you have Nico who out-qualified Lewis - probably the area where we would have judged Lewis to be the strongest driver out there in raw pace.
"So what we have seen all through the year is a pretty equal battle of two worthy champions.
"You will always have fans of Lewis who will argue he is the more talented and the quicker driver and scored more wins and had more reliability issues. And you will have the group of Nico Rosberg fans who say he was the quicker driver, that he was treated in a very hard way after Spa and he deserves to win the championship.
"You are never going to make it right for everybody."