Formula 1 gossip: Mercedes, Rosberg, Hamilton, Caterham
Last updated on .From the section Formula 1
Sunday, 16 November
Mercedes boss Toto Wolff has reassured his two drivers, Lewis Hamilton and Nico Rosberg, that whoever loses out in this year's title race will get another chance of championship success later in their career. (ESPN)
Meanwhile, Mercedes reportedly have a psychologist on standby to help the loser of their titanic Formula 1 title battle cope with defeat. (The Sun - subscription required)
Caterham made their 230-strong race team redundant on the very day they announced they were going to go to Abu Dhabi for the last race of the season. The workforce have not been paid since September. (The Observer)
Italian Dino Chiesa, who managed Hamilton and Rosberg as young karters in 2000-2001, says he is more likely to speak to the Finn before next Sunday's big race: "I'll talk to Nico for sure. He is polite, calmer. When he is home, he is home. He has a wife. He is settled. Lewis is very busy. He has less time to spend with people - I don't mean that in a bad way; it is normal when you become more of a VIP. I think he wants to spend time with his friends and girlfriend. I am not part of his family. Lewis has changed his phone number many times and it isn't always easy to get hold of him. But he has my number if he wants me." (Mail on Sunday)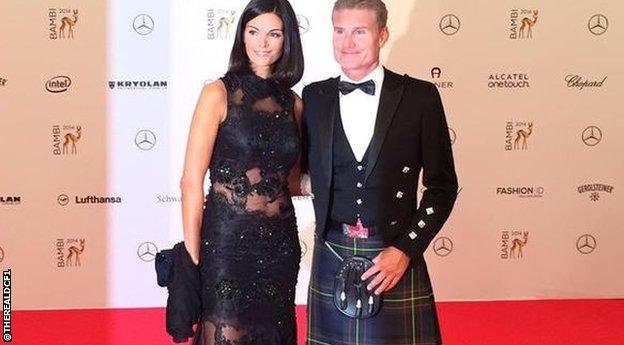 BBC commentator David Coulthard tweets a picture of himself in a kilt with his wife Karen Minier, the Belgian TV presenter, and writes: "Can you tell who wears the trousers in the family?"
Saturday, 15 November
McLaren have denied recent rumours that their supercar manufacturing business, McLaren Automotive, contributes to its Formula 1 team McLaren Racing. (Pitpass.com)
Alice Powell's hopes of taking part in next weekend's Abu Dhabi Grand Prix look to have faded after Caterham's administrators said they would sign two drivers for the full weekend rather than take on someone extra for one part of it.(Daily Mail)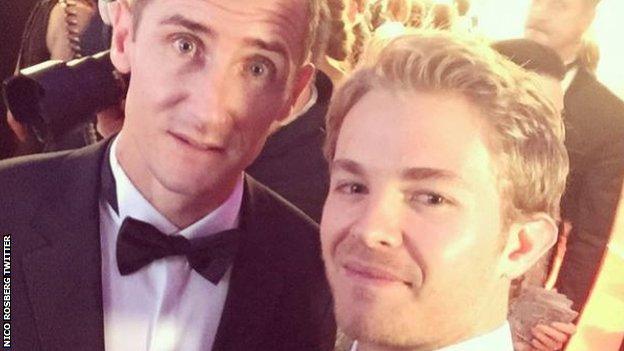 Nico Rosberg posted a selfie on Twitter of him at the Bambi media awards in Berlin with German "football legend" Miroslav Klose: "#selfie mit miro. was für eine Fussball-Legende!!"
Romain Grosjean on Twitter: "Karting is always really good fun! Really enjoyed my day with friends... Some slide a spin and a lot of fun."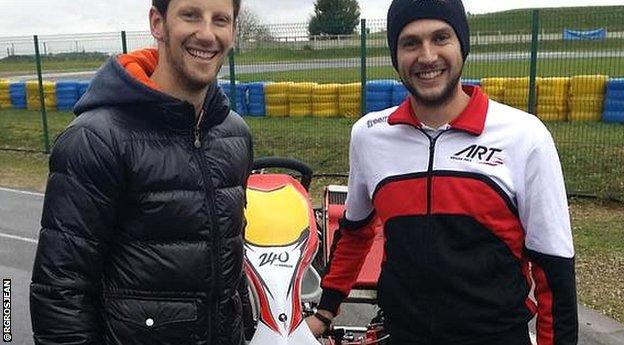 Friday, 14 November
Bernie Ecclestone has dismissed the importance of a young audience, saying they could not afford the brands F1 promotes. The 84-year-old also likened teams' spending to "ladies with credit cards". (Campaign Asia)
F1 faces a new threat as the EU wants alcohol sponsorship banned because alcohol awareness group Eurocare says it sends "mixed messages" given the "destructive prevalence of drink-driving". Smirnoff, Johnnie Walker and Jose Cuervo all sponsor teams, while this season Williams took on Martini as their title sponsor. (Planet-F1.com)
The beleaguered Caterham team, who are in administration and have not paid staff in nearly two months, look set to fall short of a £2.35m target through 'crowdfunding' to make it to the Abu Dhabi Grand Prix, but an administrator says they could still take part in the final race of the year. (Daily Telegraph)
Harrison Newey, the 16-year-old son of Red Bull chief technical officer Adrian Newey, has signed up for the forthcoming British Formula 4 winter championship. (GrandPrix.com)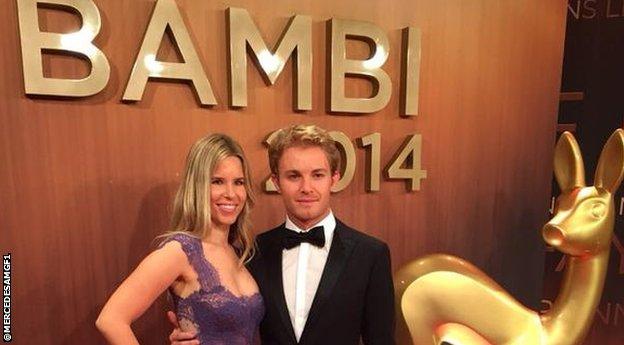 Mercedes tweeted this picture of Nico Rosberg winning a Bambi award for Best Sportsman, commenting: "Hat's off sir!".
Kimi Raikkonen says he has sacrificed championship points this year in pursuit of a car that suits his driving style, but admits he has not made as much progress with the Ferrari as he would like. (ESPN)
Thursday, 13 November
Honda's new Formula 1 engine will run on track for the first time on Friday, as McLaren's development MP4-29H takes to the track at Silverstone alongside two classic McLaren Hondas. (McLaren)
Five drivers have shown interest in potentially taking Ericsson's place in Abu Dhabi. (Planet-F1.com)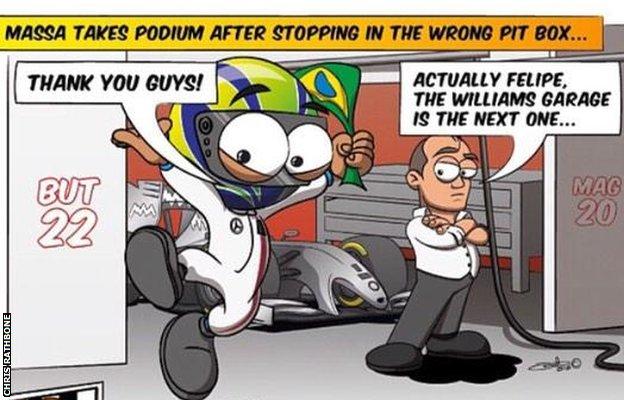 Four-time world champion Sebastian Vettel has revealed the switch from V8 to V6 engines in 2014 led to him questioning whether F1 was the motor racing series for him.(Auto Motor und Sport)
Williams' Brazilian driver Felipe Massa tweeted a cartoon poking fun of him stopping at the McLaren garage during Sunday's Brazilian Grand Prix.
Meanwhile, Massa has hit back at compatriot Nelson Piquet after the three-time world champion claimed modern drivers had an easier job than in his era. Massa said: "Back then you had the steering wheel, throttle, brake and clutch, but nowadays we are changing things while we are driving in the corners. It's another world - another sport."(grandprix.com)
Wednesday, 12 November
Monaco-based Lewis Hamilton, 29, will spend the next week enjoying home comforts in England with his family and pop singer girlfriend Nicole Scherzinger, in an attempt to recharge his batteries for the title showdown in Abu Dhabi. (Daily Telegraph)
Alice Powell, a 21-year-old racing driver from Chipping Norton, is in contention to drive alongside the likes of Lewis Hamilton in first practice at the Abu Dhabi Grand Prix after her grandfather said he would pay to turn her dream into reality. (Daily Mail)
Jenson Button, 34, has responded to an article in magazine F1 Racing about his future by tweeting: "I've been reading your messages and must say I'm overwhelmed with the support." The McLaren driver Button, who re-tweeted the front cover of F1 Racing, added: "Hopefully soon I'll be able to give you more info about my future."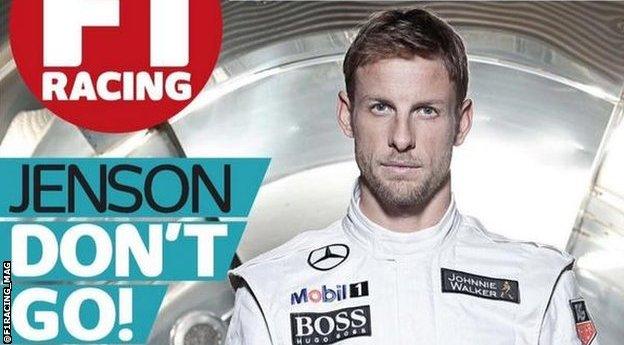 Lotus boss Gerard Lopez, 43, has warned that Formula 1 has a lot of issues it needs to address if the sport wants to become great again.(PlanetF1.com)
Formula 1's small teams say F1 boss Bernie Ecclestone has floated a plan to boost the grid with 'Super GP2' cars. (Autosport.com)
After 42-year-old singer Geri Halliwell and Red Bull chief Christian Horner, 40, announced their engagement, the Daily Express asks: "Has Geri finally found Mr Right?" (Daily Express)
Tuesday, 11 November
Red Bull chief Christian Horner and singer Geri Halliwell, who was part of the pop group Spice Girls, have announced their engagement in The Times newspaper. (The Times - subscription required)
Jenson Button's future at McLaren is in question and the racer has hinted the team have made him feel like an unwanted family member at Christmas. (Daily Telegraph)
Nico Rosberg tweeted: "Sorry, again I'm speechless...watch my different view on Brazil and Abu Dhabi races...". He includes a video of himself using actions rather than words to answer questions on his drivers' title battle with team-mate Lewis Hamilton.
Meanwhile, Hamilton swapped his F1 car for a shopping basket as he took a trip around a supermarket with pop singer girlfriend Nicole Scherzinger. He tweeted: "Great to be back in London! Just been out grocery shopping with my lady helping her move into her new spot." Hamilton also tweeted his respects on Remembrance Day.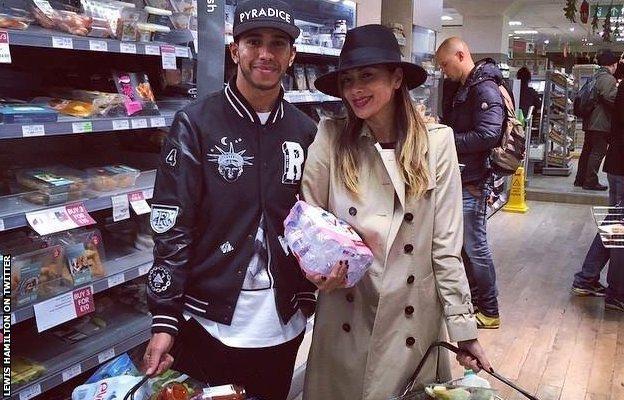 Formula 1 teams have rejected new proposals of how to deal with lapped cars in safety car periods.(Autosport)
Red Bull have spent £196m on their F1 campaign this year, more than double that of some of the sport's struggling teams like Marussia, who have spent £76m. (Independent)
Monday, 10 November
"Open civil war" broke out in Formula 1 on Sunday night, as Bernie Ecclestone told Force India, Lotus and Sauber they will receive no more financial help, "plunging the sport into fresh depths of bitterness and acrimony". (Daily Telegraph)
Francois Guiter, the former marketing manager of the Elf oil company which provided financial backing to a host of French F1 drivers - including the likes of Alain Prost and Francois Cevert - has died at the age of 86. F1 journalist Joe Saward has paid tribute to the influential Frenchman on his blog.
A month after his crash at the Japanese Grand Prix, injured driver Jules Bianchi remains in a "stable but critical" condition in hospital, Marussia sporting director Graeme Lowdon has said. (Planet-F1.com)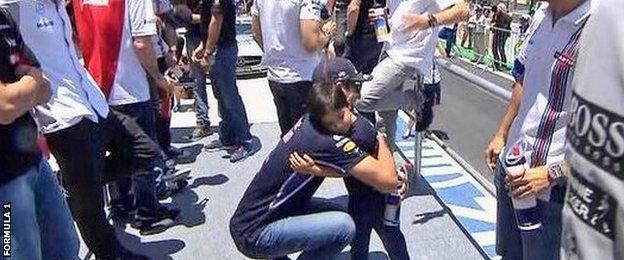 There was a lot of love for Williams driver Felipe Massa at his home race in Brazil this last weekend, but it seems Red Bull rival Daniel Ricciardo has made a new friend in Massa's son Felipinho. After Ricciardo and Felipinho shared a hug during Sunday's drivers' parade, the Australian tweeted Massa to ask: "can I borrow him mate?"
Williams driver Valtteri Bottas says a loose seatbelt was one of a number of issues which saw him finish down in 10th place at Sunday's Brazilian Grand Prix. (ESPN)
Fernando Alonso says he feels "zero frustration" towards Ferrari team-mate Kimi Raikkonen after the Finn fought so hard to defend against him late in the Brazilian Grand Prix. (Autosport)