Bernie Ecclestone: I banned team radio advice for drivers

By Andrew Benson
Chief F1 writer in Singapore
Last updated on .From the section Formula 1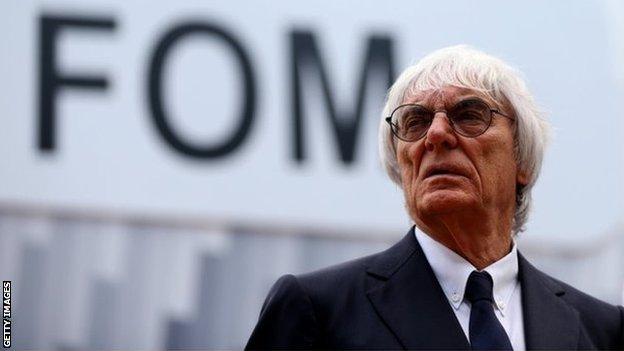 Formula 1 boss Bernie Ecclestone says he was behind the ban on teams giving drivers advice over the radio.
The 83-year-old said drivers needed to be heroes in the wake of concerns they appeared to be puppets for engineers.
"The drivers are all happy it's gone. They drive the cars, they should know what's wrong and right," he said.
Governing body the FIA has issued guidelines over what teams can and cannot tell drivers to help enforce a rule that they "drive the car unaided".
What teams cannot tell their drivers

Sector time detail of a competitor or where he is faster or slower

Adjustment of power-unit or gearbox settings

Information on fuel flow or fuel saving

Clutch maps and settings, including for the start

Brake balance or brake-by-wire

Answering a driver's direct question

Information on tyre pressures

Balancing the state of battery charge or adjusting it for performance

Anything that sounds like a coded message
Teams have been given a list of about 50 items of permitted and banned radio messages, which extends to information on the drivers' pit boards as well.
The banned areas include giving any information on where a competitor is faster or slower, clutch, gearbox, brake and engine settings, battery charge for the hybrid system and fuel usage.
"They shouldn't have someone on the pit wall telling them what to do," Ecclestone said.
"We have a regulation in force, 'drivers must drive the car alone and unaided'. They have been well and truly aided and still are, even if we get rid of this 'ship to shore', as I call it. There are still a lot of aids they shouldn't have."
Asked if F1 had become too easy for the drivers, he said: "It's not easy, but it's easier than it was."
Williams's Felipe Massa rejected Ecclestone's claim that all the drivers backed the change.
"Maybe he spoke to the drivers from the '80s, who do not know what it is like to drive these cars," the Brazilian said. "I'm completely against it. It's something they could have done professionally.
"The cars are very complicated, and this is not related to driving. If the settings are wrong, you cannot do two laps before the car fails.
"If it stays like this, there will be a big fight in the drivers' briefing (with FIA race director Charlie Whiting on Friday)."
And although coded messages are banned under the new ruling, Massa predicted they would still be used.
"There can be a lot of code," he said. "The engineer will say something, the driver can change a setting and no-one will know."
But Ferrari's Fernando Alonso said he did not think the rule change would have much of an impact.
"No big difference for me," the double world champion said. "We never used the radio for performance anyway. At the end of the day, the driver still drives the car. The rule is just to put the drivers in a more alone situation."
What teams can tell their drivers

Their own lap or sector time detail

A competitor's lap time

Gaps to a rival

Telling them to push hard, or who they are racing

Warning of a puncture

Tyre choice at the next pit stop

The number of laps a rival has done on a set of tyres in a race, and the type of tyre he is on

Information about a problem with a competitor's car

The safety car

Driving offences by a rival

Front wing settings at the next pit stop

Track condition or weather

Team orders

Information on damage to the car or need to retire

Number of laps remaining
Force India's Sergio Perez added: "It's not great they have made such a big change from one race to another. But I don't see it as a big deal. We will have more info and will be a bit busier trying to keep things under control, fuel modes and engine modes."
Alonso's team-mate Kimi Raikkonen said the biggest concern would be if there was a reliability issue with the car.
"It might get complicated if there is a problem trying to change things to finish the race," the Finn said.
Red Bull's Sebastian Vettel said that the ban could make managing the cars' complex systems "rather interesting".
"The main concern is not fuel consumption - it's fairly easy to put that information up (on the dashboard) but in terms of managing certain components on the car it can be quite difficult for us," said the German.
"It could be a problem managing the state of (battery) charge in the race.
"That's why we have so many people in the garage. They're not here to have a nice time and have a couple of beers. They're here to do a job."
Williams' head of vehicle performance Rob Smedley suggested there could be some modifications to the ban.
"These 2014 power units are the most complex ever seen in F1; there are six principal components to them and to have the drivers manage that alone, with the current systems we have on the car in terms of of driver information, it's too much," Smedley told BBC Radio 5 Live.
"If we want to introduce something for 2015, which is where I think we are going to head, then that's fine. Everyone has time to react and to train the drivers and the team. We need to be sensible."