F1 teams banned from giving performance advice over radio

By Andrew Benson
Chief F1 writer
Last updated on .From the section Formula 1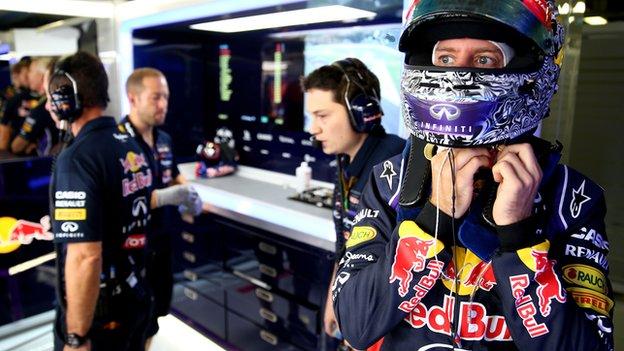 Formula 1 teams have been banned from giving advice aimed at improving drivers' performance over the radio.
Governing body the FIA says it will now enforce a rule dictating drivers must "drive the car alone and unaided".
This will prevent teams telling drivers how to alter how they approach corners, as Mercedes do with title rivals Lewis Hamilton and Nico Rosberg.
The letter forbids teams communicating "any information related to the performance of the car or driver".
The clampdown comes in the wake of concerns that the radio messages give the wrong impression of drivers being akin to puppets simply doing what they are told by engineers poring over computer read-outs in the pits.
But senior engineers have pointed out that the catch-all wording of the ruling by FIA race director Charlie Whiting effectively bans all pit-to-car communication, which could have unwelcome consequences.
Team radio between Ferrari's Kimi Raikkonen and his race engineer at the Austrian Grand Prix
Engineer to Raikkonen:
"We are racing Button, we need two tenths [of a second] per lap."
Raikkonen:
"Give me more power then!"
They are concerned the new directive will prevent teams doing vital things such as calling drivers in for pit stops, telling the drivers to alter engine modes to reduce fuel consumption or change the brake balance if either the front or rear brakes are wearing too much and in danger of failing.
In a letter to the teams, Whiting references article 20.1 of the sporting regulations, which was originally drafted to prevent the use of driver aids such as traction control or anti-lock brakes.
Whiting writes that the FIA intends to "rigorously enforce this regulation with immediate effect. Therefore, no radio conversation from pit to driver may include any information that is related to the performance of the car or driver."
One senior figure said that all the potential problems raised by the letter could be removed by changing the last clause to "any information related to the performance of the driver".
The letter adds: "We should also remind you that data transmission from pit to car is specifically prohibited by Article 8.5.2 of the F1 Technical Regulations."
That last paragraph will prevent teams sending information to the driver about the car in the form of messages on the steering wheel display.