David Coulthard column: Lewis Hamilton has the momentum

By David Coulthard
BBC F1 co-commentator and former F1 driver
Last updated on .From the section Formula 1
It would be wrong to take a snapshot in time and say Lewis Hamilton's victory in the Italian Grand Prix on Sunday was a defining moment in the season.
Hamilton had the upper hand on Rosberg all weekend and put in a champion's drive to recover from a poor start to win, but equally there have been races this season in which Rosberg has been the stronger of the two.
But it is certainly a defining moment in terms of their public perceptions.
Monza came off the back of the Mercedes drivers' controversial collision at the previous race in Belgium, for which the team blamed Rosberg and for which he belatedly accepted responsibility.
Rosberg has been around for a while now - ­ this is his ninth season - but his has been a slow-burn F1 career. We are only now seeing how he reacts when racing consistently with the best at the very front of the field.
He is a presentable and perfectly nice guy, but the boos Rosberg received on the podium for the second race in succession just go to show you cannot manufacture popularity.
Standings after Italian Grand Prix

1.

Nico Rosberg

238 points

2.

Lewis Hamilton

216

3.

Daniel Ricciardo

166

4.

Valtteri Bottas

122

5.

Fernando Alonso

121

See the drivers' standings in full
Hamilton is probably more popular today than at any time in his career.
People were perhaps not so sure who he was when he first came in, and then there was a period when we kind of lost Lewis a bit as he was growing into being the multi-millionaire racing driver.
But now he has firmly found who he is -­ his own sense of style, what he likes in terms of partners and lifestyle, LA, all that sort of thing. And what we are left with is a sense of sincerity.
His heart-on-the-sleeve style seems to have connected with the public.
It does not matter whether people particularly like what that style is; I just think the public respect honesty and sincerity.
I'm not saying Rosberg is not honest, but he doesn't reveal as much of his personality. With Hamilton, it's very obvious that what you see is what you get.
In some senses, Hamilton is a little like Nigel Mansell. When Mansell used to talk about the public, it wasn't just a line. He really meant it. He believed they loved him and he really wanted to perform for them.
In the same way, Hamilton appears to have the power of the people behind him -­ it was remarkable how the Italian fans were cheering for him during the race and afterwards.
How Hamilton broke Rosberg
In tennis terms, that race was not a 7-5 or a tie-breaker, it was advantage Hamilton as soon as he cleared the traffic and was able to chase Rosberg down, slowly but surely applying the pressure.
When Hamilton dropped back at the start, I thought: "That's it. Nico won't be beaten now." But he was ­and beaten well.
It might be hard for people who are not Formula 1 drivers to appreciate just what Rosberg was going through as Hamilton closed in on him at Monza.
Pressure plays with your mind. You start to have too much time to think about what is coming up, especially at somewhere like Monza, where there are long straights and you are looking at your braking point.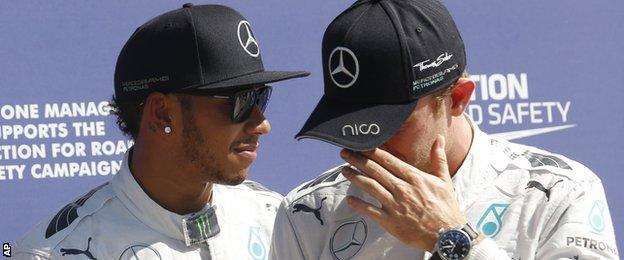 It's a bit like when a tennis player is waiting for a high ball to come down for an 'easy' smash, and then he misses the shot.
Instead of it being a subconscious thing coming from the cerebellum at the back of your head, it's a frontal-lobe, conscious-thought thing.
That's what pressure is. You become conscious of the consequences.
Driving a racing car quickly is more about reaction than action.
Braking and turning is the methodical part of what we do. What separates the greats is that they are so reactive through the corner. They feel the slide before it comes, correct, position the car and they're gone.
The merely good ones tick the boxes, but they've been so methodical they've lost half a tenth of a second. That's not a lot, but put it together around 10 corners of the race track and suddenly you're half a second off the pace.
Rosberg will have been thinking in that race: "OK, I've got a lead, it's looking positive." Then, suddenly, it will have been, "What? He's second?" And then: "And now he's catching me?"
You start thinking about that, rather than driving the car. And that's how you end up making mistakes, such as the two Rosberg made in the race.
What next?
So far, the season has fallen into two parts. There were the first five races, in which after Hamilton's retirement in Australia he won four in a row, comprehensively beating Rosberg in various ways each time.
Then there was a run of races in which Hamilton hit trouble of one kind or another and Rosberg was able to rebuild a substantial lead.
Monza was the first race of the third and final part of the season. It was the first race in which they have competed together on the track throughout since Spain in May, the last of Hamilton's run of four consecutive wins. And just like those victories, Hamilton has won emphatically.
Remaining Grands Prix
21 September:
Singapore
5 October:
Japan
12 October:
Russia
2 November:
United States
9 November:
Brazil
23 November:
Abu Dhabi
That will not tell Hamilton anything he does not already know.
Hamilton already has great confidence that he is a better racing driver than Rosberg, that his speed will win the day.
After Spa, he also knew Rosberg could not afford to go wheel-to-wheel with him and collide.
Hamilton can afford one crash into Rosberg and it will be seen as sort of balancing up what happened in Belgium but Rosberg cannot do it again. Hamilton's main competitor is already on a yellow card. One more and it's a red, even if it's a metaphorical one.
Psychologically, that's a different pressure. Although Hamilton is still 22 points behind, he has the positive pressure and Rosberg the negative.
As much as Rosberg's camp will not like to hear it, this confirms my personal opinion that while Rosberg is a very fast racing driver, with a more cerebral approach, Hamilton is a marginally faster driver and an instinctively better racer.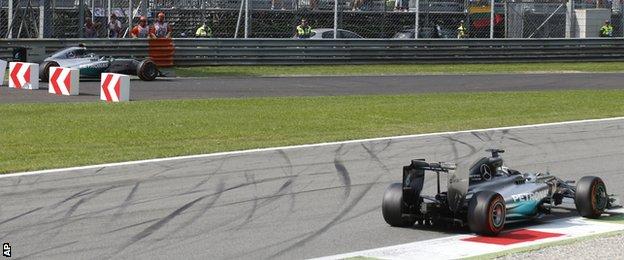 Hamilton has the capability of winning all the remaining races. Of course, Rosberg has that, too, but you have to feel Hamilton has the upper hand and that, all things being equal, he will win out in the end.
If there is a chink in Hamilton's armour, it is that he is still vulnerable to maybe making a small mistake on a qualifying lap.
His last run in qualifying in Monza was slower than his best lap. We have seen that a lot this year. That was the sort of thing I used to do, whereas my team-mate Mika Hakkinen would just go quicker.
Hamilton has the speed but there have been quite a lot of races when he hasn't delivered on the key lap.
That's the only concern I have for Lewis right now. Other than that, he has the momentum on his side.
As for Rosberg, it is going to be fascinating to see how he bounces back from this. He has question marks over his speed and wheel-to-wheel racing, and on top of that the public are not responding to him.
That's not an easy place to be.
David Coulthard was talking to BBC Sport's Andrew Benson