Lewis Hamilton: I will not do anything silly to beat Nico Rosberg

By Andrew Benson
Chief F1 writer in Monza
Last updated on .From the section Formula 1
Lewis Hamilton says he will "not do anything silly" as he seeks to win Sunday's Italian Grand Prix and cut his deficit in the drivers' championship.
Hamilton secured pole at Monza, with Rosberg alongside him on the front row.
"Racing is what I do best. I won't do anything silly," said Hamilton. "It might be in his mind, who knows?"
The fall-out from German driver Rosberg's botched overtaking move at Spa, for which he has apologised and been reprimanded by the team, has dominated the weekend at the historic Monza circuit.
The tension between the two drivers has been palpable - they did not shake each other's hands after Hamilton out-qualified Rosberg by a quarter of a second.
And a warning from Mercedes F1 boss Toto Wolff hangs over them - he has said that if they keep crashing into each other and the situation cannot be managed, he will have to consider changing the line-up.
Hamilton said: "Nothing changes for me. I've been racing for many years and I've not collided with too many people so I'll just continue to race the way I do. I just want to win the right way and I'll try to do it that way."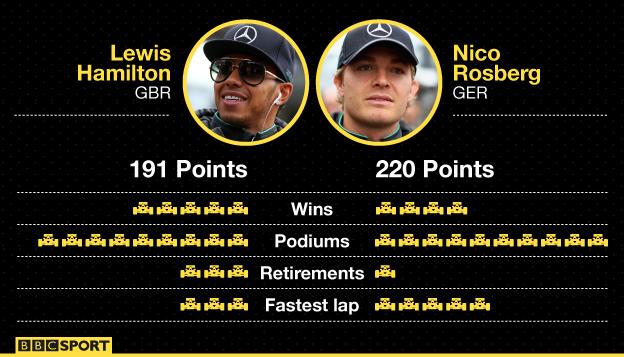 Rosberg said: "How do we race? It's as we've been racing all season, the instructions have been very clear from the word go and it just continues like that. And as before we have to be careful."
While Hamilton said he expected Wolff and executive technical director Paddy Lowe would be "nervous", Wolff said he was not concerned that the two would have another collision.
"It's pretty clear where the line is and I have absolutely no doubt that's the way the race will pan out," Wolff said.
Hamilton, seeking to win a second title this year to add to the crown he took in 2008 with McLaren, acknowledged that he needed to beat Rosberg in Italy to start closing his deficit in the championship, in which there are only seven races and a maximum of 200 points remaining.
"I'm still (nearly) 30 points behind so in that sense there is still a lot of work to do. This is just a very small step in a huge staircase I've got to climb.
"Of course you always say every race is important but time is running out and I need those points. It's a lot of points. The only way I can get it back is to chip away and tomorrow it would be good if that was the first step."
Both men acknowledged they could face a fight with Williams drivers Valtteri Bottas and Felipe Massa, who have qualified behind them on the front row and set the quickest times when the teams were trying their cars in race trim in Friday's practice.
Rosberg said: "They could be tough to beat, for sure. I'm optimistic for the race but Williams had a very strong long run so we need to keep an open mind about that but I think we will be OK."