Nico Rosberg: German to blame for Hamilton's demise in Spa

By Andrew Benson
Chief F1 writer
Last updated on .From the section Formula 1
Nico Rosberg was to blame for the incident that effectively ended Lewis Hamilton's Belgian Grand Prix, says Mercedes Formula 1 boss Toto Wolff.
Rosberg, who finished second to extend his title lead, punctured Hamilton's left rear tyre when he hit the back of his team-mate's car on lap two.
Hamilton was forced to pit but eventually quit the race when any chance of points had gone.
Wolff said Rosberg's driving was "absolutely unacceptable".
Red Bull's Daniel Ricciardo won the race - his third victory of the season - as Rosberg extended his advantage over Hamilton in the championship to 29 points with seven races remaining.
But it was the incident between Hamilton and pole-sitter Rosberg that dominated the post-race analysis in Spa.
"You don't try to overtake with the knife between your teeth on lap number two and damage both cars," said Wolff when BBC Sport spoke to him moments after the finish.
"Lap number two of a long race, a crash between two team-mates. It is absolutely unacceptable.
"It's a decisive moment for the battle between two of them and for the team. Lewis is very upset, but there is nothing we can say to him."
Rosberg was booed when he came out to stand on the podium following the race and refused to discuss the incident in detail until he had seen a television replay.
"I respect the opinion of the British spectators," said the German, who had been overtaken by both Hamilton and Red Bull's Sebastian Vettel at the start of the race.
"They definitely were not happy and that doesn't feel good. That's very clear."
But he said he was "confident" that there could still be harmony in the team despite Sunday's events.
"It was always going to be a tense battle, that was clear from the outset," he added. "I'm sure again we're going to have to discuss today, we will review it and move on."
As for Hamilton, who is looking to become world champion for a second time after his success in 2008, he said he was "gutted" not to have given the many British fans at the circuit a victory to celebrate.
"There are a lot of things going on in my mind and you get to thinking maybe it's just not my year," said the Englishman.
"But there are still seven races. Who knows whether some fortune will come my way. I'm just going to give it everything I can."
Niki Lauda, a three-time F1 world champion and non-executive chairman for Mercedes, was also critical of Rosberg.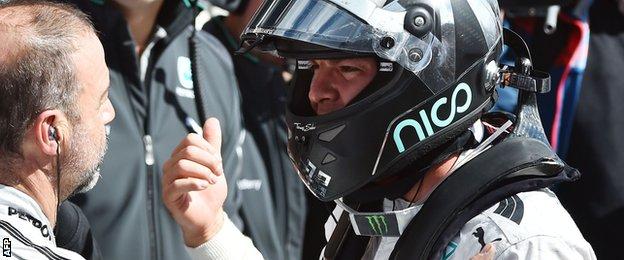 "It is unacceptable for me that, in the second lap, Nico hits Lewis," said the Austrian, who said there would be a team meeting later on Sunday to discuss the incident.
"If these things happen at the end of the race when they are fighting, we can talk about it. But on the second lap, it is ridiculous.
"I thought they were clever enough to know that but obviously they aren't."
Rosberg started from pole for the fourth straight race, but Hamilton and Vettel got past the German quickly.
Then, as Hamilton fixed his racing line, Rosberg tried to pass him on the outside only to hit Hamilton's left side with his front wing.
"Nico hit me, Nico hit me," Hamilton told his team over the race radio.
BBC pundit and former F1 driver David Coulthard said Rosberg had been "a little bit clumsy" but said it was "disappointing" he had been booed.
"Clearly, Nico made an error of judgement and that cost Lewis unfortunately," said the Scot.
Asked whether it made any difference that the team had blamed Rosberg, Hamilton replied: "It reminds me of being at school... teachers will talk, but they don't do nothing, you just get a detention.
"They won't even do that. There's nothing you can do. I just have to re-gather my thoughts and attack like crazy in the next two races."
BBC pundit Eddie Jordan, a former F1 team boss, criticised the Mercedes leadership for not being tough enough with their drivers.
"I think the management of the Mercedes team has been weak," he said. "They should have taken control.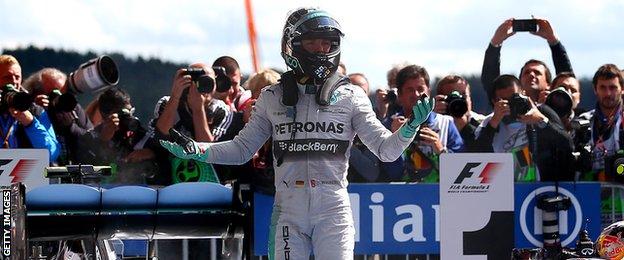 "Like a child who has been naughty, they have to chastise the drivers, they have to tell them what is right and wrong. You do not attack each other in the first two laps,"
Asked whether he felt worse than in Monaco, when he felt Rosberg had deliberately gone off on his final qualifying lap to stop him taking pole, he said: "I wouldn't say it was worse. Monaco was pretty bad.
"It took me so long to regain those 30 points before and his car very rarely stops. It's looking good for him now."
The next race is the Italian Grand Prix at Monza on 7 September.
Belgian Grand Prix as it happened