F1: Caterham cut more than 40 staff as new owners cut costs

By Andrew Benson
Chief F1 writer
Last updated on .From the section Formula 1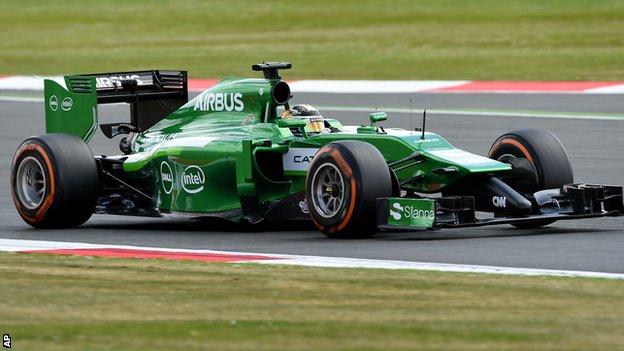 The Caterham Formula 1 team have laid off more than 40 staff as their new owners seek to reduce costs.
Among the departures are deputy technical director Jody Eggington and head of track operations Gerry Hughes.
Caterham refused to comment on the development, which is expected to be the first of several moves to cut expenditure at the struggling team.
Earlier in July, owner Tony Fernandes sold to a consortium of investors, whose identity is yet to be revealed.
The team said the new owners were a Swiss-Middle Eastern group. Sources close to the deal say the money is mainly from the Middle East but it is being handled by administrators from Switzerland.
Before the takeover, Caterham had about 350 staff.
Fernandes remains as owner of the two technologies companies that bear the Caterham name, as well as the Caterham sports car company.
All three are now entirely separate from the F1 team, which will continue under its current name.
The new owners installed Dutch former F1 driver Christian Albers as team principal, ex-Renault and Ferrari aerodynamicist John Iley as technical director, and former Midland, Spyker and HRT boss Colin Kolles as an adviser.
Romanian Kolles, who has a reputation for running teams leanly, is widely regarded in F1 as the man in de facto charge.
Sources say the departures appear to be mainly those with the largest salaries - many are heads of department or senior staff - although some more junior employees have also left.
Albers told Autosport this week that the remaining staff had been given the go-ahead to invest in developments to the car that the team hope will improve performance sufficiently to move up a place to 10th in the constructors' championship by the end of the year.
If they achieve it, it would be worth at least £10m more in prize money.
Kolles told BBC Sport at the last race at Silverstone: "I am known for efficiency. F1 is efficiency. It is sporting performance and also financial performance."
He added: "We will do the utmost and put a lot of investment into this to try to gain 10th in the championship. If we don't, we will look at budgets and have to adapt to a different situation."
Speculation now will focus on whether Japanese driver Kamui Kobayashi will be replaced by someone who can bring more money to Caterham.
American driver Alexander Rossi announced on Wednesday that he had split from the Caterham teams in F1, where he was reserve driver, and the GP2 feeder series.
Caterham retain Dutchman Robin Frijns as reserve driver.