Lewis Hamilton: I made British GP qualifying mistake

By Andrew Benson
Chief F1 writer at Silverstone
Last updated on .From the section Formula 1
Mercedes driver Lewis Hamilton admitted he had made an error in aborting his final qualifying lap at the British GP.
The decision resulted in him dropping from first to sixth on the grid as rivals improved on the drying track. His team-mate and title rival Nico Rosberg is on pole.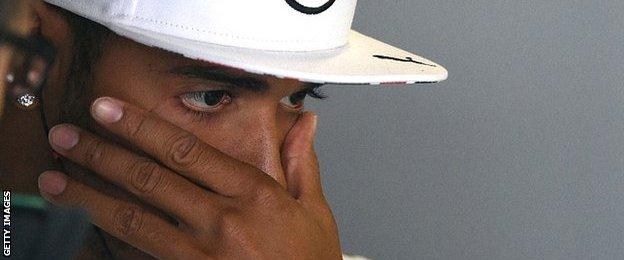 "I should have done the lap," Hamilton said. "But it's a long race and I'll try to salvage what I can from it."
Hamilton said he made the decision because "I just didn't feel good".
Rosberg was right behind him as they started the final lap at the end of a qualifying session characterised by ever-changing conditions in intermittent rain.
Hamilton locked a wheel going into Turn Four and decided not to complete the lap.
Hamilton said: "I did go for it, but I lost a lot of time at the beginning of the lap. I was already 1.5 seconds down.
"I chose not to do the lap because it wasn't feeling right. I had no information from the team that the last sector was three to four seconds quicker and from driving it [on his warm-up lap] I didn't think it would be.
"But it wasn't [the engineers'] fault."
Hamilton has not won at Silverstone since 2008, when he dominated in wet conditions to take one of the greatest victories of his career.
The flowing, fast Silverstone circuit and the huge crowds - 120,000 are due for the race on Sunday - make the British Grand Prix a favourite amongst drivers.
Mercedes co-team boss Toto Wolff said: "Qualifying was very difficult. It was a tiny mistake and we did question ourselves whether we should have helped out a bit more.
"But it was such a shock when [Force India's] Nico Hulkenberg popped up in first.
"We would have interfered if we had seen the last sector was almost completely dry, but when Hulkenberg crossed the line, Lewis had already aborted his lap and then it was too late.
"It seemed OK to back off because it was so wet in the first and second sectors."
Hulkenberg ended up fourth, behind Rosberg, Red Bull's Sebastian Vettel and McLaren's Jenson Button. McLaren's Kevin Magnussen also beat Hamilton and will start fifth.
Hamilton came to Silverstone knowing he could do with beating Rosberg and start closing the 29-point advantage the German has in the championship.
But he admitted that Rosberg would likely "sail off into the distance" in Sunday's race.
"There is a long way to go," Hamilton added. "I will keep working at it and take it one race at a time."
Rosberg, whose lap had been compromised by his proximity to his team-mate's car, said he was surprised at Hamilton's decision because he felt there was a chance that the last part of the lap might have dried, but added: "It was difficult to judge the situation."
He added: "Starting the lap I was disappointed because I had to go right in Lewis' gearbox to even make it across the line [in time to start the lap]. There were cars in front of him and he played that very fairly.
"And then Lewis decided to abort his lap and that's when really my hopes came up because I thought: 'Wow, OK, even if I'm slower in the first two sectors, I know the last sector is better than last time around so there is a great chance to do a lot better in the last couple of corners.'
Rosberg said he was going to "attack" to try to win the race.
"It is just qualifying. With the car we have, I expect Lewis is going to be able to fight through quickly.
"I need to try and extend my gap in the championship and that's what I'm here to do."
Hamilton and Rosberg resume their championship battle in the race on Sunday, with coverage live on BBC Two from 12:00 BST, on radio 5 live sports extra from 12:30 and online.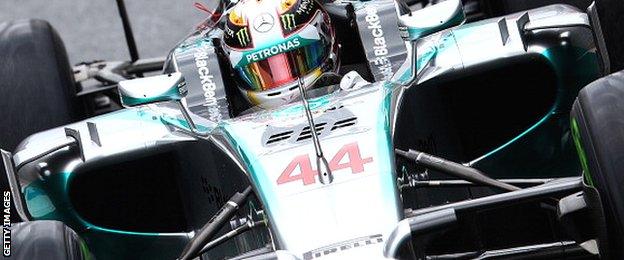 British Grand Prix practice results