Felipe Massa angry with Sergio Perez after Canada GP crash
Last updated on .From the section Formula 1
Williams driver Felipe Massa criticised Force India's Sergio Perez for his part in a spectacular crash involving the pair at Sunday's Canadian Grand Prix.
Perez, 24, has been given a five-place grid penalty for the next GP in Austria on 22 June for the incident, that led to both drivers being taken to hospital.
"It was dangerous and we could have had a very serious accident, so for me the penalty is not enough," said Massa, 33.
Perez denies any wrongdoing and says he cannot understand Massa's manoeuvre.
The Mexican said he was following the same line as in previous laps and "just got hit from behind".
He added: "I watched several replays of the incident and I can't help but notice how Felipe turns right just before he hits me.
"I can only think he must have changed his mind and wanted to rejoin the racing line. His misjudgement cost us a big amount of points."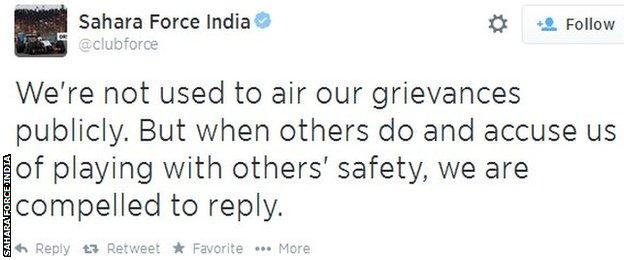 Perez was punished for deviating from his line when braking on the final lap at the Circuit Gilles Villeneuve as the pair battled for fourth place behind race winner Daniel Ricciardo in his Red Bull.
Force India tweeted a series of pictures with arrows to highlight the movements of both drivers, saying they were "compelled to reply" to criticism.
After sustaining impacts of 27G, both drivers were assessed at the track medical centre and then airlifted to hospital before they were released after precautionary checks.
Massa said he spoke to Perez at the medical centre to tell him he was "so disappointed", adding the Mexican "needs to learn".
He said: "It's not the first time he turned into somebody under braking. He has done this many times, but he didn't say anything. He just turned and left."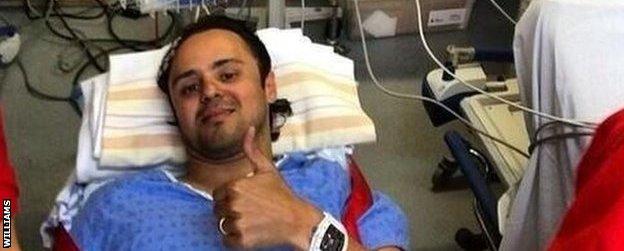 Force India were also criticised for not retiring Perez's car when the driver signalled via radio that his rear brakes were not functioning.
The former McLaren driver claims he remedied the problem.