Canadian GP: Red Bull's Daniel Ricciardo feels 'weird' winning

By Andrew Benson
Chief F1 writer
Last updated on .From the section Formula 1
Red Bull's Daniel Ricciardo said it felt "weird" to take his maiden Formula 1 win at the Canadian Grand Prix.
The Australian, who joined Red Bull after two years with feeder team Toro Rosso, passed Mercedes' Nico Rosberg for the lead with two laps to go.
"I pictured myself as a kid standing up on top of the podium and when you're up there it feels a bit weird," he said.
"It sounds awesome. Really good, terrific. Still seems a bit surreal, just because it happened so quickly."
Ricciardo was third with seven laps to go, before passing Force India's Sergio Perez and then the crippled Mercedes of Nico Rosberg to take the win.
Rosberg was hampered by a failure of his engine's hybrid system, which cost him 160bhp. The same problem led to brake failure on team-mate Lewis Hamilton's car with 24 laps to go.
"It's not that we were leading the whole race, so it's not that I had time to understand that I was going to win," Ricciardo said.
"It all happened in the last few laps, so I think that's why it's still taking a while to comprehend in my head.
"But really nice, a really good feeling. The race came to life at the end. Mercedes had their issues and it enabled us to close on them."
The victory came in only Ricciardo's seventh race for world champions Red Bull, and was the first time the dominant Mercedes had been beaten this season.
"I think it surprised us, yes, because of the pace Mercedes has had all year," he said.
"Obviously I'm still going to take the victory, don't get me wrong but they had their issues today which allowed us to really make an attack. But it's nice that we capitalised on that.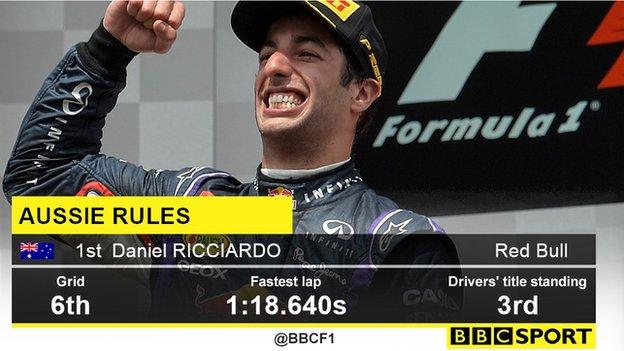 "I think it would have been disappointing if they had their issues and they were able to still get the best of us.
The 24-year-old became only the fourth Australian to win a grand prix, following in the footsteps of Sir Jack Brabham, who died last month aged 88, 1980 world champion Alan Jones and Mark Webber, whose seat Ricciardo took following his move to endurance racing.
"It's going to take a little bit to sink in, but I'm so very proud - great to hear the Aussie anthem," he said.
Ricciardo added that the key move was when he was able to pass Sergio Perez's Force India for second place.
Rosberg was leading a four-car train comprising Perez, Ricciardo and the second Red Bull of world champion Sebastian Vettel after losing ground when he lost his hybrid power with half the race still to go.
But Perez was unable to pass Rosberg and Ricciardo spent 28 laps behind the Mexican, whose Mercedes engine had more power than Red Bull's Renault, before managing to pass him on the outside into Turn One.
"That was the one," Ricciardo said. "I could see it in front. When Nico was there and Perez was in between us. I was like, 'If we can just get Perez, I think we'll be able to make a charge on Nico.'
"I knew if I could get past Perez the race was mine to take. I was looking at the grass there between Turn One and Two and thought I'd overshot it but then I could see Nico and was able to get him with two laps to go.
"That's why it's surreal. When you hear athletes say they can't believe it, it sounds like they all say the same thing, but it's true."
Ricciardo delayed his celebrations on the podium until he heard that Perez and Williams' Felipe Massa had not been injured in a huge crash at the start of the final lap.
"I wasn't sure if the two drivers on the last lap were OK, so I just wanted to make sure they were cool before we got celebrating, but I believe they're fine," Ricciardo said.
Massa and Perez were released from hospital after precautionary checks.