Canadian Grand Prix to be hosted in Montreal for the next 10 years

By Andrew Benson
Chief F1 writer
Last updated on .From the section Formula 1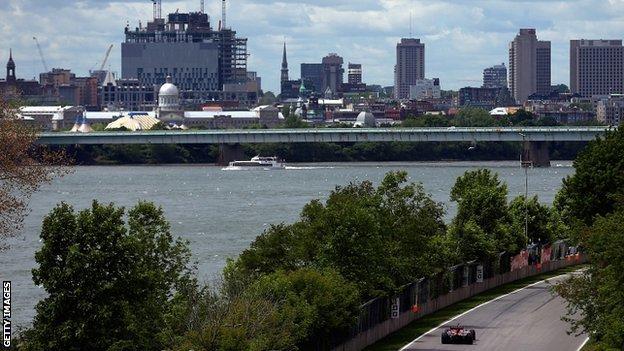 Montreal's Circuit Gilles Villeneuve will host the Canadian Grand Prix for at least the next 10 years after signing a new deal with Formula 1.
The track, which first held the race in 1978 and has since missed only two years, has a new contract until 2024.
As part of the long-term arrangement, organisers will invest $32m (£17.4m) in upgrading the track's facilities.
The paddock, one of the most cramped on the calendar, is to be improved and a new grandstand built.
The news of an extended contract will be welcomed in F1. The race is one of the most popular on the calendar - and, as one of only two events in North America, an important one from a global marketing perspective as well.
Following qualifying, Mercedes' Lewis Hamilton said of the news: "It's one of the best races of the year, but mostly the fans here are some of the best that we get to see. They really make the atmosphere and the city is incredible, great food, we enjoy coming here."
Red Bull's Sebastian Vettel added: "It's one of the few places in the calendar where the whole city really parties all weekend long and embraces the grand prix and obviously for us that's a great feeling."
Mayor Denis Coderre said: "This is a positive outcome for Montreal.
"The Canadian Grand Prix is part and parcel of Montreal, one of the big international events that builds our outstanding reputation as one of the world's great cities."
Canadian Grand Prix qualifying results