Jenson Button backing McLaren to bounce back from recent struggles

By Andrew Benson
Chief F1 writer
Last updated on .From the section Formula 1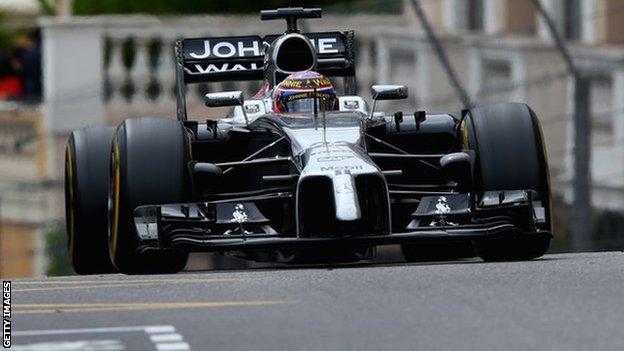 Former world champion Jenson Button wants to stay at McLaren next season despite the team's struggles.
Out of contract at the end of this season, the Briton, 34, believes McLaren will be stronger for their poor performances in 2013 and 2014.
"This is a great team to be with for the future," said Button.
"It's been a tough year - and last year was tough as well - but it's been good for the team. Things need to change and they have been changing."
McLaren had their worst season since 1980 in 2013, failing to take a podium finish.
This season, Button and team-mate Kevin Magnussen scored second and third places in the opening race in Australia but have struggled since.
The McLaren chassis is the main issue but the team's Mercedes engine, which has an advantage over the rival power-units of Ferrari and Red Bull's supplier Renault, is compensating to a degree.
Button, who won the world title in 2009, said McLaren's problems had forced them to fix fundamental weaknesses in the team.
"When you get a hit like this and suddenly you're not so competitive, you look to change big things that have been the same for many years, even 20 years," said the Englishman.
"It's a very positive direction the team is going in now, so I'm excited about the future."
McLaren are starting a new engine partnership with Honda next season.
The Japanese manufacturer, which is returning to the sport for the first time since disbanding its team at the end of 2008, is behind with plans for its new engine, according to insiders, but Button wants to stay put.
"I do see my future with McLaren," he said.
Button also said it was "not the right time" to start discussing a new deal.
"No progress, but that is the way it is," he said. "We have spent four good years together already, we are in our fifth year together and we both want to work together in the future.
"We have a lot of other issues to solve first before we start to think about the future too much.
"I still feel very young at heart, fitter than ever, and I have all that experience. I am in a great position.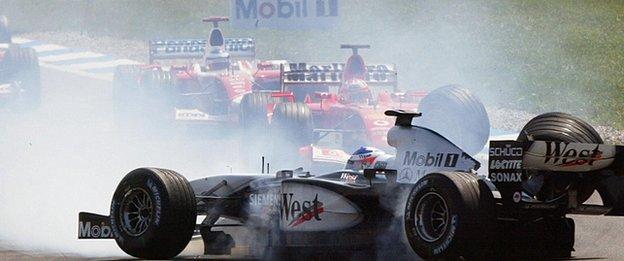 "I have a lot more to give in the future in F1 and I definitely cannot see an end to my career. This is where I want to be in my future."
McLaren would like Button to stay, but they potentially have other options.
Magnussen, 21, has enjoyed a generally impressive start to his first season in F1, while the team have another highly-rated youngster in reserve driver Stoffel Vandoorne, a 22-year-old from Belgium.
Ron Dennis, chairman and chief executive officer of McLaren, has also said he would have no objection to a return by Fernando Alonso, despite their difficult relationship when the Spaniard drove for the team in 2007.
Alonso, arguably the best overall driver in F1, is contracted to Ferrari until 2016, but is having a fifth frustrating season with the Italian team.