Jenson Button is encouraged by progress made at McLaren
Last updated on .From the section Formula 1
Jenson Button insists he is encouraged by the progress being made by McLaren.
Button finished sixth in the Monaco GP to maintain eighth place in the drivers' championship, one place ahead of team-mate Kevin Magnussen.
The 2009 world champion, 34, is confident the team is making strides going into the next race in Montreal.
He said: "We put a few things right. This is a course where you need mechanical grip, and that bodes well going into Canada."
Button admitted he left himself plenty to do after failing to impress in qualifying.
He partially atoned by pushing Nico Hulkenberg close for fifth, and added: "It would have been hard to go backwards from where I started, and it was a typical Monaco Grand Prix.
"It was messy out there, people were making mistakes, there were cars all over the place and you had to stay focused.
"As soon as you start pushing you destroy your tyres - if I'd pushed it more, I'd have ended up in the barriers so it was about pacing myself to the end.
"It's difficult to overtake at Monaco but I felt I could get past Hulkenberg. I was happy with sixth, but I would have liked fifth."
Button overtook team-mate Magnussen, who had to settle for a 10th-place finish.
Magnussen added: "I can draw a lot from the fact that our car felt really good. That's a real positive. It might be hard to see from the outside, but things are moving forward within the team."
Marussia celebrated its first points thanks to Jules Bianchi's ninth-place finish. The Frenchman said: "It was amazing to earn points like that. I'm really happy and proud.
"We'll expect to be more competitive but we need to keep our feet on the ground."
Marussia's chief executive officer Graeme Lowdon added: "This result represents real progress. We all know in Formula 1 that if you stand still, you go backwards so it's great for a team like ours to be getting its first points on the board.
"You can see what it means to everyone by looking at the faces in the garage at the end. When you've got 197 people instead of 1,000 everyone knows what they've contributed towards the achievement."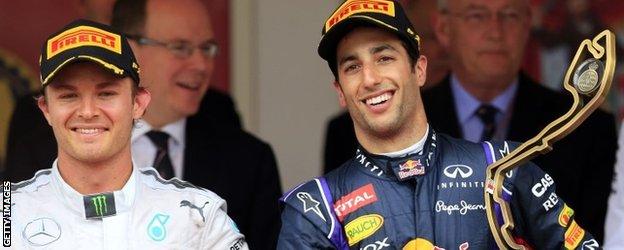 Red Bull's Daniel Ricciardo pushed Hamilton all the way to seal a podium finish. The Australian admitted Red Bull still have some way to go to challenge Mercedes, but said: "We got closer than I expected at the end after that last restart.
"In the last 20 laps, I knew the tyres would hold and we pushed all we could.
Ricciardo recovered after a disappointing start, adding: "The start was depressing, I wasn't pleased.
"We didn't seem to get any drive and basically it's been a little bit like that all year and we haven't felt we've been able to put the power to the ground."