Daniel Ricciardo: FIA backs manufacturer in Red Bull fuel row
Last updated on .From the section Formula 1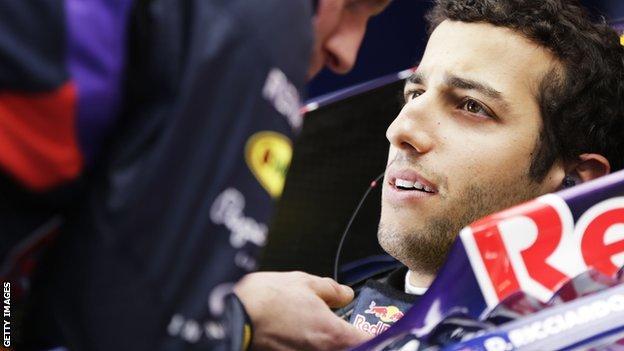 Formula 1's governing body says it is satisfied with the accuracy of the fuel-flow meter at the centre of Daniel Ricciardo's disqualification from the Australian Grand Prix on Sunday.
Ricciardo's Red Bull team intend to appeal the punishment, arguing the flow meter was incorrect.
The matter is now set to be resolved by lawyers in an FIA court.
Ricciardo was disqualified after the FIA found the car exceeded the maximum allowed fuel flow of 100kg per hour.
Red Bull boss Christian Horner insisted the team had complied with the regulations, adding that the fuel sensors have caused problems since their introduction.
"We could see a significant discrepancy with what the sensor was reading and what our fuel flow was stated as," Horner said. "That's where there's a difference of opinion."
Gill Sensors, who manufacturer the meter, issued a statement claiming motorsport's world governing body has no issues with its product.
Red Bull has until midday on Thursday to make a formal appeal.
Mercedes driver Nico Rosberg won the season-opening race in Melbourne, with McLaren's Kevin Magnussen promoted to second after Ricciardo's disqualification from his home race.