Australian GP: Rosberg underlines the superiority of Mercedes

By Andrew Benson
Chief F1 writer
Last updated on .From the section Formula 1381
As statements of intent go, this was a big one.
Mercedes driver Nico Rosberg won the Australian Grand Prix by 25 seconds without ever having to extend himself, and a new era of Formula 1 began as most of the paddock had expected it would even before setting off for Melbourne.
For a year or more, the word had been that Mercedes were ahead of their rivals when it came to the development of the new turbo hybrid engines that have been introduced to the sport this year.
Pre-season testing had made that more obvious, but it was only when the cars first hit the track in Albert Park this weekend that the true extent of their superiority became apparent.
By the end of Friday practice, by which time the cars had run with both high and low fuel loads, McLaren's Jenson Button was saying Mercedes had an advantage of a second a lap over the field on race pace, and the rest of the weekend did little to suggest he was wrong.
Red Bull's Daniel Ricciardo managed to split Rosberg from his team-mate Lewis Hamilton in qualifying - but it was clear the wet weather had flattered the Renault-engined teams.
In the race, Rosberg took the lead at the start, as Hamilton immediately hit engine trouble, and after that his only concern was whether his car would last.
"The start was off like a bullet, or like a Silver Arrow," said Rosberg, not forgetting his corporate responsibilities in the joy of victory. "And then after that the car was just really quick today.
"The team did such a good job on it. Really good engine. Not much of a problem with fuel consumption - didn't have to worry too much about that. Reliability was great."
For Hamilton, the news was not so good. Probably just about the last thing he wanted to see at the first race of the season was his team-mate win while he retired.
The two Mercedes drivers will battle for the championship this season - with or without any opposition it is difficult to say just yet - and already Hamilton has a 25-point deficit on the only man with an identical car.
He put a brave face on it afterwards, saying there were "a lot of positives" to take from the weekend and that he was "generally quite relaxed" about it. But he knows he is already up against it.
Both Mercedes drivers are aware this is their big opportunity to win the championship after years of Red Bull domination, and both, insiders say, have stepped their commitment up a gear as a result.
The talk all weekend was about how Mercedes would manage the relationship, whether they would allow the drivers to race - which they say they will.
Aware of their competitive position, team bosses Paddy Lowe and Toto Wolff had talked the situation through with their drivers before Melbourne and come to an agreement about how they would approach it.
Essentially, they have agreed to allow them to race, as long as they put the team first. In other words, do not do anything stupid.
Wolff praised their intelligence and maturity, but he knows that this will be a difficult situation to handle - and expects issues to emerge. And the need Hamilton will likely feel to make up his deficit to Rosberg will only increase that probability.
It was not the most thrilling of races to usher in a new era of F1, but the doom-mongers' predictions of a litany of retirements and a new breed of cars that were simply too slow were unsurprisingly wide of the mark.
The cars look fantastic from trackside. The extra power and torque of the new engines is making them visibly more difficult to drive, and they are already very nearly as fast the last year's. Fuel management, meanwhile, was not anywhere near as much of a feature as some feared.
The sound of the new engines is not to everyone's taste but it won't be long before people get used to them.
Insiders say the cars will be lapping at last year's pace within a few races and that, before long, improvements will be made to the engines so teams can consider going into races without even having to use the maximum allowed 100kg. It's an incredible rate of development.
You can only be in awe of the F1 teams' ability to produce ground-breaking engineering - which is exactly what the new power-units are - and to make it so fundamentally reliable so quickly. Only eight cars retired.
Before going to Australia, it looked like the Red Bulls would be among them. Certainly, few would have predicted that one would finish second, let alone that Ricciardo would be the man driving it if it did.
The Australian made an impressive debut following his promotion from junior team Toro Rosso. However a few hours after the race he lost his second place when he was excluded because the car was running an illegal fuel rate.
It will be heart breaking for him to lose such a great result at his home race - as it will be for the home fans, who have taken him to their hearts as a replacement for the much-loved Mark Webber.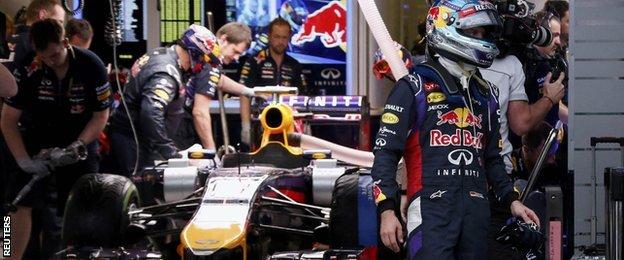 But Ricciardo's disqualification and Sebastian Vettel's retirement with engine problems notwithstanding, Red Bull showed just what a formidable force they are by turning around what was undoubtedly a dire situation even at the final pre-season test three weeks ago.
The word from drivers from other teams was that, for all the problems with the Renault engine, the Red Bull chassis was another aerodynamic marvel from the pencil of their genius design chief Adrian Newey.
That was perfectly evident watching it on track in Melbourne, where it showed a poise and grip through the corners that was unparalleled.
For now, the Renault engine is significantly down on performance and fuel consumption compared to the Mercedes.
It emerged in Australia that Renault first ran their power-unit in its entirety - combining the internal combustion engine with its electrical ancillaries - for the first time on the test bed only in mid-December, many months after Mercedes had theirs up and running.
It is no surprise, then, that they are so far behind, that the power-unit is not operating seamlessly and that its reliability is still suspect.
But all have been impressed by the progress Renault have made since their lamentable performance in the first two pre-season tests.
And one senior figure from a Renault team said that if the French company can keep up that level of progress then by the time the European season starts in Spain in May then there will be no more talk of a performance deficit from the engine.
Whether that will close a gap to Mercedes that Red Bull team principal Christian Horner described as "significant" is unclear.
"The Mercedes is definitely extremely quick," Horner said, "and I suspect they were driving to a pace rather than being stretched so they probably have more up their sleeve, so we have quite a lot of work to do."
Over at Ferrari, the man who has been the sharpest thorn in Red Bull's side over the last four years, Fernando Alonso, was admitting his team were "not happy" their car was only fast enough to finish fifth.
But the Spaniard, searching for that elusive third title, said: "No-one can say who will win the championship after just the first race or who lose it."
Perhaps not, but if anyone is going to stop Mercedes, they have a lot of catching up to do, and not long to do it.
Full Australian Grand Prix race results
Details for BBC coverage of the 2014 F1 season
Visit the BBC Sport Facebook page for a gallery of the best pictures from the Australian Grand Prix