Formula 1 Teams' Association disbanded after six years

By Andrew Benson
Chief F1 writer
Last updated on .From the section Formula 1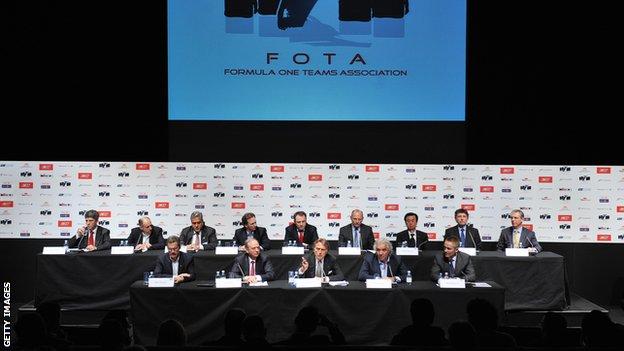 The Formula 1 teams' umbrella group has been disbanded.
The Formula 1 Teams' Association (Fota) was set up in 2008 to provide a single voice for the teams in dealings with F1 boss Bernie Ecclestone and governing body the FIA.
But its power was eroded when the influential Red Bull and Ferrari teams quit the organisation in 2011.
And now it has been closed down amid cost concerns and as a result of its declining relevance.
Fota secretary general Oliver Weingarten said: "I can confirm that Fota has been disbanded as a result of insufficient funds to continue and a lack of consensus among all the teams on a revised, non-contentious mandate."
The organisation was instrumental in preventing the introduction of a budget cap and in the creation of the resource-restriction agreement (RRA) to control costs in 2009.
However, a dispute over the RRA - specifically involving accusations that Red Bull were breaking it, which the team denied - led to Red Bull and Ferrari quitting Fota.
Red Bull junior team Toro Rosso and Sauber, a Ferrari customer, joined them, although the Swiss team has been a de facto Fota member for the last few months.
The organisation pressed on under the chairmanship of then McLaren team principal Martin Whitmarsh.
But its relevance has been increasingly questioned in recent months, especially since Whitmarsh was ousted from his role at McLaren and his deputy Eric Boullier was also forced to stand down from Fota after leaving Lotus to effectively replace him.
Fota was also struggling as a result of some teams refusing to pay last year's membership fees.
Its demise leaves a number of issues outstanding.
The three extra in-season tests that have been introduced this season, which Fota is responsible for, have yet to be arranged.
Equally, Fota acts as administrator for the teams' submissions under the RRA, whether they have complied with the guidelines of a legally-binding document. The submissions for the 2013 season are due on Friday.