Susie Wolff to drive for Williams in F1 race practice sessions

By Andrew Benson
Chief F1 writer
Last updated on .From the section Formula 1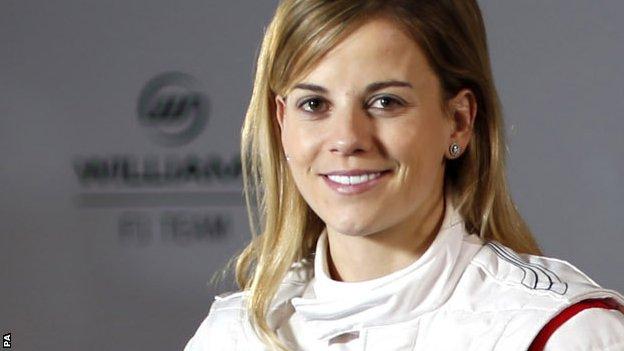 Britain's Susie Wolff is to take part in two practice sessions at grands prix this year as part of an expanded role as Williams development driver.
Wolff will drive in an in-season test and the first practice sessions at the British and German Grands Prix.
"It's an incredible opportunity they have given me and it's one I am going to grab with both hands," she said.
The former German touring car driver sees the chance to drive on an actual grand prix weekend as "a natural progression".
"Each step of the way, I proved myself, did a good job, gave the team what they needed in terms of feedback and that then led to more opportunity within the team," she said.
Wolff is attempting to make a breakthrough in what is a male-dominated sport.
Italian Giovanna Amati was the last woman to enter the world championships, though she failed to qualify for three races with Brabham in 1992 and was subsequently dropped.
The last woman to race in an F1 car was Italian Lella Lombardi in 1976.
But Wolff is not alone. Swiss driver Simona De Silvestro, 25, joined Sauber in February with the aim of racing in 2015.
Wolff feels her performance at Silverstone last summer changed attitudes towards her within F1.
"Yes, massively," she said. "There was definitely a stereotype of 'blonde girl walking around the paddock dreaming of being a Formula 1 driver' and there were a lot of people in the paddock who thought it was just a marketing ploy from Williams.
"But I said from the outset that there was no way Frank and Claire [Williams] were going to let me near an F1 car if a) they didn't think I was ready and b) they didn't think I could bring performance to the team."
Williams - for whom founder Sir Frank Williams's daughter Claire is now deputy team principal - have been making major structural changes to the team over the last few months after a disappointing 2013, which was the worst season in their history.
Last year, they employed former Renault engineering boss Pat Symonds as chief technical officer and he has led a reshaping of the race team and engineering department.
They have also signed former Ferrari driver Felipe Massa alongside promising Finn Valtteri Bottas.
"Susie has become a valued member of our driver line-up," said Symonds.
"She has demonstrated a natural talent for developing a car and providing strong feedback and these sort of characteristics will be key this season as teams seek to quickly understand and refine the radically overhauled 2014 cars."
Wolff said her expanded role was something she had "clearly set my sights on, having done the young driver test at Silverstone but it was a long wait in the winter to know if it was going to happen or not.
"And when I finally knew it was going to happen I was over the moon, without a doubt. I am still over the moon.
"To stay as a part of Williams when they're going through such big and positive change and still be part of the team, of course I'm incredibly proud."
If she does a good job, Wolff said the next progression is to take part in a race, but she stopped short of saying that was her target.
"There are so many people fighting to get into F1 and at one point in the winter I didn't think I would have anything this year," she said.
"There are many good drivers out there fighting to get in with or without money behind them.
"It's a tough environment, but I had the solid Silverstone test behind me, which has shown people a little bit more of what I am capable."
She added: "I am someone who doesn't like to sit still. I am always looking for constant improvement, constant ways of moving forward.
"For me, there was absolutely no doubt I wanted to drive in some Friday sessions because that would be the next progression of my F1 journey."
As for being on the grid in 2015, she insisted it was "impossible to say" whether that would happen, adding it was about "grabbing the opportunities and always proving yourself".