Lewis Hamilton sets Bahrain test pace as Red Bull struggle

By Andrew Benson
Chief F1 writer
Last updated on .From the section Formula 1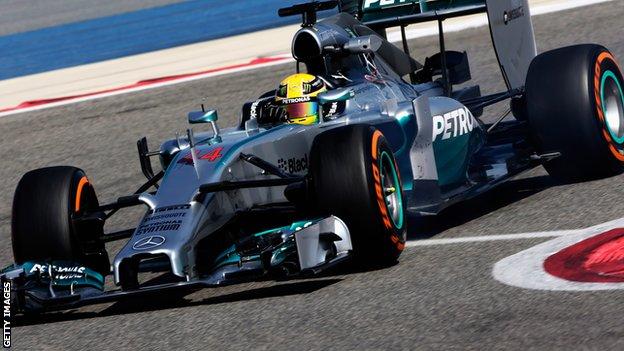 Lewis Hamilton set the pace for Mercedes on the third day of the second pre-season test as the big teams struggled with reliability in Bahrain.
The Briton completed 67 laps - 18 fewer than team-mate Nico Rosberg managed on Thursday - as Ferrari and Red Bull also hit trouble.
McLaren had a more productive day, with Jenson Button completing 103 laps on his way to the second-fastest time.
Lotus continued to struggle in their new car's first public test.
After missing the first pre-season session last month because their car was not ready, Lotus needed to have a good performance in Bahrain this week.
But they did no productive running at all on the first two days with Romain Grosjean, while his team-mate Pastor Maldonado also struggled after taking over on Thursday, completing only 24 laps, with a best time 5.4 seconds off Hamilton's pace-setting lap.
Lotus, like Red Bull, use Renault engines and all the French company's teams are having to run with a power-unit performing far below expectations.
Problems with hardware and software mean the Renault power-unit is 100-150bhp down on those of rivals Mercedes and Ferrari. Nor are the teams being allowed to do any functionality testing - they are simply running around at reduced power to enable them to learn the basics about their cars.
Renault engine chief Rob White said the company was now at a "respectable opening level of power-unit behaviour with a number of incidents that is understood and manageable, but we're behind where we wanted to be".
White insisted: "We absolutely can catch up and it is my clear determination to do so. And not just catch up but overtake."
However, the manufacturers' engine specifications are to be frozen for the season on 28 February - in seven days' time - after which changes may only be allowed with the permission of governing body the FIA on reliability, cost-saving or safety grounds.
Red Bull team principal Christian Horner said the "biggest issues" were with the energy storage units linked to the new 1.6-litre V6 turbo hybrid engines, which are new to F1 this year.
He said Renault were suffering as a result of their decision to hand development of energy-recovery systems to the teams when the technology was first introduced to F1 in 2009. They were now behind Mercedes and Ferrari, who had developed the units in-house, he said.
Red Bull driver Daniel Ricciardo managed only 28 laps before being forced to end his running early. His team discovered a mechanical problem which the Australian said meant they needed to "take the car apart".
The Australian was ninth fastest, 6.5secs behind Hamilton.
Ricciardo said: "We still have tomorrow ahead of us and it's important to be ready for that. The car is definitely making progress though. It's coming together, bit by bit.
"We'd love a big chunk all at once but obviously that's not the way these things work, so we have to be a bit patient for now. However, it is coming and we're heading in the right direction."
Hamilton added: "It was nice to be able to put together a good lap because generally speaking there seems to be less grip available than last year.
"I'm looking forward to completing a race simulation next week as we didn't quite get to finish it today.
"We're trying to find any issues we can now to prevent them happening during a race situation, so from that perspective it's a positive that we were able to find and fix something again today.
"The car seems to be responding well to my style of driving and the power unit is looking promising."
The team did not give details of the failure that stopped them.
After two relatively trouble-free days with Fernando Alonso at the wheel, Ferrari hit telemetry troubles on Kimi Raikkonen's first day in the car in Bahrain.
The Finn completed 44 laps to set sixth fastest time, 3.2secs off Hamilton's quickest lap.
The Mercedes' time of one minute 34.263 seconds was the fastest lap of the test so far, beating the mark set by McLaren's Kevin Magnussen on Thursday by 0.7secs.
Mercedes' attempts to simulate a race distance were hampered by an unspecified failure on the car.