Formula 1: Ferrari says 'double-points plan' could be dropped

By Andrew Benson
Chief F1 writer
Last updated on .From the section Formula 1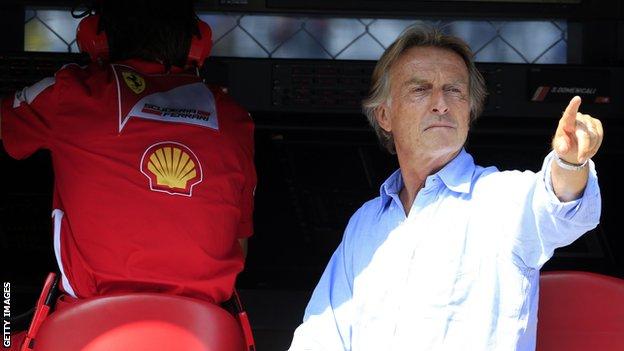 The controversial new rule to award double points for the final race of the season could be dropped, Ferrari say.
Team president Luca Di Montezemolo said the rule was "artificial", adding that it would be discussed at a meeting he wants to hold in January with other teams about the future of Formula 1.
Ferrari principal Stefano Domenicali said: "We can say we're not in favour but it was a [collective] decision [to approve it].
"It'd be not wrong to reconsider it."
Because the teams' original decision to back the double-points plan - which was Bernie Ecclestone's idea as a way of reducing the chances of the final race of the season becoming meaningless - was made in private, they agreed not to reveal later who agreed and disagreed with it.
Di Montezemolo likened the rule, which was announced by governing body the FIA earlier this month, to making footballers play in tennis shoes in the rain "because they slip more".
He added: "Maybe the best way is to do one year to find out. It was unanimous agreement to do it. We will look at it but in future we need to have more involvement of tifosi (fans), media, the stakeholders of F1.
"Maybe you can give a gold car for the last race, five more points, 10 more points, but this…"
Di Montezemolo, who was talking at Ferrari's annual Christmas lunch, said he wanted to arrange a meeting of the teams because F1 was in a "crisis".
"It is time to work together for the future because a lot of teams will not survive, the crisis is becoming big," he said. "The potential money from China is finished. So it is time to look at what is necessary."
And he said that it was time for the sport to consider how it would be run when commercial boss Bernie Ecclestone was no longer in charge.
In response to questions about Ecclestone facing a series of legal challenges related to accusations of bribery, which he has denied, Di Montezemolo said: "For many reasons Bernie is not in the best moment of his life.
"I told him, as I tell myself, sooner or later it is correct, it is useful, it is necessary to do a step back."
Looking forward to 2014, Di Montezemolo attempted to dismiss suggestions that their driver line-up of two former world champions, Fernando Alonso and new signing Kimi Raikkonen, could be volatile.
"Kimi particularly in the races is very strong," Di Montezemolo said, "so he will be in a position to get points off even some of Fernando's competitors, to get points for the team, and he is a very correct guy.
"Domenicali has spoken very clearly to both of them. They have the honour and responsibility to drive for Ferrari and every driver who comes here knows he has to drive not for himself but for the team. These are the rules, very clear without any problems."
Ferrari's relationship with Alonso grew tense in 2013, when Di Montezemolo publicly admonished the Spaniard after he made what the Ferrari president viewed as unsupportive comments about the car's performance.
"Fernando is strong," Di Montezemolo said. "It is always difficult to make a comparison with the past, but if you put together speed, intelligence to understand the race, capability to avoid mistakes in the race, I have to say Fernando is the best driver I have seen, with all respect to Michael (Schumacher), who has been fantastic
"Fernando, I like of him that he wants to win. This is important. Fernando is a guy that day and night always thinks and it is also good to use him for his point of view of how to improve some of the organisation.
"I understand he wants to win and that he arrived second this year thanks more to his capability than the car. But on the other hand I want a driver that even in the difficult moments gives (the impression) to the outside that he is very close to the team."
Addressing long-standing rumours that world champion Sebastian Vettel will join Ferrari in the future, Di Montezemolo said: "I have many problems. The number one driver is not one of them. I like Vettel as a person, but we have no plans for him. In two years we can talk again."