Nico Rosberg suffers tyre failure in Bahrain Pirelli test

By Andrew Benson
Chief F1 writer
Last updated on .From the section Formula 1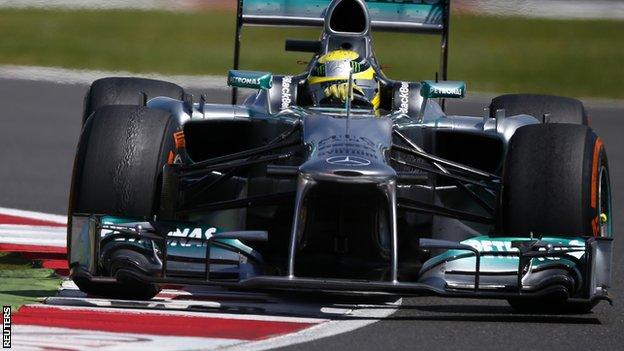 Nico Rosberg suffered a 200mph tyre failure on Thursday at a private Pirelli test in Bahrain.
The German's Mercedes outfit are among four teams helping F1 supplier Pirelli with development work in the Gulf state this week.
Rosberg tweeted: "Just spun at full speed 320km/h on Bahrain straight because my tyre blew up without warning."
The tweet was deleted within a few minutes of being posted.
A Pirelli statement said: "The tyre tests in Bahrain regarded a number of prototypes, which were completely innovative in terms of structure and compounds, with the aim of developing the most suitable solutions for the next season.
"This morning Nico Rosberg's Mercedes was fitted with one of these prototypes, a tyre which had only been tested in the laboratory and which will not be proposed again.
"Thus, the safety of the tyres which will be supplied for the next championship is not in question.
"The accident which happened to Rosberg's car is being investigated and the findings will be communicated to the FIA and the teams."
Damage to Rosberg's Mercedes caused by the spin and the tyre failure meant the team had to end its programme for the week.
Red Bull, Ferrari and Toro Rosso are also taking part in the test, which started on Tuesday and ends on Thursday.
Pirelli asked for the test because it felt it was important to do more development work on its tyres ahead of the 2014 season, when major rules changes come into force.
It is concerned that the greater torque of the new turbo engines will put more demands on the tyres and it wants to avoid the problems it suffered this year.
Pirelli needed to change the design of its tyres in the middle of the season following a series of dramatic failures, culminating in six issues at the British Grand Prix.
The FIA, which governs the sport, has an observer at the test and will expect an explanation for the tyre failure.
It was understood Pirelli would no longer conduct safety testing on the track and that the testing would be done on a rig, before durability and performance testing was conducted on a circuit.
Pirelli has constantly complained, since it became F1's tyre supplier in 2011, that the severe limitations on testing in the sport were making its job impossible.
As a result, F1 has introduced four in-season tests in 2014 to help Pirelli develop its tyres.
Pirelli has a contract with F1 for the next five years but the FIA has not yet made clear its status as the sport's official tyre supplier in 2014.
Earlier on Thursday, a Pirelli spokesman said: "The test in Bahrain is a private tyre test, so most data generated from it is confidential. However, incidents can happen, this is what testing is for. Our testing programme will continue as planned."