David Coulthard: Plenty to ponder as an F1 era draws to a close

By David Coulthard
BBC F1 co-commentator
Last updated on .From the section Formula 1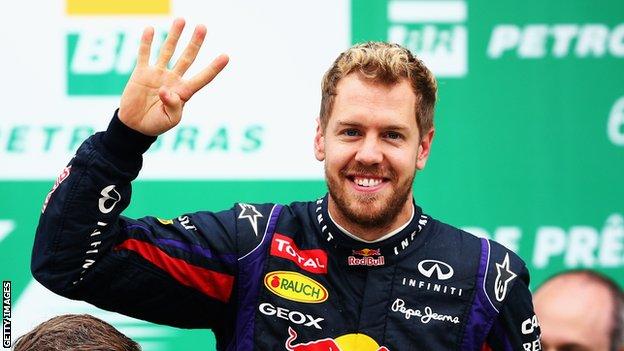 It was not a vintage Formula 1 season, but 2013 certainly provided plenty to ponder as one era of grand prix racing ends and another dawns.
It remains to be seen whether Sebastian Vettel's fourth consecutive title was the end of a brilliant run or merely a stepping stone to yet more steamrollering of F1's record book. Either way, his and Red Bull's domination was the standout feature of the year.
It's very hard to win one World Championship and even harder to win two back-to-back - as history has proved. So to win four in a row is a remarkable achievement, whatever the circumstances.
Some people have got it into their heads that the post-race radio communication between the 26-year-old German and his team boss Christian Horner is all a bit 'PR'.
Well, Horner clearly has a bit more time on the pitwall to consider his words. But I was watching back some of Vettel's early good results in F1, including finishing fourth in China 2007 for Toro Rosso, and the joy and whooping over the radio afterwards was just the same as now.
In fact, I think one of the secrets of Vettel's success is that he just loves his job so much - although of course that's easy to do when you win as much as he does.
There has been a lot of talk that the mid-season switch back to the 2012 Pirelli tyre construction following the blow-outs at Silverstone was a key factor in Vettel dominating the second half of the 2013 championship.
It certainly did not do any harm, but the bottom line is that teams do not understand tyres as well as they sometimes like to pretend. Let's just remind ourselves that the tyres used in the second part of the season had been used previously, so there is no reason why any team could say they didn't have prior experience.
When they're winning, they pat themselves on the back saying: 'Aren't we clever?' But when they stop winning they suddenly realise they don't understand why - and by extension that they did not fully understand why they were winning.
The bottom line is that success in F1 tends to be a result of the right level of downforce, acting in a benign way that allows the driver to get sideways, rattle kerbs and generally have confidence.
Confidence gives lap time and confidence is what Vettel is brimming with after four years of success.
Ferrari
Red Bull's success destabilised Ferrari and led to a sticky period in relations between the team and Fernando Alonso.
I can't know for sure but I do believe there is substance to the reports that his management were looking around other teams in the summer. Whether that's because it's the right thing to do or out of a genuine desire to move, it doesn't show a happy marriage.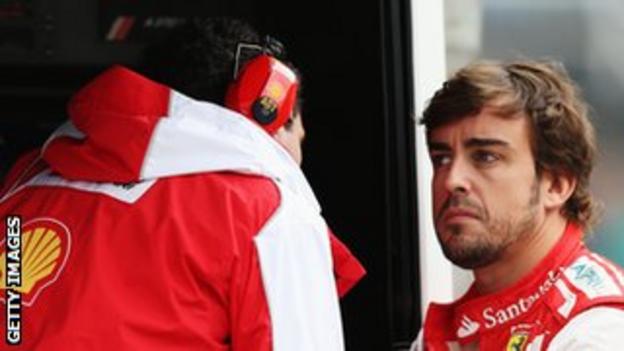 Some people have suggested that signing Kimi Raikkonen alongside Alonso simply adds pressure to an already potentially volatile situation, but I see it differently.
Raikkonen has been at Ferrari before so there is no new-boy-at school uncertainty and he is also pretty comfortable in his own skin.
Ferrari know what to expect from him, which is that he will take the most out of any situation.
Does he have time on his side and all the youthful energy that he might have had first time around? It remains to be seen.
But the key point is Raikkonen is non-political. He won't try to be anything other than himself with Alonso. He won't be outwardly annoyed if he is slower; he won't be high-fiving his mechanics in the back of the garage and trying to rub it in if he is quicker.
I believe that, over a season, Alonso will have too much for Raikkonen.
As for how Alonso will respond on the occasions Raikkonen is quicker, well, there were times when he was out-qualified by Massa and he was fine with it.
It might be that he had the comfort zone of knowing he was a better racer, but there were some races in which the team could have moved Massa out of the way sooner, but didn't. And there were races when they didn't move him out of the way at all.
We did not hear the radio transmissions but Alonso seemed to handle that OK. So I keep an open mind on that situation.
The key factor will be Ferrari's overall performance. They may continue to be not quite there. On the other hand, if they have finally sorted out the problems with their wind tunnel at Maranello and have done a decent job with the new power-train, Ferrari could be a major surprise in 2014.
Mercedes
Mercedes have to be happy with the progress made in 2013. It proves they are on the right track and justifies the decision to split from McLaren and go it alone.
But there weren't always calm waters politically at Mercedes in 2013 and now team principal Ross Brawn has left, his successors, Toto Wolff and Paddy Lowe, have to prove they can do the job.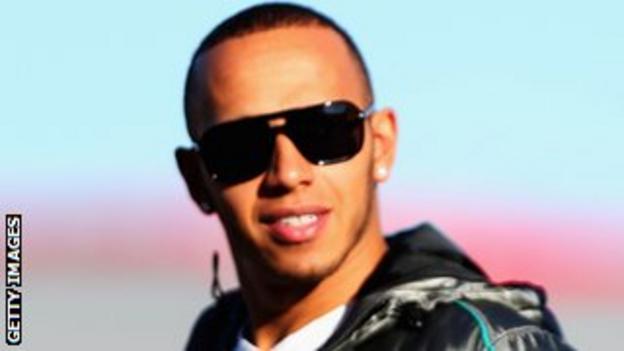 Lowe is responsible for the sporting and technical aspects of the team. I worked with him at McLaren and technically he is very strong. I would have him in my dream team without any shadow of doubt.
But he has yet to prove he is as adept politically as someone like Brawn, or how he is as a leader of men.
And Wolff, in charge of the financial and political aspects of the team, is still very inexperienced in F1.
Brawn is softly spoken but he is a physically imposing presence and his voice carried a lot of weight. It will be fascinating to see how Lowe and Wolff fill his shoes.
Driver-wise, Nico Rosberg and Lewis Hamilton were very evenly matched in what was a bit of an up-and-down year for the Briton.
Undoubtedly, in a Red Bull he would have won a number of races and possibly challenged for the championship. Equally, Mercedes' performance vindicated his decision to quit McLaren.
But I stand by the observation I made earlier this year that he seems more emotionally driven at this stage of his career than he perhaps should be.
That may be his personal growth into a new situation of independence and wealth.
But it remains to be seen whether Hamilton can deliver the consistency of performance in the modern world of F1 that Vettel and Alonso have shown.
Musical chairs always leaves someone standing
Paul Di Resta has lost his seat at Force India and it is all but certain that his F1 career is over for now.
Paul undoubtedly has the speed to be in F1, and in the right car he could win grands prix. But he has become a victim of staying in a mid-grid team too long.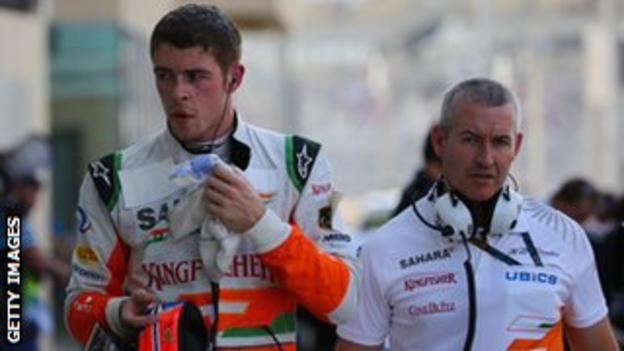 You have to get in and out of those midfield teams quickly - otherwise the danger of being overlooked as the next bright young thing is too high.
Although Di Resta shaded his private battle at Force India with Adrian Sutil, he was not helped by the fact Sutil did such a good job after a year out of F1.
Equally, there were some murmurings about Paul not always being as loved by the team as maybe some other drivers are.
Ultimately, his fate is a good example of the fact that being a fast racing driver is not enough. You have to make sure you have a 360-degree understanding of how to glad-hand the sponsors, team and media.
Hulkenberg misses out
Nico Hulkenberg put in some stellar drives for Sauber in the second half of the season but by then Ferrari had already made their decision to take Raikkonen back.
I'm a big fan of Hulkenberg but if you rationalise Ferrari's thought process in taking Raikkonen over Hulkenberg, have they made a mistake? No.
Look at Raikkonen's results for Lotus over the past two seasons against a quick team-mate such as Romain Grosjean.
Winning championships is not about being quick on occasion. Guys like Raikkonen, Vettel and Alonso are on it all the time.
McLaren, meanwhile, ruled Hulkenberg out on the basis that he was too big. On the face of it, that sounds ridiculous, but the teams do their analysis and they know all about the packaging difficulties imposed by the new rules.
I happened to be speaking to McLaren's new signing Kevin Magnussen and Williams's Valtteri Bottas at two events recently, and they have both been told to lose weight before next season - and they are much smaller and several kilos lighter than Hulkenberg.
Five kilos is nearly 0.2 seconds a lap. That's about the average difference between Vettel and his former team-mate Mark Webber in qualifying - and it's also not far off the weight difference between them.
Teams don't make these decisions on a whim.
Can Red Bull continue their dominance?
History suggests dominance is not linear. It is going to change at some point and as good a time as any for that is when there is a major change of regulations, as next year.
Turbo engines with extensive energy recovery and new chassis rules that, among other things, will eradicate the exhaust-blown rear aerodynamics that have been the dominant feature of the past four years, mean a rethink for all the teams.
It's easy to say Red Bull remain the favourites - they have one of the biggest budget, if not the biggest of all, some very clever people, a great driver, and their level of consistency over the past five years has to mean something.
But the fact is no-one knows who will come up with the best solution to the new rules - and the unfreezing of engine development for the first time in eight years adds further uncertainty.
Two decades in F1 as a driver and then a commentator have taught me to sit back and observe and make a judgement based on fact rather than feeling.
People are already talking about the new engines producing more ultimate power than the outgoing V8s. There will inevitably be reliability issues at the start of the season.
F1 is about technological development and we can now genuinely talk about F1 technology advancing that of road cars.
And if at the same time that mixes things up on the race track, that cannot be a bad thing for F1.
David Coulthard was talking to BBC Sport's Andrew Benson.
BBC F1's review of the year is broadcast on 28 December on BBC1 at 13:15 GMT