FIA seeks interest from would-be Formula 1 teams for 2015 or 2016
Last updated on .From the section Formula 1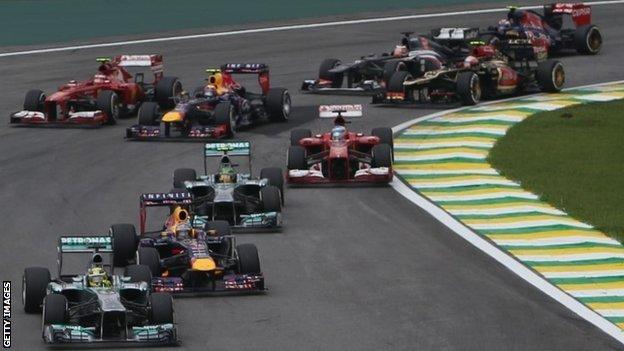 The FIA has invited potential new teams capable of racing "at a competitive level" to express their interest in joining Formula 1 from 2015 or 2016.
Motor racing's governing body last admitted new constructors in 2010, when Hispania, Virgin Racing and Lotus Racing increased the grid to 12 teams.
Spanish team Hispania became HRT and folded at the end of 2012.
"The overall long­ term interests of the championship will determine which candidates are selected," said the FIA.
"In the event that no applicant is considered suitable by both the FIA and the commercial rights holder, no additional team will be selected."
The FIA will be keen to avoid the scenario of 2010, when US F1 - one of four teams granted a spot on the grid - failed to make it to the start line.
The World Motor Sport Council subsequently fined the American-based team and banned the outfit from participating in any FIA championship as punishment for its failure to present a car to take part in the 2010 season.
Virgin Racing and Lotus Racing are the only two of the initial four still racing, but they are now known as Marussia and Caterham respectively. Neither have scored a point.
The FIA says interested parties must register a formal interest by 17:00 CET (16:00 GMT) on 3 January 2014 along with an initial administration fee of $5,000 (£3,000).
Prospective new team owners will need to supply details of the identity of all shareholders and ultimate beneficial owner of all the shares.
Information on the candidate's relevant experience and capabilities, including technical experience, racing experience, facilities, equipment and engineering resources will also be required.
The total fee is $130,000 (£80,000) and full applications will need to be submitted by 10 February 2014. A decision is expected on 28 February 2014.
Aside from HRT, Caterham and Marussia, only two other teams - Toyota and Super Aguri - have entered the sport since 2002, amid the high costs of running an outfit.
However, earlier this week the FIA announced the adoption of a cost cap - details of which are still to be finalised - from 2015.