Formula 1 teams reject proposal to enforce two pit stops

By Andrew Benson
Chief F1 writer
Last updated on .From the section Formula 1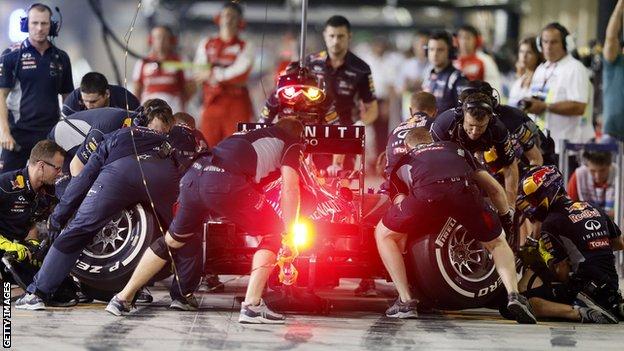 Formula 1 teams have rejected a proposal to force drivers to make at least two pit stops in each grand prix.
The idea was put forward as a way of preventing a repeat of 2013's tyre problems amid uncertainty about car performance following rule changes.
But the proposal received no support from the teams at Monday's meeting of F1's rules strategy group.
An attempt to raise the minimum weight limit to prevent taller drivers being unfairly penalised was also rejected.
A series of other rule changes were approved and announced by the strategy group and FIA, however.
Double points will now be on offer for the final race of the season to heighten interest in the championship finale from 2014, while the idea of a cap on teams' budgets from 2015 was also approved.
The plan to introduce a minimum of two pit stops for tyres was hatched at a meeting between FIA president Jean Todt, F1 commercial boss Bernie Ecclestone and tyre supplier Pirelli at November's Abu Dhabi Grand Prix.
Pirelli made it clear it could not afford, in terms of public relations, a repeat of the multiple tyre failures seen in 2013.
These reached their nadir at the British Grand Prix, when six major failures during the race forced Pirelli to change the design of the tyres for the rest of the season.
But the plan for two mandatory pit stops met with severe resistance from the teams, who felt interfering in the race strategies they could run to such an extent would be unnecessarily artificial and risk most races being almost identical in their format.
Pirelli has been granted an extra test this winter to conduct further evaluation in an attempt to ensure it does not run into problems in 2014.
This will take place in Bahrain from 15-17 December, using 2013 cars from Red Bull, Mercedes, Ferrari, McLaren, Force India and Toro Rosso.
Pirelli's concerns are rooted in its belief that the new 1.6-litre turbo engines that will be introduced next season will be much more demanding of tyres because they generate significantly greater torque than the 2.4-litre V8s used in F1 from 2006-13.
Meanwhile, governing body the FIA had wanted to raise the weight limit by 10kg to prevent heavier drivers being unfairly penalised.
The idea was rejected by Ferrari, Mercedes and Lotus - three of the six teams on the strategy group, which also comprises Todt and Ecclestone. The other teams are McLaren, Williams and Red Bull.
The minimum weight limit has already been raised from 642kg for the driver and car together to 690kg for next year to take into account the fact that the engines will be heavier as a result of the switch to 1.6-litre turbos with extensive energy recovery systems.
But the engines are turning out to be heavier than anticipated and teams are still struggling to meet the minimum weight limit as a result.
So having a taller - and therefore heavier - driver can put a team at a disadvantage because it means his car is likely to be over the weight limit.
The issue matters because 1kg of weight equates to about 0.035secs a lap on an average circuit.
That means a smaller driver such as Ferrari's Fernando Alonso, who weighs 68kg, is at an advantage over a taller one such as Force India's Nico Hulkenberg, who weighs nearly 80kg, to the tune of 0.42secs a lap if the team cannot reduce the car by the amount of their weight difference.
And even if they can, the taller driver is at a disadvantage because his weight is higher up in the car, which also affects performance.
The weight limit is likely to be raised for 2015, but because of the short time before the start of the 2014 season in Australia on 16 March, unanimous agreement is needed for the rules to be changed for next year.