McLaren's Magnussen has been inspired by Lewis Hamilton

By Andrew Benson
Chief F1 writer
Last updated on .From the section Formula 1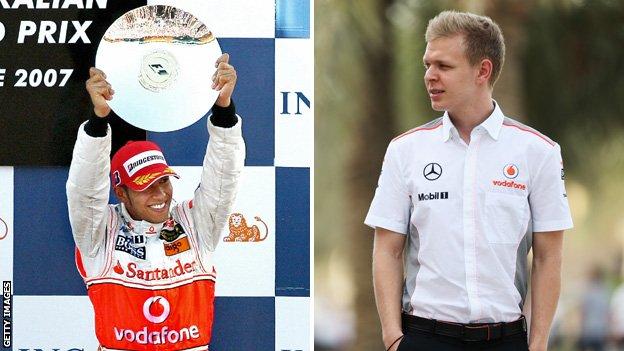 New McLaren driver Kevin Magnussen says Lewis Hamilton's success in his debut season is an encouragement as he prepares for 2014.
Hamilton won four races and almost took the world title in his 2007 debut year.
"The fact Lewis did what I'm doing now is a positive for me. It shows the team has been there before," Magnussen said.
"They have already prepared a rookie for his grand prix debut. The fact that Lewis was so successful doesn't raise the pressure for me, it just shows that it can be done, and that you can be successful as a rookie. That's really encouraging."
Magnussen follows in the footsteps of his father Jan, who also made his F1 debut with McLaren, in the 1995 Pacific Grand Prix, before racing for a season and a half with the Stewart team in 1997 and 1998.
"McLaren has been part of my life since I was a small kid," Magnussen said.
"My dad, Jan, was a test driver here and did one grand prix with the team back in 1995, but I've always dreamt about driving for McLaren. It'll be incredibly special to be in the car as a racing driver - with the Magnussen name on the side.
"Now that I've got the race seat, I'm fully focused on the work ahead of me. This winter will be all about preparing myself for the first test in January, and the first race in March.
"It's about spending time with the engineers, driving the simulator, and getting used to everything. It's a lot of hard work - but I'm really enjoying it."
Magnussen believes that the sweeping rule changes being introduced into F1 in 2014, with new turbo-charged engines and major chassis revisions will be a help to him as he seeks to adapt to the sport's highest category.
"It'll be a new challenge for everyone, not just for me," Magnussen said. "Everyone's going to have to learn about the 2014 cars - not just myself.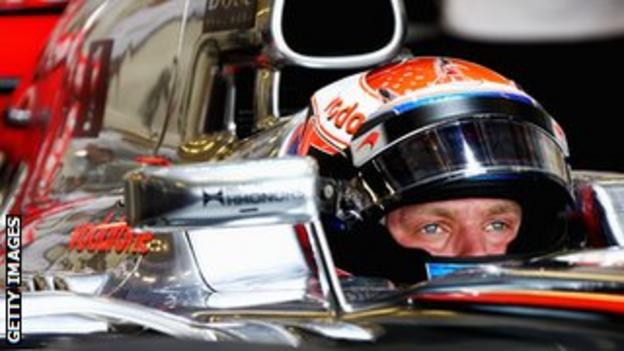 "It's a good year to come into F1. The fact that I won't have as much experience as some of the other drivers actually counts a little bit less. Of course, it's still going to require a lot of hard work - and I'll have a lot to learn - but so will everyone else, so that's a positive for me."
McLaren sporting director Sam Michael said: "Regarding youth versus experience, you could argue it both ways: in terms of learning how the tyres behave, the powertrain works, and the effect of the new aerodynamic maps, the experienced guy will have a more balanced understanding.
"But this is a brand new formula, so a rookie isn't as disadvantaged. Even if it doesn't necessarily give Kevin an advantage, the advantage of all the other drivers is diminished because everyone's starting from the same benchmark. And it's much better for Kevin to come in now than any other year."