F1: Ferrari's Luca Di Montezemolo expects strong changes at FIA

By Andrew Benson
Chief F1 writer
Last updated on .From the section Formula 1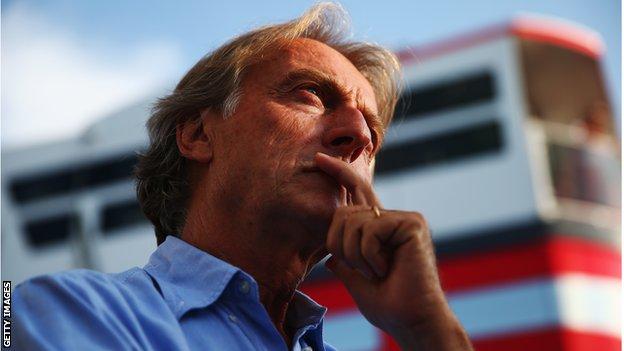 Ferrari say they expect "strong changes" at F1's governing body after criticising several recent decisions made by the FIA.
Ferrari president Luca Di Montezemolo condemned penalties given to his driver Felipe Massa and Mercedes' Lewis Hamilton in the Brazilian Grand Prix.
And criticised a lack of punishment for Mercedes for an illegal test in May.
He said: "I expect strong changes. For too many years the FIA has always been the same and a change is required."
Montezemolo, speaking in a wide-ranging interview with Italy's RAI television channel, described the decision to give Massa and Hamilton drive-through penalties in Brazil as "disproportionate and unjust".
Massa was penalised for cutting too severely and too often the white line that demarcated the entry to the pits, although he was not the only driver to put his car in an area the FIA had declared off limits.
The decision dropped Massa from fourth place to an eventual seventh, and cost Ferrari second place in the constructors' championship, which Mercedes took by six points. Each position is worth at least $10m (£6m).
Hamilton's punishment was for a collision with Williams' Valtteri Bottas, even though he appeared to leave the Finn more room than the rules dictate.
Montezemolo said: "Every so often, the gentlemen who come to the races to act as stewards make decisions that are a bit ridiculous and anachronistic.
"One needs to be careful that we maintain credibility, for the work of the teams that invest money and for the drivers who risk their lives."
The comments imply that Montezemolo believes there is an argument for F1 to use permanent stewards, rather than rotate them for each race, to ensure consistency of decision-making.
Di Montezemolo, a powerful man within F1 because the sport's structures guarantee Ferrari a major say in decision-making, was careful to emphasise that he was making his remarks in a spirit of collaboration.
"A strong sporting authority is always a priority for Ferrari," he said.
He described the decision of the FIA Court of Appeal to give Mercedes only a reprimand for organising a three-day, 1,000km tyre test between the Spanish and Monaco races as "a bit strange and [it] incurrent a punishment that, to say the least, had a touch of Pontius Pilate about it".
The Pilate remark means Di Montezemolo feels the FIA was effectively washing its hands of the affair in its judgement.
He also scoffed at Bernie Ecclestone's suggestion last week that he could be succeeded as F1 commercial boss by Red Bull team principal Christian Horner.
"Ecclestone sees Horner as his successor?" Di Montezemolo said. "As the years go by, he more and more enjoys making jokes and I'm happy he still has the desire to do so."
Di Montezemolo referred to Ferrari's 2013 season, in which Fernando Alonso finished second to world champion Sebastian Vettel of Red Bull for the third time in four years, as "definitely a year to forget, a disappointing season".
He gave Alonso a mark of eight of 10 for his season, but added: "My eight is worth a 10 because it's a score I give as an incentive: I hope to give it him next year and to give an eight, at least, to the team. For next year I would like to present him with a car that's even better than Red Bull."
Di Montezemolo dismissed widespread speculation that Ferrari's decision to hire Kimi Raikkonen to partner Alonso next season would lead to problems.
"Whoever has the honour and responsibility of driving for Ferrari must think of the team first and foremost and not of himself," Di Montezemolo said.
"None of our drivers could ever hurt the other one.
"Alonso is maybe the strongest race driver I've ever met, even if it is always difficult to make comparisons with the past.
"We have taken Raikkonen back for his experience, for what he has done over the past two years and because he is much loved inside and outside the team.
"I was very pleased to see the enthusiasm that greeted the news of his return, again both internally and externally. I am sure they will help one another."
And he played down continuing rumours that one day Vettel would end up at Ferrari.
"There is no doubt he is a great driver. He is a serious young man who has won a lot and therefore he deserves respect. I congratulate him and Red Bull.
"Vettel at Ferrari? Who knows what the future holds? But for now, drivers are definitely not a problem for us."
Raikkonen's new deal runs to the end of 2015 and Alonso is contracted to the end of 2016, and the Spaniard and Ferrari have already begun informal talks about extending their relationship.