Gary Anderson column: Hope for Red Bull's rivals in 2014

By Gary Anderson
BBC F1 technical analyst
Last updated on .From the section Formula 1
In a dry race after two days of only wet running in practice and qualifying, it was no surprise that Red Bull ended the Formula 1 season on top in Brazil, nor that Fernando Alonso should finish best of the rest for Ferrari.
It was a race about digging deep and which rewarded the teams with the best understanding of how to get the most from their cars.
I spoke to Mark Webber after the race and he was saying that the thing that stands out for him about Red Bull is that when they have to scratch their heads and work something out, they have a lot of people who can come up with solutions.
You can see that in everything about Red Bull, from the design of their car, to the way they operate the team.
It was appropriate that Red Bull should end this season with a one-two in Brazil because they have really dominated this era of Formula 1 regulations since 2009, and which comes to a close with this season.
Red Bull have been incredibly strong throughout that period, but never more so than in the second half of this year.
To win nine races in a row with Sebastian Vettel and take four one-twos; that's the sort of record you can't criticise. You just have to admire it.
Farewell to a gentleman and a fine driver
Webber bowed out of F1 with another second place to Vettel and there is no shame in that. Webber has been up against someone who will probably go down as one of the very best drivers of all time.
Vettel has a lot of years to go in his career, but in terms of what he has done in the years he has had so far, he is right up there.
Webber can go out with his head held high. He is a very competitive F1 driver who is retiring at the right time. You don't want to slide down that slippery slope; that's not a good place to be.
He has always been an honest bloke. On some tracks, on some days, if the circuit suits him and everything is flowing along nicely, Webber could be as quick as Vettel or Alonso, but he knows those guys have an edge in general consistency. They can dig something out pretty much every weekend.
That gap only gets worse as time goes by. As you get older, everything falls off that little bit - concentration, reactions, whatever; it all adds up. One year it's a 10th of a second, the next year it's two, and before you know it, it's half a second.
Better to go before that happens.
Ferrari end on a high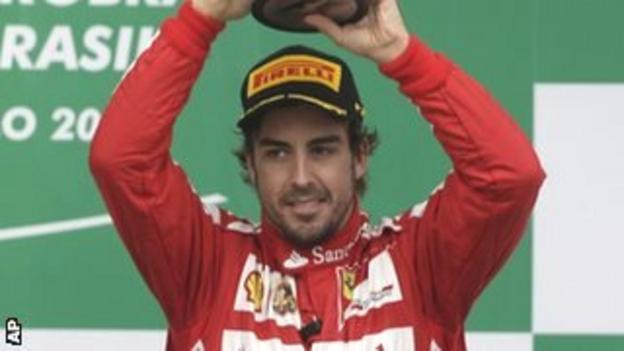 Ferrari have spent the past few seasons blaming problems with their simulation technology for their failure to keep up with the in-season development race, saying new parts were not performing on the track as their data said they should.
But it was interesting that in Brazil, where they had no dry practice, Ferrari used two new aerodynamic parts, and took their first podium finish since Singapore in September.
Ferrari have tended to spend practice sessions this year going backwards and forwards with new parts. They didn't have time in Brazil to get themselves confused.
Quite often, if a car has a general balance problem, and the new parts a team puts on it don't affect that characteristic, but just make the car a bit quicker, then the driver will come back in after running the new part and say the new part doesn't make any difference - and the team gets confused.
But it might be that the part does make the car faster around a lap, even if the problem with the behaviour of the car remains.
In Brazil, Ferrari had to commit to the new parts, on the basis that the wind tunnel said they should be better so just get on with it. That suggested they perhaps should have tried that a few more times over the last two or three years.
Hamilton has an up day
Lewis Hamilton has had a shaky last few races, being beaten by team-mate Nico Rosberg. That was the same in practice and qualifying in Brazil, when Hamilton was complaining that he could not get the Mercedes to behave the way he wants in the wet.
But in the race Hamilton was the faster Mercedes driver and would have finished fourth had he not been given a contentious drive-through penalty for a collision with Williams's Valtteri Bottas.
I compile statistics for absolute performance over a grand prix weekend, based on all the drivers' fastest laps. In Brazil, Hamilton actually set the fastest lap time of anyone through practice and qualifying - but he did it in the first qualifying session, not when it mattered in the third.
It was on a slightly drier track than in Q3, but still on the intermediate tyre. So the pace was in there.
That suggests Hamilton does not have confidence in the car. Perhaps the McLaren was more forgiving on the limit, whereas Hamilton seems to struggle more to find the limit in the Mercedes because it's not as easy to feel where it is - he's either not quite on it, or just a bit over it.
The thing is, he has had 19 races now to come to terms with it and it's confusing why he has not.
I suspect the problem is at least partly in his head. His mood is up and down like a yo-yo.
He was all down on Sunday night because he had a drive-through penalty and he did not know why - and to be fair I do think the penalty was unnecessary.
Yes, Hamilton came across a bit on Bottas, but the rules require him to leave at least a car's width, and he left far more room than that. So he did not really break the rules.
But on a general level, Hamilton might be better advised to try to go about his work with a bit more equanimity, for his sake and the sake of his team, because it's not easy working with a driver whose mood is so up and down.
Hope for Red Bulls' rivals in 2014
Many people have said watching Vettel and Red Bull dominate this season has been boring. There might have been some boring races, but excellence should be appreciated, admired and rewarded, and that is what has happened in 2013.
I have been very impressed by Sauber's recovery from a poor start to the season to a very strong second half after making some intelligent changes to their car.
And I have been equally disappointed in McLaren. Their season ended with a decent result in fourth place in Brazil for Jenson Button, but they have not proved to themselves that they have found the problem with their car - and that could be a concern for next year.
Brazil marked the end of an era of F1 technical regulations. I remember speaking to Red Bull chief technical officer Adrian Newey at the start of it back in 2009, and he was welcoming the chance to try new rules because he felt everyone had optimised the previous ones and it was going to be hard to innovate.
Red Bull found the right solutions to this set of rules, and now everyone is faced with the challenge of doing the same over this winter with the regulations changing, both for chassis and engines.
I'm sure Red Bull will be very strong again next year, but the new rules do give hope to the others, because it is fair to say that Red Bull have not been completely flawless in this era.
Back in 2009, they missed the concept of the controversial "double diffuser", which helped Brawn and Jenson Button win the titles that year.
And in 2012, when the first iteration of blown-diffuser cars were banned by the exhaust pipes being lifted off the floor of the cars, Red Bull initially missed the realisation there were ways of blowing the floor, even with the new positioning of the exhaust exits.
So they have missed two big concepts through this era of regulations, even if they recovered well and then applied and executed those ideas better than the people who originated them.
Will Red Bull find the best solutions to next year's rules, or will it be someone else? There may well be something hidden in the grey areas that pops up. It will be fascinating to find out.
Gary Anderson, the former technical director of the Jordan, Stewart and Jaguar teams, was talking to BBC Sport's Andrew Benson