Formula 1 enriched by enduring career of Mark Webber

By Andrew Benson
Chief F1 writer
Last updated on .From the section Formula 1221
If he could not go out with a victory - and that was always going to be a long shot given the form Sebastian Vettel is in - then the race with which Mark Webber signed off from Formula 1 had to be the next best thing.
A competitive showing in Brazil, keeping Vettel honest, and a full-on, race-long battle with his favourite rival, Ferrari's Fernando Alonso, have sent Webber into the winter and a new career in endurance racing with a warm feeling in his heart.
It is no less than he deserves, for Webber has enriched F1 over the last 12 years in a way few achieve.
His nine victories place him 33rd in the all-time winners' list, and he can look back with pride on a career in which he has tested himself against the best in the world and come out with his head held high for what he has achieved.
But the out-pouring of warmth and affection for the 37-year-old that was apparent at the final grand prix of the 2013 season was about a lot more than Webber's results on the track.
He has been one of the finest drivers of his generation, but he is the first to admit he is not a match for Vettel or Alonso - both of whom, as he put it after the race, "I hold in very high esteem".
And that's the first clue to the respect in which Webber is held.
Top-class sportsmen are not always hugely appealing characters. There is too much at stake; the pressures on them and the demands they make of themselves are too great for personalities to remain unaffected.
Humility and realism are too easily abandoned when wealth and fame come calling, and when success depends to a large part on self-belief.
Webber, though, has managed to spend 12 years in an arena famous for its ability to distort people's characters, to lay bare any weakness, and come out more or less untouched.
He has tested himself to the limit in one of the toughest arenas in global sport and held on to his dignity and integrity throughout.
Honest, forthright and open, Webber has managed to combine commitment to his profession with a commitment to stay true to himself.
"Maybe I did not have the most absolute natural flair and talent, but I knew that if I grafted and worked hard I'd soon get awesome results," he said on the eve of the race in Brazil.
"But I also smashed a lot of guys who had more talent than me, because they didn't work as hard as me. I learned that about myself. How important it was to graft and just get my head down. I've been doing that for most of my career.
"There's no career that's on a rocket ship all the way through. There has to be adversity and testing moments. You don't learn too much if you're never challenged.
"The results I've had in F1 have been great but it's about the journey as well and I've had an amazing journey.
"I would have been very happy growing up and staying in Queanbeyan [in New South Wales] because I wouldn't have known any different.
"But when you start to delve into other areas of life, other places, then it really is a case of 'wow, this is a ride'. And it was a great ride. You sometimes get more out of that than the actual results.‬"
Webber has had his fair share of "adversity and testing moments".
Getting out of Australia to race in Europe was tough enough; making it to F1 even harder.
When he got there, he spent seven years in uncompetitive cars, and then badly broke his leg in a cycling accident four months before the start of the season in which he finally got his hands on a front-running car.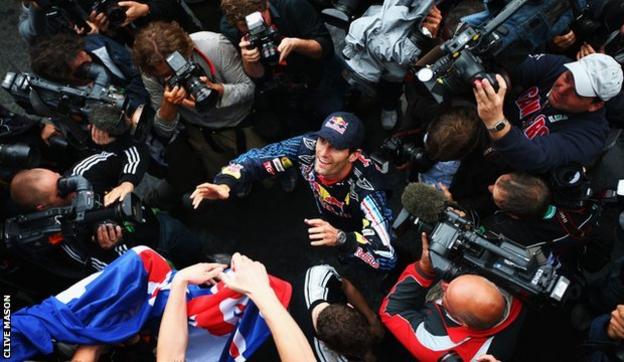 That forced him on to the back foot at the worst possible time, and gave his new team-mate Vettel an edge that he never really surrendered.
It was very close between Vettel and Webber in 2009 and '10, but it became apparent that the team clearly supported Vettel over Webber - understandably so, from their perspective.
In 2010, intra-team frictions at Red Bull repeatedly boiled over in the midst of a five-way title fight between Vettel, Webber, Alonso and McLaren drivers Lewis Hamilton and Jenson Button.
How much the internal politics at Red Bull through that tumultuous season contributed to it being Vettel and not Webber who won that first drivers' title that year may never be completely clear.
But in 2011 the advent of exhaust-blown rear aerodynamics and Pirelli tyres marked the beginning of the end for Webber.
Using the exhaust gases to create extra downforce at the back of the car put Red Bull out of reach of their rivals, who failed to exploit the technology as effectively.
But it required a counter-intuitive technique that Webber, late in his career, struggled to adopt, while Vettel adapted naturally.
Deliberately fragile tyres that required nursing throughout a race further disadvantaged Webber's muscular fast-corner-focused style, and favoured Vettel's more delicate slow-corner precision.
The comparative statistics over the last three seasons do not look great for Webber, but they belie the fact that the margins between the two men have generally remained small.
That one was coming to the end of his career and the other still improving also had an influence. Webber says he would love to know how he and Vettel would have compared had their career primes coincided.
For all that, Webber has never hidden from the fact that, for all his hard work, Vettel had the greater talent.
It was his fighting spirit that kept him in the game, and which led to the fractious relationship between them, founded on Webber's reluctance to give way on the minority of occasions he found himself quicker than his team-mate.
Webber was well aware of all this, but his sporting integrity insisted he fight on. He could not look himself in the mirror if he lay down too easily.
Sport, for Webber, is about comparing himself with the best. He did not mind if he ultimately came up short - as long as he had been given a "fair crack", given his all and discovered where he stood.
That's why his last race was such a fitting finale for a proud and admirable man.
"It was a very good finish to my career," he said. "A good fight with all the guys I've enjoyed fighting with for most of my career: Seb, Fernando, Lewis, Nico [Rosberg] - all the guys who have been in the window for the last five or six years."
Most enjoyable of all was his battle with the competitor Webber believes has set the standard in F1 throughout his 12 years in the sport - Alonso.
"It was good to race you for the last time," Webber said to Alonso as they waited to go out on the podium.
The feeling was mutual. "It was nice to be the man battling with Mark in the last race, we were chatting on the podium about this," Alonso said. "We will remember this battle together.
"We will miss him. A great man, a great character, a driver of the old school, a lot of values in his personality."
Webber has been open about his reasons for retirement. He has lost some of the enjoyment he had in F1, partly due to the current format of the sport, partly due to his age.
He can feel the beginning of what he calls the "slippery slope", and he wanted to bow out on his own terms before it became too obvious that he had lost his edge.
"You don't want to test that: 'Oh he's lost it, he's just struggling and he's not good enough,'" he said.
"It's not a sad moment. It's a proud moment. You've got to be able to let go. I raced hard and fair. I didn't give up positions easily.
I've been pretty consistent, in that I have no real super-weaknesses or super-strengths. I've been generally pretty solid as a top-flight F1 driver.
I've been dealt a pretty good hand. I never thought I'd have the career I have had."
It has been a pleasure to know him, and to watch him at work, in and out of the car.
The sport will move on, but F1 will be a poorer place without Mark Webber next year.