Brazilian Grand Prix: Massa's penalty proves costly for Ferrari
Last updated on .From the section Formula 1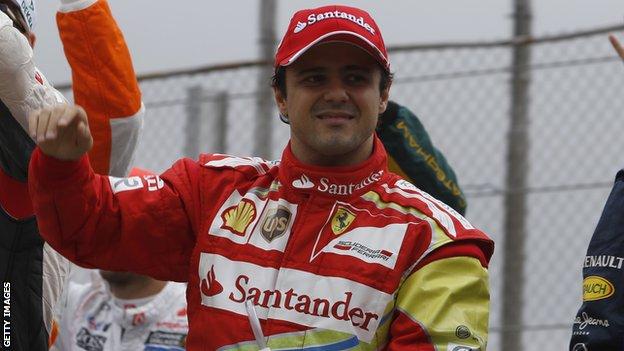 Ferrari's Felipe Massa was highly critical of race stewards after receiving a drive-through penalty at the Brazilian Grand Prix.
The penalty, for crossing the white line on the pit entry, cost Ferrari second place in the constructors' championship and £6.1m ($10m).
"I didn't do anything wrong," he said.
"Sometimes these guys think they have all the power and they can do what they want so I am more sorry for them than me."
Massa, driving his final race for Ferrari, was fourth when he was penalised before eventually finishing in seventh place.
"I didn't do anything that other cars didn't do but I was the only one punished," he added.
"I feel very emotional for what I have achieved and what we have achieved together. I have made a lot of friends at Ferrari and I want to thank them all.
"It will be really tough to say goodbye but I am ready to do it and I am ready to celebrate."
Ferrari team principal Stefano Domenicali added: "We can finish the season with our head held high but it's a shame about Massa's drive-through because we could have finished second in the constructors' championship. It was a very expensive decision for Ferrari."
Mercedes' Lewis Hamilton was also penalised after he was adjudged to have caused the crash which forced Valtteri Bottas's retirement on lap 47.
The British driver eventually finished ninth, to add two points to his final tally of 189 championship points, 208 behind champion Sebastian Vettel.
"I don't know what happened exactly with Valtteri and will have to have a look at the replay," said Hamilton.
"I thought I had moved to the left, he out-braked me and then we touched, but it happened so quickly and it was obviously judged that I did something wrong.
"I was having a good race until that point in fourth place and a podium might have been possible as I was closing on Fernando [Alonso], which is why it was so disappointing.
Bottas added: "It is difficult to say [if it was dangerous driving by Hamilton], I would have to see it again, the only thing I know is that it wasn't my fault.
"I kept my line and I did everything right and there was no reason for a shunt."
Hamilton's points did however help Mercedes secure second place in the constructor's championship, beating Ferrari by six points.
"I'm delighted for the team," he added. "They have done an incredible job this year and really deserve this result. We've got so much to look forward to next season so I'll put today behind me quickly and focus on what should be a great year in 2014.
After a disappointing season, Jenson Button finally had something to celebrate as he secured his and McLaren's best finish of the season with fourth.
The 33-year-old drove arguably his best race of the season to finish ahead of Mercedes' Nico Rosberg and team-mate Sergio Perez.
"It's funny because in the simulator this always felt like a very special track for us," said Button.
"We're pleased with fourth, we almost got the third place we came here aiming for.
"We needed this at the end of the year, especially myself because it has been a a tough ride for the last few races."
Marussia were also celebrating after the final race as they held off the challenge of Caterham to finish 10th in the constructor's championship.
Driver Max Chilton also became the first rookie driver in history to finish every race in a season.
"I would like to thank the whole team for a brilliant season, with particular credit to my car crew," said Chilton.
"I am really proud of my record-breaking 19 finishes in 19 races and this is the result of a fantastic team effort."