Kimi Raikkonen disqualified in Abu Dhabi Grand Prix qualifying

By Andrew Benson
Chief F1 writer at Yas Marina
Last updated on .From the section Formula 1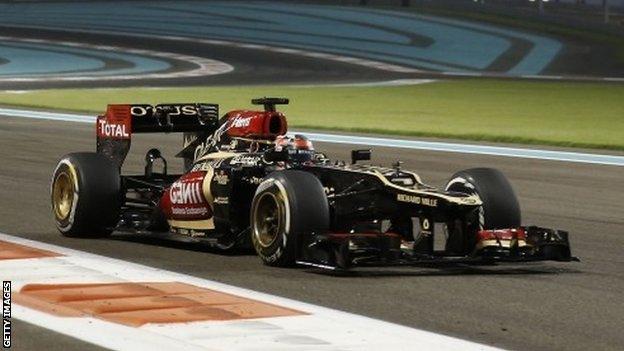 Lotus driver Kimi Raikkonen has been disqualified from qualifying at the Abu Dhabi Grand Prix and will start the race from the back of the field.
The Finn, the 2007 world champion, qualified fifth but his car then failed a front-floor deflection test.
Floors are tested for rigidity because a floor that can flex can give an aerodynamic performance advantage.
The race stewards rejected Lotus's argument that the part had broken as a result of contact with a kerb.
Lotus had successfully used that argument when a similar issue afflicted Raikkonen's team-mate Romain Grosjean at the Hungarian Grand Prix in July.
But in Abu Dhabi the stewards said that they "did not accept that the incident referred to constituted an accident or excused failing the relevant test".
Lotus now have the choice of starting Raikkonen from the back of the grid or from the pit lane if they change the settings of the car to make it easier to overtake.
Red Bull chose the latter option in Abu Dhabi last year when Sebastian Vettel was excluded for a fuel infringement. The German fought back through the field to finish third.
The penalty is the second major problem to hit Raikkonen this weekend.
He turned up at the race late following a dispute with the team over payment.
He said on Friday he had "not been paid a single euro all year" and threatened not to race in the final two grands prix in the USA and Brazil if Lotus did not fulfil a promise to solve the dispute.
Raikkonen said the team had reached an "understanding" but did not reveal the details of it.
On Saturday, before the decision about his exclusion was revealed, he said: "I have no interest to talk about those things. It's not your business and it will not get us anywhere."
Raikkonen has this weekend reverted to Lotus's standard car, which has not been raced since the Singapore Grand Prix at the end of September. Grosjean has stuck with the long-wheelbase car, which the team believes is quicker but which Raikkonen feels does not suit his driving style.